Sign-up for our Monthly eNewsletter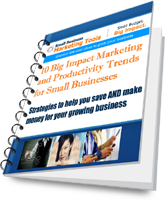 brought to you by SBMarketingTools.com and SmallBizIdeasNow.com
Sign-up for our monthly e-newsletter and download our FREE Trends Report!
When you sign-up for our monthly e-newsletter, Big Impact Ideas, we'll send you our FREE report (PDF download):
10 Big Impact Marketing and Productivity Trends for Small Businesses
We'll review some of the biggest trends for marketing and productivity, along with straight-forward strategies to take advantage of those trends to help you save or make more money for your growing business.
Sign-up Now!
For "Your Industry" please choice one:
Food Services, Health Care, Hospitality, IT, Manufacturing, Marketing & Sales, Professional Services, Real Estate,
Retail Trade or Wholesale Trade
What you are signing up for…
Our monthly e-newsletter is sent out only once a month (typically the first week of the month) and includes:
Latest small business marketing and productivity featured tools
New Big Impact Ideas, strategies and tactics for small businesses
Special Offers, discounts and coupon codes for monthly deals on tools and resources
That's it – only 1 email a month… we promise!
Please also specify your industry and area of interest so that we can tailor our content to you in the future.
Thanks for signing up!