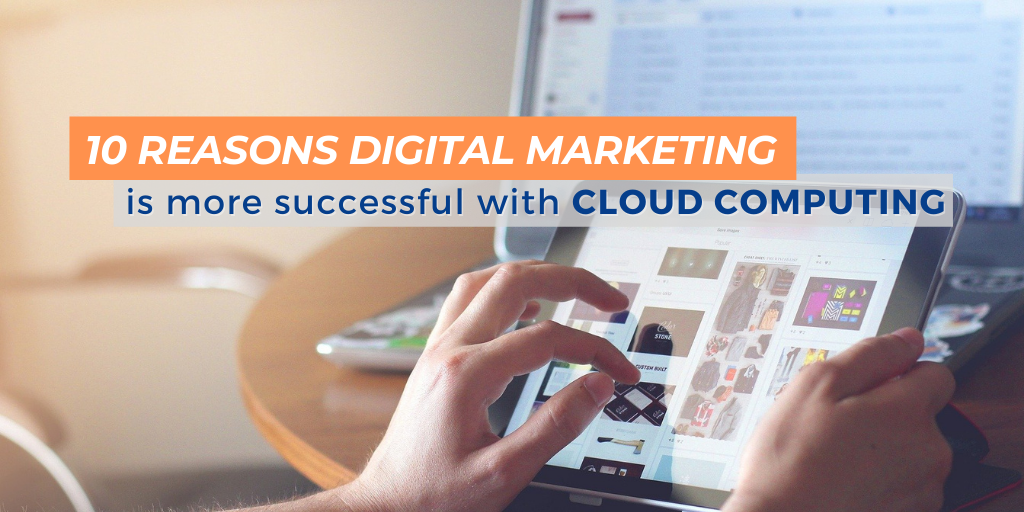 Using a digital marketing cloud computing strategy is an efficient way to boost digital marketing productivity and processes with added security
Digital marketing is a crazy and highly challenging game. Many digital marketers tend to have multiple projects taking place simultaneously, making proper organization an absolute necessity.
For digital marketers, cloud computing is a must-have tool that allows them to boost their productivity and operate more efficiently. The applications and tools integrated into cloud computing are easily accessible from any location. If you're on the West Coast Seattle managed IT services from Attentus Technologies can help you set up, protect and simplify those tools and applications.
Using a cloud computing service, like Azure or iCloud allows you to back up your files, photos, videos and more, without relying on saving everything on a particular computer. It allows you to access files from anywhere and on any device, thus keeping your devices free from excess files that could easily drain your device's storage space.
Azure, in particular, specializes in a safe and secure cloud storage, with reliable infrastructure to integrate your apps, documents, and more, to complete projects in less time than other competitors. These are just part of the many reasons digital marketers should consider completing a migration to Azurе.
Others reasons for using digital marketing cloud computing services include:
---
---
1. It allows Innovation and Brainstorming
Cloud computing has become the base of innovation and operations for many companies. Users get to take advantage of numerous tools which they can easily implore to support digital advertising efforts.
Using the tools allows the users to save time and money while at the same time getting to devote their energy and time towards coming up with new marketing techniques. Azure uses SMART (Strategic Migration Assessment and Readiness Tool) to transfer your information to the cloud, which in turn helps save you time and money by paying for only the cloud service you need and use.
2. Simplified Access to Client Data
Digital marketers find it challenging to promote services and products online, given they can't interact with clients in person.
According to the Outreach Monks, it becomes easier to influence customer purchase decisions when you know them well. Using cloud computing to store this data makes it easier for marketers to access it whenever they need it.
3. Various Analytical Tools
Cloud computing and digital marketing both come with several tools intended to help a company better understand the market without overlooking its needs and demands.
Digital marketers can apply the computing capabilities offered by cloud computing to create a system that can analyze the market by applying complex algorithms. Additionally, Azure allows for virtual desktop management, allowing users to run a Windows virtual desktop from any device as needed to ensure work is possible from anywhere in the world.
4. It Makes Innovations Possible
Apart from enjoying the benefits offered by cloud-based applications, marketers get to achieve more without applying too much effort.
In the end, they get to spend more time coming up with innovative ideas and products that can make the entire marketing initiative a success.
5. Aids Collaboration
When implemented together, the resulting system enables the digital marketing team to meet the goals it had set for each project.
They also get to work together, regardless of their locations, to meet the set goals. Cloud services allow people from all over the world to work successfully together on the same projects, thanks to modern technology.
6. Guarantees High Productivity
Traditionally, digital marketing includes various techniques and services that must be employed together to achieve the desired results.
There's a lot that must be done, from PR marketing to web analytics, email marketing to online advertising.
Cloud computing assists in enhancing productivity by streamlining the productivity offered by each technique. It's the infrastructure that connects influencers to customers.
7. Reduces Capital Expenditure
The internet connects cloud computing to the cloud, meaning a company only needs to remain connected to the internet to access the cloud.
It's a setup that works well for the organization as it doesn't have to invest in bulky and expensive equipment or to have to hire professionals to maintain the machinery. And unlike other companies' cloud systems, Azure in particular allows you to pay for what you use in the cloud, instead of paying for extra cloud space. By being cost effective and secure, Azure offers a sustainable plan for business of all sizes.
8. Enhances Data Security
Worry that putting your information on the cloud could make your company more vulnerable to hackers? Azure promises security, relying on professionals and AI alike to ensure your information is kept safe and secure. More than 3,500 professionals are employed by Azure, it's trusted by professionals such as HIPAA and the IRS, and there is the reassurance that Microsoft spends over 1 billion annually on ensuring product safety and security. With the backing of one of the most powerful companies out there, don't you want your product to be safe in their cloud?
9. Assists in the Development of Better Content
Through cloud computing, companies get to understand all the emerging trends while employing digital marketing to come up with attractive and innovative content.
The available tools mean clients searching for this content will see it without going to great lengths. It creates a good harmony between the two, which a digital marketer can explore further. The cloud can not only help your content develop, it can help your company grow.
By promoting your company as a work from home or anywhere one, reliant on a secure cloud based server, your business can grow thanks to minimal interruptions, reliable infrastructure, and overall workload costs. Azure can only only make your company develop better and more necessary content, but it can also help your company grow into what it was meant to be.
10. Drives Inbound Marketing Using Social Reach
Another element known to boost digital marketing success apart from content is social engagement.
Popular cloud-based services like Instagram, Facebook, Twitter, and YouTube have great potential for boosting inbound marketing.
What makes them even more attractive is that they are used daily, making them the ideal tools for boosting social reach.
Whatever the cloud product you choose, finding one that suits your needs and your companies' needs is important. With Azure, you're getting the absolute best of the best for the cost and value, which means you can free up time and money to reinvest in your business to help it grow.
---
---
---
The following two tabs change content below.

Editorial Staff
This article was written by SBMarketingTools.com editorial staff.

Latest posts by Editorial Staff (see all)