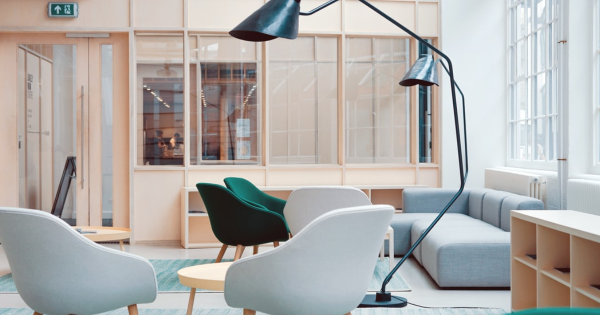 Be sure to set up your small business office so that the space functions well, maximizes productivity and ensures a positive environment for your employees
Whether you're moving into a new office space or redesigning a space that you've already been working in, making sure that your space is going to make your employees as productive as possible is important. A happy employee is a productive employee and the environment that your employees work in can seriously impact their mood.
Below are twelve tips for making your office functional, positive, and productive.
---
---
1. Make a Plan
The most important step in redesigning a space is to properly plan. An unplanned space can end up feeling messy, unorganized, or thrown-together. The point of redesigning a space is to make sure that your space is the best it can possibly be, and making a plan is the best way to ensure that happens.
2. Ask Your Employees What They Want
While you're still in the planning phases, ask your employees what they want to see in the space. If you're aiming for a space that will help your employees be happier and therefore more productive, finding out what they think will make that happen is important. Oftentimes your employees will have a good idea of what will work for them and what won't, and letting them have input will make them automatically happier once they're in the space.
3. Reflect Your Company's Culture
Depending on the culture of your company and your business objectives, your office can look different. For example, if you have a goal as a company to collaborate on more projects, making a space dedicated to collaboration and innovation would be important.
4. Make Things Comfortable
There is nothing worse than feeling uncomfortable in the place that you're spending 40 or more hours every week. Opting for the slightly more expensive, and more comfortable, option during your design process can be the difference between an employee having productive days and your employee spending an hour a day moving away from their desk to avoid sitting in their uncomfortable chair.
5. Make Things Functional
As important as comfort is, safety is even more important. In order to avoid any workplace accidents, make sure that your space is laid out in a way that will keep your employees safe. This could mean making sure that furniture is not cluttering the space so there is an easy escape route in case of a fire or it could mean putting nonstick flooring into your office kitchen to avoid workplace slip and fall injuries. These injuries are so common that in 2015 over 20,000 happened in only the state of California. If you can see a possible safety hazard, make sure to immediately fix it in your design.
6. Make a Variety of Spaces
One way to make your office more productive is to create different areas or spaces within the office so your employees can move between them throughout their work days.
Since it is scientifically proven that having a constructive work environment can improve productivity, and make employees happier and more confident. But not only a good environment but also a right chosen location is one of the most important points in your business. Washington DC's unique location provides a great environment for your business to grow. Looking for office spaces in DC would sound great for the employees, who can take an electric scooter or the well-maintained Washington metro to work, avoiding everyday stressful traffic.
Here are a few examples of different spaces available:
Collaborative Spaces. Having spaces dedicated to fostering collaboration between your employees can help create more innovation within your company. With innovation comes productivity, and with productivity comes profit. In addition, employees that do not want to partake in collaboration will not be forced to join just by being in the wrong place at the wrong time.
Relaxing Space. Having a space dedicated to letting your employees relax will help them feel happier and more serene at work. Happiness and productivity are linked, and in letting your employees have a space dedicated to relaxing and recharging, they can do better work for your company.
Working Zone. Obviously an office needs a dedicated area for working. If you have an open-concept office, having this space as far away from the collaborative space as possible could be helpful for the productivity of employees that don't enjoy being disturbed while they work.
Quiet Area. If you have some employees that tell you they work best with little to no noise to distract them, having them all move to a quiet area where there is no small-talk, chatting, or group work could be helpful.
7. Make Sure Everything Will Fit
Drawing a floor plan of your office space and everything that you want in the space is an important part of making sure that everything you want in your office will fit comfortably. If you want to have different zones or areas of the office, you will have to figure out how you will separate them and make each space distinct. In addition, you will need to make sure that everything that you need in the office fits before you begin adding in extras. No matter how much your employees may want a slide in the office, if it will stop you from having enough room for everyone's desk, then it doesn't make sense to include one in the design.
8. Make Sure Your Space is Functional For Your Tech
Technology is an important part of any functional and relevant business in 2020. Making sure that you have enough space for all of the computers, monitors, and security systems is a key part of making sure your office is functional. Also, ensure that your wi-fi network is secure to avoid data breaches, which impacted over 4 billion records in just the first six months of 2019.
9. Effectively Decorate
Decorating your office can be a very fun part of the renovation process. Choose art, plants, and furniture that are in bright and fun colors and have motivational undertones in order to foster productivity. Having a quote on the wall with a phrase from your company's goal or mission statement is a great way to make something personal and beautiful out of the language that you use every day.
10. Leave Room For Growth
If you're redesigning your office, the odds are that your company is doing well right now. Productivity means that your company will continue growing, which means you will need space for more employees eventually. Including some empty space that can fit more desks or work stations is a great way to leave room for your future growth.
11. Have a Plan For Keeping Things Clean
No matter how beautiful your new office is, it will eventually get dirty. The average person sheds 100 hairs a day, and dust is over 50% dead skill cells, so the more that your team exists in the space the more it will need proper cleaning. Having a plan for your employees to take personal responsibility for their work stations may be cost-effective, but choosing to hire a cleaning service will ensure that you are consistently keeping your office clean.
12. Throw a Celebration For Your New Space
When you've finished your space, you should celebrate it. Throw a "house warming" partly in your office so that your friends and family can see the fruits of your labor. Let your employees also bring guests to raise morale and, by extension, create a more productive and cohesive team.
Did you use any of these tips in your office redesign? How did it go? Let us know in the comments below!
---
---
The following two tabs change content below.

Valerie M. is a writer from Upstate New York. She received her Bachelor's degree in Journalism from The State University of New York at Fredonia in 2016 and is currently working at a digital marketing agency where she writes blog posts for a variety of small businesses all over the country. Valerie enjoys writing about music, animals, nature, and traveling.

Latest posts by Valerie M. (see all)