Plan and budget for adding these marketing strategy trends into your small business marketing mix
Marketing opportunities for small businesses seem to change every year. It's not smart to keep doing the same tactics year after year – you have to add new ideas into the mix to keep up with evolving opportunities and trends.
In some cases there are all-new marketing or advertising opportunities to test out for your business, while other opportunities may simply be the revival of marketing tactics with a new twist. You may have already noticed that these marketing strategies are on the rise… and now its time to get serious about investing in these strategies and making them an integral part of your marketing plans.
Whether you are building your marketing plans for the New Year or looking to refresh plans mid-year, here are some strategies that every small business should consider adding to their marketing efforts.
---
---
Social Advertising
For many small businesses, social media has been viewed as a free platform and have not considered actually spending money on social media sites. But most social media sites now offer very cost-effective advertising options that are also highly targetable. And several will not give your business much visibility at all unless you pay for some form of advertising.
Facebook, for example, will no longer show your posts to your full fan base (actually your posts only organically show up to about 1% of your fans now). For this reason, you pretty much have to pay to boost important posts if you want customers or prospects to see them. The really good news is that the level of targeting available on Facebook is unlike any other advertising platform available… and at a very low-cost to advertisers.
Some of the more popular social media advertising options include:
Facebook – boost posts for more visibility to your target audience. Run ads with special offers and direct links to your site to drive ecommerce, email sign-ups, etc.
Pinterest – promote pins to drive more traffic to your site and ecommerce sales
Twitter – promoted tweets will allow you to plug specific actions, while promoted accounts will help grow your Twitter following. You can even promote trends to get your content on the top of trending lists.
Be sure to budget for social media advertising in your annual marketing plans – it will likely become one of your most cost-effective and impactful ad spends.
Shop Small Promotions
The "shop small" initiative formally launched in 2010 with the American Express Small Business Saturday campaign. Each year the initiative grows in popularity with both small businesses and consumers.
Many small businesses are tapping into the campaign in November, but to get the most out of the campaign, you really need to make "shop small" a year-round theme.
Plan to incorporate shop small promotions throughout the year building up to the "big day". The movement for customers to patronize businesses in their local communities can help build tremendous loyalty and preference for your business as the go-to option for goods or services in your niche.
Even if you run an online business you can embrace the fact that you are a small business and promote all the things that tend to come with a small business – like excellent customer service, unique products or services and personal attention to the business and customers.
ADVERTISEMENT
Responsive Web Design
In the past companies had to maintain both a desktop website and a mobile website. But now with responsive website design you can build a website that looks good on any device or screen size – desktop, laptop, tablet or smartphone.
If you are running a regular non-responsive website then now is the time to get responsive. It may require switching your website platform or service provider – but it's time to make a move if you want your site easily accessible to the growing number of mobile customers.
There are many good options to choose from to go responsive –
WordPress – if you set up a website on WordPress using a custom domain name, you can choose a design (or "theme") that is responsive. A WordPress site with a custom domain gives you incredible flexibility to have a professional looking site with built-in blogging capability. The endless list of free plugins gives you tons of functionality options, while free responsive themes will make it easy to have a device friendly site with the flexibility to swap design whenever you want.
Responsive Builders – if you already have a website but want to convert it to responsive design, then a responsive builder may be your best option from a time and cost-saving standpoint. DudaOne Responsive Sites is a tool that helps you build a responsive website by importing content directly from your old (existing) site – so you are not losing valuable content that already exists. And they let you try it for free so there is no risk to see how it will work for you.
Website Builders – many website builders now have responsive design built into their website templates. With simple click and drag templates you can create a site that looks good on any device without any knowledge of how to set up a responsive site.
Email Marketing Newsletter
Email may seem like an oldie but it's a goodie, and investing in email marketing newsletter is hot again for businesses. Putting more of an investment in a solid email marketing strategy has recently made a resurgence for many businesses.
Businesses are smart to invest more in their own communities, sites and customer databases rather than relying on audiences available on social media. Changes to Facebook's organic reach (or lack thereof) has been a major influencer of the move to "own your own customer data".
What are some steps you should take to start ramping up your email marketing?
Sign up for an email marketing service provider. If you already have one, this may be a good time to sign up for some trials of new email marketing providers to test & compare. Although they all might seem the same on the surface, price should not be your only qualifier for which one to use. Take a few new ones for a test drive and you may find that one is easier to use than the other. It's super easy to switch too – most include an export list tool that you can easily import into your new provider.
Get aggressive with sign-ups. Have you noticed that many sites now have a pop-up box asking you to sign up for newsletters? That's because they work. Adding an opt-in pop-up form will increase your number of daily sign-ups and your overall in-house list.
Create incentive for email newsletter sign-ups. Make sure your newsletter is worth a sign-up. Offer to give them incentive right away – like a free download or coupon – and then tell them what to expect when they sign up (like compelling content, discounts, etc.)
Promote email sign-ups in marketing efforts. An email sign-up is a great call-to-action because it gets customers on your list to continue to market to them. Tie your CTA into an email sign-up whenever you can (along with good reasons to sign up for more deals, freebies, etc.). A pop-up on your website can also be very effective.
Develop a consistent monthly newsletter process. Plan to send out your newsletter once a month and be consistent! Plug new or old content (as long as it is still relevant) and give them value-add content that you curate from other resources (giving credit & direct links of course).
The good news is that you don't have to budget a lot for email marketing if you are not already doing it. Most email marketing services have affordable plans at $10-25/month (depending on your contact list size).
Content Marketing
Let's face it – content marketing is not an entirely new idea. Simply put, it's the packaging up of content that you create and, err, marketing it. What is new is a dedicated focus on the creation, packaging and marketing of content that produces desired results.
You may have been creating content for your business for years, but now is the time to step it up and formalize a content marketing strategy that includes an integrated and systematic approach to creating and marketing content to meet your marketing goals. This will likely include all kinds of visual marketing that will get you attention on social media sites, but it will also include PR tactics and new forms of value-add resources for customers and prospects (from white papers to how-to videos or apps).
Your content marketing strategy will overlap with just about every marketing tactic you have – including advertising and/or promotional spend to market and promote content. Putting some dollars aside in your budget specifically focused on content marketing will help make sure you are getting the most out of content you create.
Marketing Plans for Strategies & Tactics
An essential part of developing any marketing plan is a good template that organizes all your strategies, tactics, goals and – most importantly – budget. A good marketing plan will keep you on track throughout the year, yet is still flexible enough to adapt to changing market conditions or opportunities.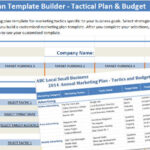 That's one of the reasons I developed the Marketing Plan Template Builder – it helps you build a customized marketing template based on the strategies and tactics you want to use in your plan. With simple drop-down options you can build a marketing plan template that can be used over & over again as your goals or opportunities change. It cost only $5.99 to download with unlimited use.
If your plans include detailed advertising media planning (online or print) you may also be interested in the Advertising Media Plan Template Package that helps you build a detailed media plan, budget and calendar (also only $5.99 with unlimited use).
SAVE 20%: Interested in both plans? Check out our Marketing Plan Template Bundle to save 20% by purchasing both at the same time.
---
---
The following two tabs change content below.
Latest posts by Diane Seltzer (see all)