---
---
Survey shows low-cost marketing tools like word of mouth, social media and networking lead the list of marketing tools small businesses see as critical for gaining business
Most small businesses will evaluate the effectiveness of the marketing tools they utilize based on their return on investment. Marketing tools that require a low investment and deliver the best results for their business will be viewed as essential tools to continue utilizing.
Of course every business is different and can expect different results from different marketing tools, strategies and tactics. But benchmarks, success stories and surveys that provide a glimpse into critical tools for small businesses to tap into are always a good starting point.
Survey of Marketing Tools Critical for Small Businesses
According to a June 2011 study conducted by eMarketer.com, approximately 50% of small businesses respondents say word of mouth is the most important small business marketing tool. The below chart shows the results of the small business survey conducted in the U.S.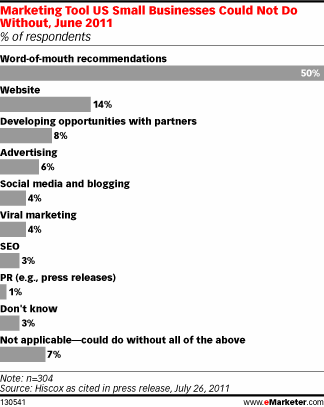 Although "word of mouth" lead the answers in this survey, it can be viewed as fairly vague in terms of an actionable tool to utilize. Other responses in the survey could also be seen as word of mouth – such as social media, blogging or even networking [developing opportunities with partners].
You could also argue that most of these are a bit broad to be seen as actionable or specific tool. Websites, for example, are great marketing tools if they are used to their fullest potential. Just having a website isn't enough… its HOW you use the website that makes it a great tool. A website can also be seen as a marketing strategy that you use to plug in various tools – like videos, photo galleries, email newsletter sign-up forms, social media sharing or community forums.
Notably absent from the list seems to be emarketing – or email marketing. Tapping into tools like Constant Contact or Vertical Response that offer email newsletter and auto responder services can be invaluable in gaining and retaining customer contacts.
There are also many "hidden tools" that are probably included in some of the broader categories. For example, "social media and blogging" probably includes marketing tools essential for small businesses such as videos and online forums (as well as the usual social media tools like Facebook, LinkedIn and Twitter).
Other specific tools like online coupon deal sites could be hidden in the website or advertising category. For example, the highly popular Living Social is an online deals site that drives targeted traffic and sales, but doesn't quite fit into one specific category. To test out the service, Subscribe to Living Social email alerts.
The most stunning result of this survey is that 3% of small businesses don't know what marketing tools are important to their business and 7% could do without all of the above mentioned tools. These results lead one to believe that 10% of small businesses surveyed are not actively managing their marketing activities. If these businesses are not using the basic marketing tools of word of mouth, social media, advertising or websites they are most likely not devoting enough time or resources into marketing to compete effectively.
Or maybe they are simply so successful they don't need marketing tools to gain customers. My guess is not likely.
---
---
The following two tabs change content below.
Latest posts by Diane Seltzer (see all)