---
---
Facebook ads are a cost-effective way to reach targeted consumers for your business, with the ability to design your own ad, pricing and targeting parameters per advertising campaign
Chances are you are one of the millions of Facebook users that logs onto Facebook almost daily to check or update friends and family with your status. And if you are a small business owner you probably also have your own Facebook business page (or are at least in the process of setting up a Facebook business page).
If so, the next step is testing how Facebook advertising can help your business attract new customers or page "likes". Designing and setting up a Facebook ad is a quick and easy way to expand your marketing reach.
The Facebook sponsored ads that appear in the right column of Facebook pages, walls and photo albums are very easy to design and set-up with desired pricing and targeting for a quick and cost-effective promotional campaign. Here are some of the basics in setting up a Facebook ad for your small business.
Facebook Ad Design and Set-up Process – Size and Ad Design Specifications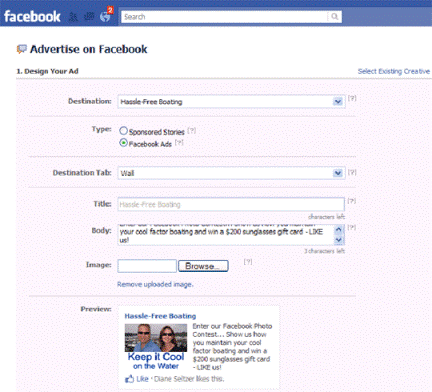 When setting up a Facebook ad you will need to indicate if the ad is being used to promote a website URL outside of Facebook or a Facebook page. If you choose a Facebook page, the title of the ad will be the name of your Facebook business page – this title cannot be edited because it is the link to Facebook connections you may already have for your page and connections of people seeing the ad. If you are promoting a website page outside of Facebook you can edit the name to a catchy title for your promotion.
Because you can't change the title when promoting a current Facebook business page, you may find that you'll need to use up space in your graphic or the allotted text alongside your graphic for a catchy title. In the example shown, the name of the contest for the Hassle-Free Boating page was inserted into the graphic.
The next step is entering the body or text that appears next to your Facebook ad graphic. There is a 133 character limit with the promotional text part of your ad. As edits are made you can see how the ad is laying out in real time.
The photo or graphic used in your Facebook ad will automatically be resized to 110 pixels wide by 80 pixels high when you upload the image you would like to use. To make sure the ad graphic appears as you would like, it is best to resize the original graphic to 110×80 pixels if you can. Once you have your first Facebook ad set up, you will be able to use previous or existing creative for future ads.
Facebook Ads Targets – Selecting Basic or Advanced Targeting Interests and Demographics
One of the best things about advertising on Facebook (beside the low cost) is the ability to target based on individual demographics, interests and geography. During the Facebook ad set-up process you will be asked to determine targets for the ad (who will see the ad on their view of Facebook – wall, photos pages, etc.).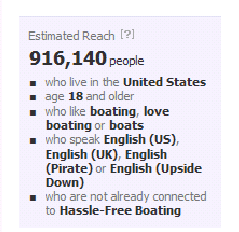 Some of the basic and advanced targeting offered with Facebook advertising include:
Location (by country, state/province, city or everywhere)
Demographics (age, sex)
Interests (specific categories or topics of interest based on Facebook user profiles and history)
Connections (choose people already connected to your page, friends of connections or new connections entirely)
Other interests and demographics (men or women, relationship statuses, languages)
As targets, interests and demographics are selected for your Facebook ad, an estimated reach for your ad is calculated in the right column of the Facebook ad set-up page. This summarizes your ad target selections and provides an estimate of how many people you could potentially reach on Facebook through your ad based on your target criteria. Facebook recommends at least a few thousand people for ads to be effective.
Facebook Ad Pricing and Budgets – How Much Facebook Ads will Cost for Your Business
The biggest question most businesses have with Facebook ad is "How much do Facebook ads cost?" The answer, although somewhat vague, is whatever you are willing to pay. Obviously the bigger the budget the more response you may get.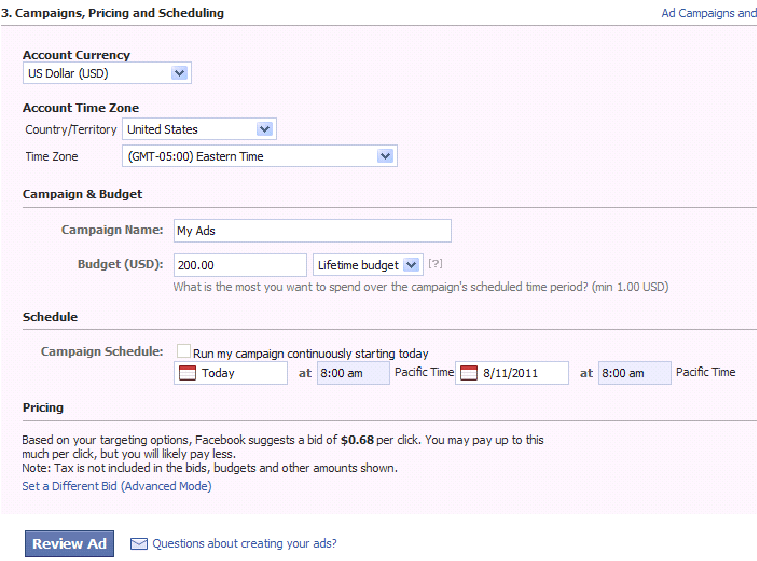 Facebook allows you to set your own budget and decide how much money you are willing to pay daily or for the lifetime of your campaign. For example, you may choose to only spend $10 a day on the ads. Once you reach the $10 daily limit your Facebook ad will no longer be displayed (until the next day). Or, you may choose to spend $200 for the life of the campaign. The campaign will end when you use up your entire budget, or when you have specified to end the promotion.
Cost for Facebook Ad Clicks and Likes
The component that is a bit complicated with the Facebook ad pricing and budget set-up process is the bidding process. Facebook charges per click or "like" on your ad but charges are based on a bidding process for the targets selected to reach Facebook users. For example, if you selected highly targeted demographics and interests, you may pay more per click then if you had broader selections. Facebook will estimate a bid amount per click or allow you to choose a different bid amount/limit for your ads. The suggested bid is typically higher than would you will end up paying per click. And of course any bid amount you select can be adjusted mid-campaign based on performance. So, depending on your targets, you may pay $.50 per click or $1.30 per click/like.
The final step in the Facebook ad set-up process (after campaign pricing) is scheduling a time to start and stop your campaign. This step is obviously critical in determining how much you will pay for your ad – whether you selected a daily budget or lifetime budget. Once pricing and scheduling is complete you will review the final ad along with final targets and enter credit card payment information to place the order.
Facebook will also give you access to a Facebook Ad Dashboard for reporting and analytics of ad campaigns. You will know in real-time how much of your ad budget is remaining, as well as how many new clicks or likes. A weekly status will also be emailed to you as well as a tally of your weekly charges. Also keep in mind that Facebook bills your credit card weekly for each week's charges.
The best part about Facebook advertising is that it is very flexible – you will always have the opportunity to stop, extend or change a Facebook ad campaign along the way. Small changes in targets or ad designs (such as testing different ad creative) can help the campaign become more successful for your business. Facebook ads can be a great way to gain additional exposure for your business and/or promote a Facebook Like campaign for your business.
---
---
The following two tabs change content below.
Latest posts by Diane Seltzer (see all)