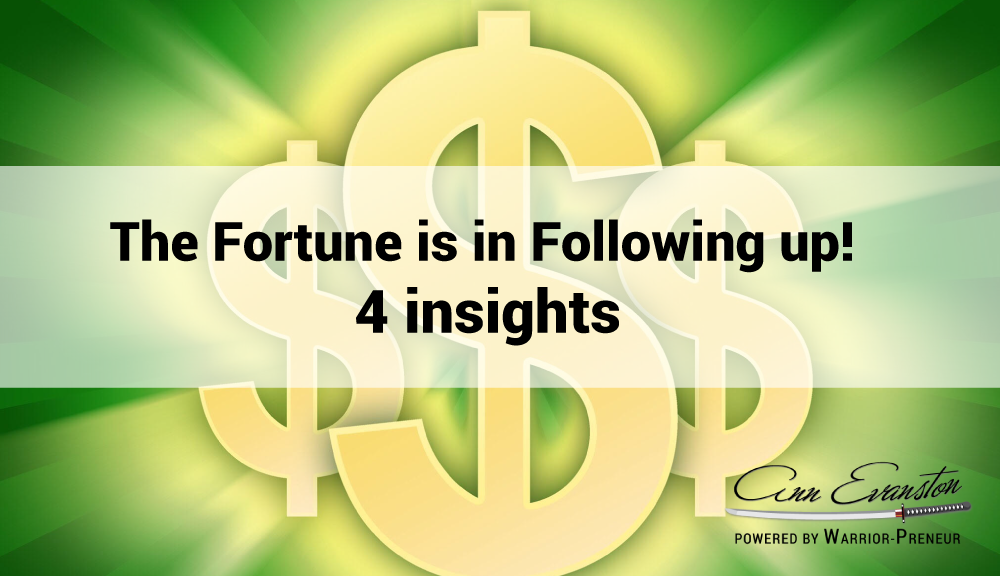 I'm sure you've heard the saying, "the fortune is in following up!" This is so true especially when looking at marketing strategies. Research shows time and again that direct contact and follow up creates the greatest ROI (return on investment).
Are you practicing good follow up strategy? Once you've met someone networking, connected online, or added someone to your list what you do next matters!
Here are 4 insights to making follow up successful in your business.
---
---
Don't Delay Your Initial Follow up!
Ever met someone networking and asked they contact you, only never to hear from them? Or sign up on someone's email because they promised some great tips solving a problem you have, only to never get it?
Or worse yet something comes in your email weeks later and you are wondering why it was sent to you? (Ok, you have to be as old and forgetful as I am for that to happen!) How did that make you feel?
Knowing that it's not a great feeling, don't wait! Connect sooner, immediately if possible. The longer you wait, the weaker that emotional connection is. Do so right away. You want to build trust and credibility with people and your quick effortless connection will create that win. Give them what you promised!
Be Consistent and Frequent when Keeping in Touch
Connected..one time…but when do you call again? Or email? The simplest answer…sooner over later.
Post Planner did research that showed the Facebook pages that post up to NINE times a day have more likes and comments than those with less. Other research says that increasing posts by 59% will increase sales. They also have more traffic to their websites. Which means the consistent, frequent follow up is getting results!
Same is true of your list. Once they sign up, how consistently, and frequently do you send them something? Do they get what you promised them right away? They should…it means you are trustworthy.
Then once they get "the promised thing", how frequently do you send the next email? Weeks? Months? Randomly when inspired to write that newsletter? It must be more frequently that that! Have you ever signed up for a millionaires list? They sometimes email you three times in a day!
Do you have the mindset that you don't want to "bother people?" Are you fearful of them opting out, so you don't do more? Isn't the goal to get them to make a choice? And if they will NEVER buy….then they made the right choice! Think about where the fortune is!
Understand the Psychology of the "Emotional Bank Account"
Some may call this the Law of Reciprocity…..when you give you get.
Ultimately, when we follow up, share a resource, say happy birthday, or offer a great tip without expecting anything in return, we make valuable deposits. We become valuable, trustworthy and worth hearing out. This makes it easier when you ask for something you want —the deposits move people to yes!
Call Them to Action!
Once you have built trust and credibility, showed up frequently and consistently, and put credits into the emotional bank account, it's time for making withdrawals! That's right, call them to action! What do you want them to do for you? A referral? To speak at their event? A testimonial? Or even make a sales offer!
Follow up can feel daunting, yet worth it over time. Organize your systems and automate what you can. Learn to add personal touches and ask for what you need in return!
These four insights will make the fortune in following up a success!
---
---
The following two tabs change content below.
Ann M. Evanston MA, works with creative, intuitive entrepreneurs on how to step into their personal power, own their message, and bring it to the world…in person, online, and when they speak in a compelling and influential way. She ignites them to bring their message forward in a way that enlightens ideal clients to become buyers saying YES! Combining this work with her psychology background her true Warrior power comes in showing healers how to heal themselves and their businesses so they have the success they want. After all, the biggest battle is within! She has been featured on The Huffington Post, Spark and Hustle with Tory Johnson, and Showcasing Women, and has spoken on stages globally. About.com named her one of the "Top 6" Marketing consultants. She is a published author of: "The Influence Factor: The Journey to Discovering your Influential Voice."
Latest posts by Ann Evanston (see all)