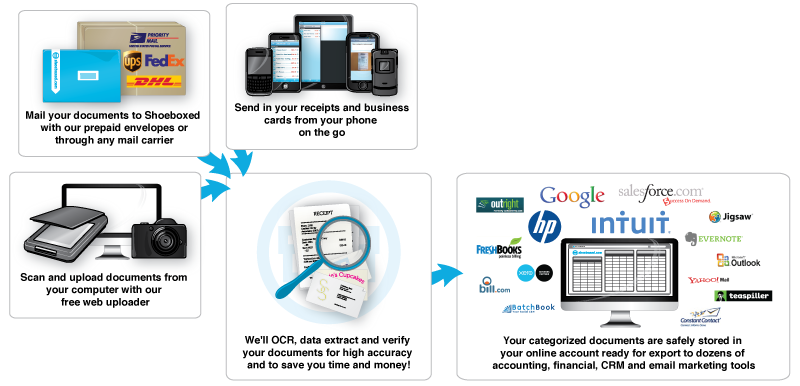 Businesses can save valuable time and maximize IRS returns by automating the organization of sales receipts, invoices and bank statements for tax season and throughout the year
Each year small businesses everywhere are scrambling to get their expenses in order for tax season. Small business owners are busy juggling multiple tasks throughout the year and often accumulate countless unsorted receipts that they put aside for tax time.
The mountains of sales receipts, invoices and bank statements to sort through can become the biggest challenge for small businesses when its time to file tax returns.
Automating the process of organizing business receipts throughout the year can be an enormous time-saver for businesses when tax season rolls around. An automated bookkeeping process that digitally organizes receipts can also help ensure everything is accounted for and accurate. And an accurately complied business receipt inventory is the best way to maximize valuable business deductions and tax returns.
---
---
Online Digital Organization of Business Tax Receipts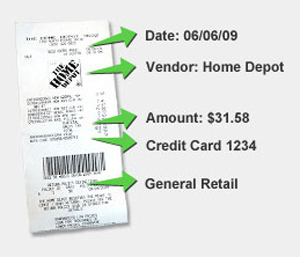 Small businesses can get big help with the organization of their business receipts with a simple online digitalization process. Digital organization of sales receipts, invoices and bank statements can allow you to quickly and easily integrate with tax preparation software for filing tax returns.
One company that has made the digital organization of business tax receipts simple and inexpensive is Shoeboxed.com. Their service mission is simple – eliminate the "shoebox" of miscellaneous business tax receipts and get them all organized digitally in one location online.
The Shoeboxed.com service takes your receipts, business cards and all other important paper documents and digitizes and organizes them online. What makes the process really easy is the fact that with Shoeboxed you don't need to own expensive scanners or waste your valuable time sorting or categorizing business receipts manually.
Here's how the Shoeboxed business receipt organization service works:
Get business receipts organized and ready to be added to an online account.Send your original documents or receipts to Shoeboxed via postage-paid envelopes (supplied by Shoeboxed)

OR… Snap photos of receipts with any smartphone camera while you're on the go (using Free iPhone, iPad and Android apps)
OR… If you have an HP web-connected printer you can download the free Shoeboxed app tool and send in your receipts and documents that way as well.

Business receipts are digitally organized and available from central online account.In just a few short days, Shoeboxed scans your receipts or documents, extracts the data from each page, and organizes everything into a secure, user-friendly online account. What's great about this service is that all data is human-verified by trained local Shoeboxed employees to ensure accuracy.
Integrate business receipt data with accounting software for tax season.

Once everything is processed into your Shoeboxed.com account, the data can be integrated with a variety of major accounting and finance software options for tax preparation. You can then organize your information any way you want – print it, download it, email it, or share it via PDF.
Shoeboxed can then easily integrate the data with the following accounting and software programs:
Excel
Quicken
Freshbooks
Outright.com
and more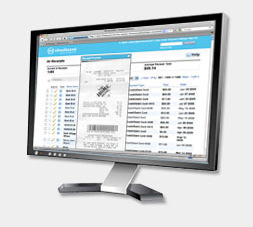 Your digitized business receipts are also accepted by the IRS for auditing and bookkeeping purposes, so you can be sure you have everything accurately accounted for when you file your tax returns. With Shoeboxed, you also have the advantage of keeping everything organized throughout they year for instant review of your expenses online at any time.
To get started, Shoeboxed offers a 30 day free trial so you can test drive the service for business. Their customer support team can provide extra help to get started with your business receipt digital organization process and how to use the accounting and finance program integrations so you are ready for tax season. After the trial period you can keep upgrade to service accounts starting at only $9.95 a month.
---
---
The following two tabs change content below.
Latest posts by Diane Seltzer (see all)