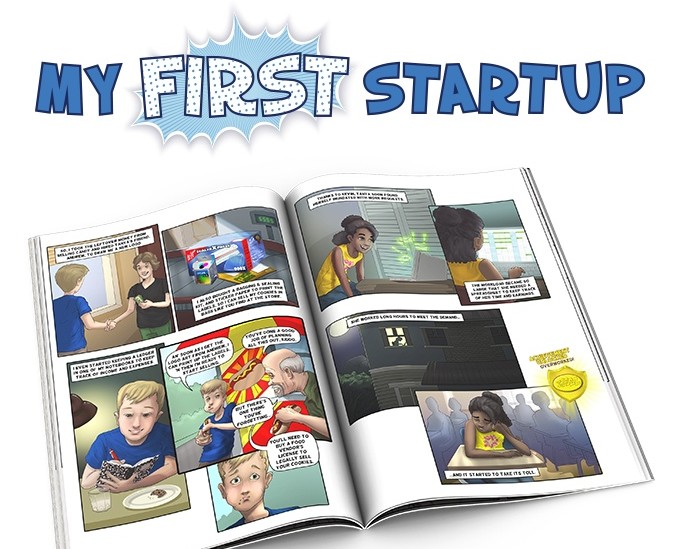 Many small business owners and entrepreneurs want to encourage their kids to develop their own business someday or help inspire the next generation of entrepreneurs. Don't you wish someone shared with you everything you know now when you were a kid with your first business idea?
My First Startup is an educational comic book that teaches kids about creating their very first startup business. The comic strips in My First Startup demonstrate entrepreneurial scenarios that are relevant to children, helping to form an entrepreneurial state of mind at a younger age in a fun and creative way.
Launching as a Kickstarter campaign by the founders of Your Comic Story (creators of custom comic books), the My First Startup comic book will first publish as a Kickstarter project and then proceed to regular publishing and online/TV extensions.
Self-proclaimed "serial entrepreneurs", the founders of Your Comic Story say they created My First Startup to "give today's kids what we wish we had growing up".
---

---

What Inspired us?

Kids – they're awesome! Today's kids are very tech savvy and full of ideas that can change the world. And the world is changing – but their education is not catching up. Let's turn kids' dreams into reality and build their own path towards a successful future with a comic book that teaches them about creating their first startup.

What's Inside the Comic Strip?

The comic book follows two kids, Tanya and Kevin, as each tries to create a business. It presents typical obstacles faced by startup founders in a easy-to-understand, engaging, and practical way. We consulted with economists, child psychologists, and successful entrepreneurs to make sure our comic book is accessible to kids, teaches sound principles, and is based on the real issues faced by startup founders.
You can learn even more about the My First Startup project in their Kickstarter video:
Backers of the My First Startup Kickstarter project can get a variety of rewards based on their level of backing, including:
Social media thank you's
Ebook versions of the comic book
First edition copies of the comic book
Personalized messages in the comic book (great if you are gifting the book to a kid)
Skype for 15 minutes to discuss your kid's business idea
Custom super hero poster
Custom 4-page comic book
Startup Toolkit with tools from partners like Shopify, Instapage, Shippo, SendInBlue, and Jukebox Print
The Kickstarter project for My First Startup runs through September 24, 2015 and then the book is expected to be available for purchase in October 2015.
Personally I love that there is a new kid-friendly way to teach kids about business – nurturing their ideas and giving them the tools to help them become a reality. So whether you have a kid already looking to develop a startup business, or you simply want to inspire a kid to one day become an entrepreneur, My First Startup is worth checking out!
---
---
The following two tabs change content below.
Latest posts by Diane Seltzer (see all)