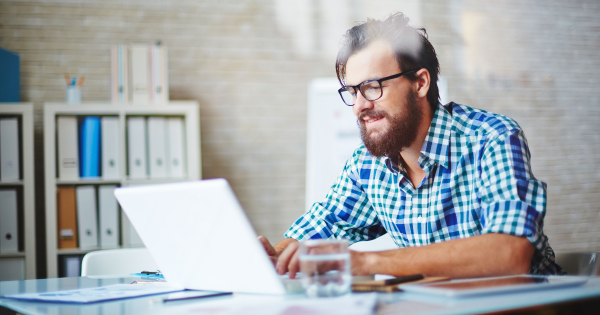 Working from home comes with unique cybersecurity issues – here are ways you can keep your business safe with your remote work
It's no secret that cybercrime has increased since the number of people working from home has surged during the COVID-19 pandemic. Fortunately, there are a few key ways you can protect your small business while still working remotely.
---
---
Keep Family Members Away From Work Devices
Having a functional home office takes more than simply having a seat area and storage for your work files. You also need to make sure that your work devices are not available for use by everyone. Doing this is important in order to make sure that vital work information isn't accessed or interfered with by someone else who may not even be aware that they're potentially causing an issue. Enforce this and let everyone in the house know that they need to stay away from your work devices. With the average American spending 93% of their life indoors, you can be sure that there will be a lot of traffic indoors.
Install VPN
A VPN or virtual private network will keep you safe whenever you go online using public hotspots. It establishes a secure and encrypted connection to the network you're connected to over the internet and then routes your connection through it. This allows you to have remote access to computing assets that are secure and also helps you reduce the risk of experiencing some cyber attacks because the VPN makes it hard to see your traffic and intercept your activities while you're connected. Using a VPN will also prevent websites you browse from knowing your true location and keep your internet service provider from monitoring your activity.
Keep Work and Personal Accounts Separate
Another tip you need to pay attention to is to keep your work accounts separate from your personal ones. This way, you won't get subscriptions and more mixed up, something that can cause issues in the future with renewals. According to Internet Live Stats, Google processes over 3.5 billion searches each day, and this is a large amount of information. There are searches that you may want to make for your personal use that you don't want to have show up on your work's search history or subscriptions that need to be paid for separately. To avoid issues with these getting mixed up, make sure to strictly keep work accounts and personal accounts separate, always remembering the right one to use each time.
Use Strong Passwords and Pins
To make sure that all the other tips are going to be beneficial to you, make sure you set up strong passwords on all your devices as well as for all your accounts. A good password should be something that everyone else but you sees as a random string of characters even if they come across it. Avoid using obvious things like your date of birth, your street address, or license plates and your pet's name, among others. This is why you will need a secure password vault to make sure you have access to your password while no one else does.
Install Antivirus Software On Your and Employees' Computers
Cybersecurity is an important part of any working station, and for this reason, you need to ensure that you have antivirus software on all work computers. The transmission of data and its security in storage are imperative in the modern enterprise, so don't neglect to take care of them. Do research to find the most comprehensive solution for your work needs and try to get deals by bundling your purchases. For instance, you may be able to get an antivirus and password vault for a lower price if you get them together rather than separately.
With the tips above, you can go on to set up a safe and secure home office from which you will be able to run operations. Following the tips will give you valuable peace of mind while keeping sensitive work information safe at all times.
---
---
The following two tabs change content below.

Valerie M. is a writer from Upstate New York. She received her Bachelor's degree in Journalism from The State University of New York at Fredonia in 2016 and is currently working at a digital marketing agency where she writes blog posts for a variety of small businesses all over the country. Valerie enjoys writing about music, animals, nature, and traveling.

Latest posts by Valerie M. (see all)