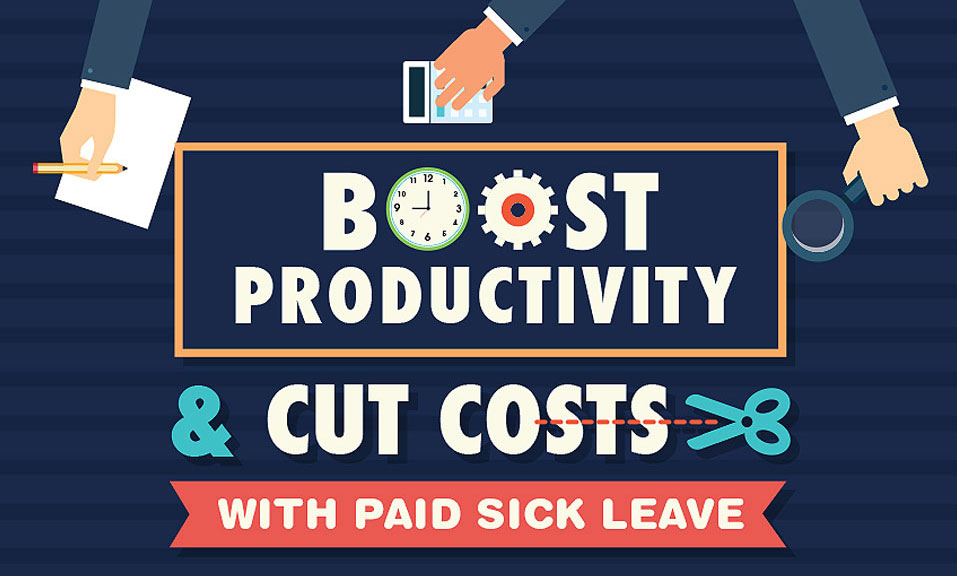 How your small business can boost productivity and cut costs by offering employees paid sick leave
Many small businesses have to evaluate and making cost-benefit decisions on which benefits their employees need the most and which benefits they can afford to offer. While your business may be eager to improve benefit packages for employees, it also needs to make business sense.
Whether or not to offer paid sick leave is sometimes debated by small businesses – particularly for part-time workers.
Did you know that lost productivity from illness costs the U.S. economy $227 billion per year? Even more astonishing – "presenteeism" (when an employee works sick) is estimated to cost more than actual absenteeism.
In the U.S., roughly 3/4 of full-time workers get paid sick leave, while only around 1/4 of part-time workers have the same benefit. That leaves nearly 43 million private-sector workers without paid sick days to recover from an illness or care for a sick family member.
Paid sick days not only decrease the productivity lost when employees work while not feeling well, but also result in reduced turnover, better self-reported health, and increase company morale.
If your business is unsure about the effect of adding a paid sick leave benefit, then you should check out this very informative infographic by SurePayroll that illustrates just how much it is costing businesses not to have paid sick leave. By simply adding paid sick leave as an employee benefit small businesses can realize big business benefits:
Reduces costs
Boosts productivity
Increases employee morale
See the full infographic below to learn more about how your small business can boost productivity and cut costs with a paid sick leave benefit for employees.
---
---
---
---
The following two tabs change content below.
Latest posts by Diane Seltzer (see all)