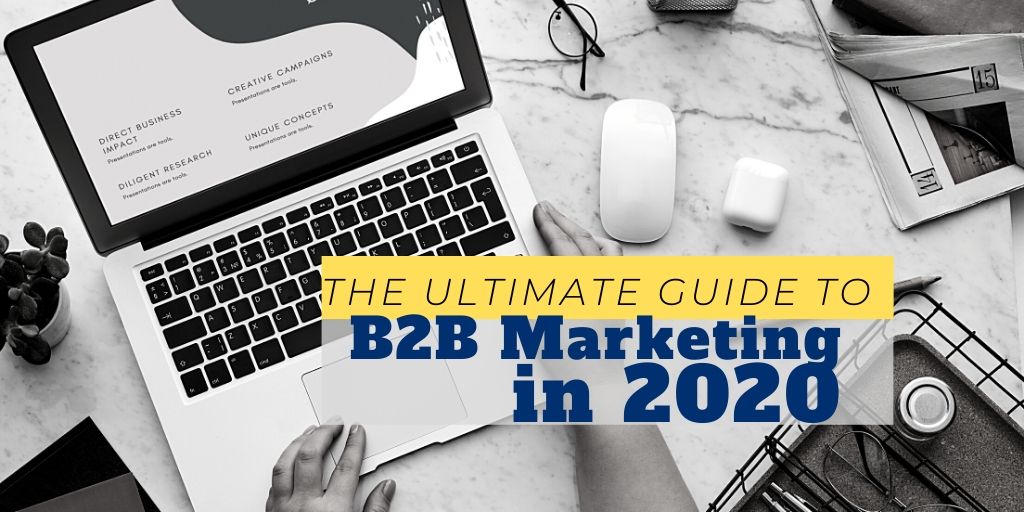 Use these B2B marketing strategies in 2020 to market your business more effectively to other businesses
B2B marketing has many unique perks compared to its B2C counterpart, mainly because we are targeting a different audience. B2C companies market their products/services directly to an end consumer, while B2B companies market to other businesses. Obviously businesses have different behaviors and purchase considerations compared to direct consumers, and we can involve more than one decision-maker.
However, various technological advancements have caused many dramatic changes in the B2B audience's behaviors. For instance, now more than 70% of millennials are included in B2B purchase decisions, and so a lot of B2B buyers are now tech-savvy. In fact, various studies suggested that B2B buyers tend to do at least 12 Google searches before interacting with a vendor.
So, digital marketing now should be a core part of any B2B marketing strategy. However, how should we approach B2B marketing in 2020? Is there still any difference between B2B and B2C marketing? Do the traditional approaches still work?
In this ultimate guide to B2B marketing in 2020, we will answer those questions and discuss various ways you can market your business more successfully in 2020 and onwards.
---
---
Preparations and Planning
How should we plan a B2B marketing strategy? Planning all kinds of marketing strategies should be centered around the understanding of the target audience. So, let us begin by discussing the current state of the B2B sales/marketing funnel.
Changes in B2B Marketing Funnel
As discussed, there have been various transformations in the B2B audience's behaviors. In recent years, digital transformation has especially changed how B2B buyers research and find B2B vendors.
Traditional B2B Funnel
In the past, the B2B marketing funnel is pretty predictable with four main 'stages':
Awareness stage: where strangers become aware of your brand and/or the product/service you are offering
Interest stage: where some of these strangers become interested in the solution you are offering. This is where these strangers convert into leads or prospects.
Consideration stage: in the consideration stage, the leads are considering between different alternatives, comparing your products with your competitors
Purchase stage: the stage where the prospect finally takes action and purchase your product.
However, the process has significantly changed due to several key reasons:
Strategies like cold calls and cold emails no longer work as effectively since B2B buyers are getting younger. So, it's harder to build awareness and we'd have to adapt to new channels, etc.
On average, there are now more stakeholders/decision-makers involved in B2B purchase decisions. Nowadays typically there are around six decision-makers in a company, and it will also involve mid-level and low-level managers.
While in the past B2B buyers tend to be passive (they tend to wait until vendors approach them), the modern B2B purchasers are more proactive. As discussed above, most B2B buyers do their own online research and can compare different potential solutions. B2B marketers must ensure that your prospects and leads can find your content online via as many digital channels as possible.
Close to 100% of B2B leads can repeat one or more stages of the traditional marketing funnel, creating a loop instead of a funnel. We will discuss more of this below.
B2B Marketing Funnel in 2020
The stages in today's marketing funnel are pretty similar to the traditional model, and would mainly include:
Awareness stage, where the audience learns about potential solutions
Consideration stage, but can include research and discovery loop where the B2B prospect becomes aware, research, and consider different products. So technically the consideration stage can be prolonged infinitely.
Purchase stage, pretty self-explanatory
Post-purchase stage, nowadays customers can easily interact with vendors via various channels from social media to traditional emails and phone calls. This will create another loop we call the loyalty loop where the customer might or might not continue their relationship with the B2B vendor.
The B2B playing field has dramatically evolved and now they expect the same customer service and overall purchase experience as they would from B2C products. Also, nowadays, B2B buyers can easily compare online testimonials, reviews, and case studies and so the B2B market is much more transparent than in the past.
The Importance of Competitive Analysis
It's important to keep an eye on your competitors closely, and at least pay attention to the following aspects:
Competitor's keywords: check out what keywords your competitors are targeting both in SEO and PPC advertising. You can either target these keywords or avoid them and look at other opportunities.
Backlinks profile: various tools such as Ahrefs or SEMRush can help you check the link profiles of your competitors. Their backlink sources can also be valuable sources for you.
Clients: fairly obvious, if their clients are also your ideal customers, you might want to reach out to them and communicate that you can provide a better value.
How B2B Businesses Should Adapt
To adapt to the new B2B marketing funnel (or loop), a B2B marketing strategy should cover several key areas, and address them separately:
Awareness building: also called demand generation, how we can let potential prospects know about our existence and introduce them to our solution
Lead generation: how we can convert interested people into prospects by capturing their contact information.
Lead nurturing: how we can convince prospects while they are comparing our solution to our competitors' that our product is their best solution.
Retention management: many B2B businesses have switched into subscription-based/retention based business models. Even if you're not, the existence of the loyalty loop—as discussed above—, now requires marketers to pay extra attention to retention management. Your hard-earned customers can simply switch to your competitor, anytime, so you should have a working strategy.
End Words
B2B marketing should be focused on adding value for your target audience, and you should focus on communicating your product or service's unique value proposition for your customers.
When it comes to creating a successful B2B marketing strategy, adding value is actually quite difficult, and one of the reasons is that we'd need to communicate our values to the different stakeholders in a target company. So, we can't give them a general, one-size-fits-all approach in our B2B marketing strategy, and utilizing all the different channels effectively is very important.
---
---
The following two tabs change content below.

Editorial Staff
This article was written by SBMarketingTools.com editorial staff.

Latest posts by Editorial Staff (see all)