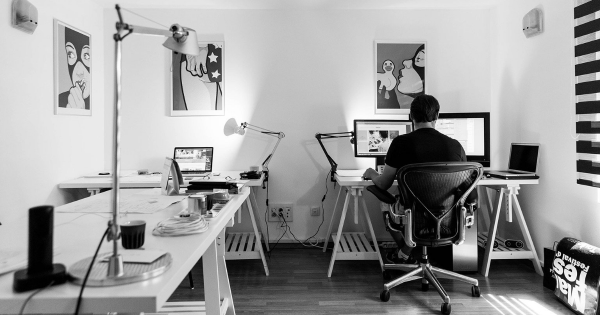 No matter what kind of small business you run, these tips for creating the perfect home office can help you.
If you are starting or have started a small business, you probably need space dedicated to your work. No matter if you only have space for a desk dedicated to your business or if you are thinking of adding an addition to your home or yard to make space for your office, these tips can help you.
---
---
How Much Space Do You Need?
Realistically, most of the decisions for your home office will center around how much space you'll need for your office. Do you just need a desk for your computer setup? Do you need space to take pictures of products? Do you need an area to pack orders? Take this into account from the beginning to ensure that you don't end up with an overly cramped or overly spacious office.
Choose the Best Location
Once you've decided how much space you need, you can start to think about where you will situate your home office. Here are a few different spots where you could situate your home office:
A Guest Room. If your guest room sees more dust than guests, you can repurpose it to become your office. You may need to remove or rearrange some furniture, but in the end, it's a great way to use otherwise empty space.
The Basement. If your basement is currently being used just for storage, you're missing out on what could potentially be a great office space. If you decide to finish or remodel your basement to accommodate your office, you're not only creating a great space for your business but also making a good investment in your property. On average, basement remodels see a 70% return on investment, according to Home Advisor.
A New Structure. If you have space on your property to build a standalone office building and you need the square footage, a new building for your office is a great option. You can use something prefab to speed up construction, such as a recycled shipping container. A shipping container is a great idea if you're eco-minded — each reused container saves 3,500 kg of steel and means that there are much fewer new building materials being used for your office.
No matter what kind of office you need, choosing a good location for it is important.
Function Over Style
Although it can be tempting to buy pieces for your office that are more aesthetically pleasing than they are useful, you should focus on function over form when it comes to office supplies. For example, if you're looking into buying a new filing cabinet, and there's one that has two fewer drawers than your current filing cabinet but is made out of a wood that you like, the odds are it isn't worth it. Buying a filing cabinet with more drawers and adding a layer of paint or staining it to match the other wood tones in your office is a smarter solution to your search.
Get a Good Chair
Most likely, you'll be sitting a lot in your office. Having a chair that can properly support your back is important. If there's one thing to really splurge on in your office, it's your chair — you know you'll get use out of it, and you'll be thanking yourself when you're spending hours on end sitting in it.
Choose a Good Color Scheme
A good color scheme can go a long way to inspire and engage you during the workday. If you have a favorite color, you can figure out a way to incorporate it into your office space. This could mean painting the walls this color or choosing accent accessories that are that color.
Accessorize Effectively
Don't choose accessories for your office purely based on aesthetics — try to choose pieces that are functional as well as aesthetically matching for your space. You can choose stationery, office supplies, and other small decor pieces that not only match your office's theme but also are actually useful in your day to day proceedings.
Remember the rule of threes when you're decorating: an odd number of objects will look better to the eye than an even number of objects. For example, choosing to put out three matching containers for office accessories like pencils, paper clips, and push pins is more aesthetically pleasing to the eye than having two or four containers.
Minimize Clutter
Clutter can make an office feel visually overwhelming and smaller than it actually is. The main way to avoid clutter is by choosing a space that is adequately large enough to house everything you need for your office, but you can also take other steps to minimize clutter. Here are a few ways to make your space feel less cluttered:
Cord Covers. If you have a multitude of cords and cables hooked up to your desk, a cord cover can help you both organize them and conceal them to ensure that your desk area doesn't become cluttered.
Filing Cabinets. If you have a lot of paper and documents that may become unorganized and end up piled all over your office, implement a filing system in a filing cabinet instead. Once you're done using whatever papers you have, make sure that you put them in their correct spots in your filing cabinet to ensure that everything in your office stays organized and uncluttered.
Closed Storage Containers. If you have shelving that can fit bins or boxes, you can hide clutter away in closed containers. Although they may not stay internally organized, you will still be able to steer clear of visual clutter.
Take these tips into account and leave open space on top of your desk or other work surfaces to ensure that you don't end up with a cluttered and messy office.
If you're designing a home office to help you get work done for your small business, you have many options for customizing your office at your fingertips. Make sure to think about the amount of room you need and prioritize functionality and your home office should turn out wonderfully.
What's your favorite part of your home office? What do you wish you have in your home office? Let us know in the comments below.
---
---
The following two tabs change content below.

Valerie M. is a writer from Upstate New York. She received her Bachelor's degree in Journalism from The State University of New York at Fredonia in 2016 and is currently working at a digital marketing agency where she writes blog posts for a variety of small businesses all over the country. Valerie enjoys writing about music, animals, nature, and traveling.

Latest posts by Valerie M. (see all)