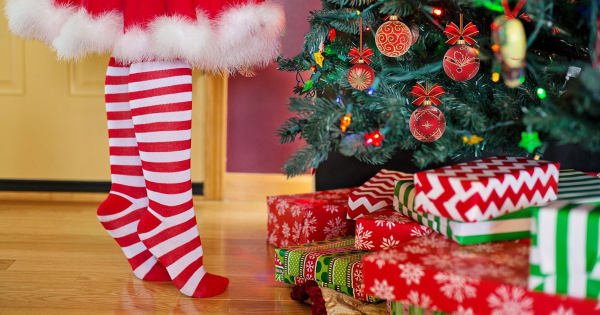 If you want to make the best and most effective holiday gift guide to promote products for your small business, we have tips that will help you.
Gift guides are a wonderful marketing tool during the holidays to help direct your customers to the best products for them. However, if your gift guides aren't made as effectively as they could be, it could result in potential sales not happening. To make the best and most effective gift guide, follow the tips listed below.
---
---
Create Themes
Creating a gift guide organized by the theme or types of products you sell is a great way to share all of your products. If you choose to do this, make sure that every product in a grouping completely fits in the heading.
For example, if your store sells sports equipment and you have a section of the gift guide with winter sports, don't include something like a wooden bat in that section. Although bats are a sports-related product, baseball is a spring and summer sport and shaved bats don't do well in temperatures below 65 degrees. This means that it's possible your customers could even break their equipment if they think it's okay to use in winter weather, and that could mean losing that customer for the future if they have a negative experience with you.
Consider Your Customer Base
If your customer base consists mainly of women between 35-50, create gift guides that are "for her," "for your wife," or "for your mom." Odds are that if someone knows a woman in their life likes your brand, but they don't know exactly what she wants, they will be looking at these gift guides for guidance. A gift guide aimed toward buying for someone who is not a usual customer doesn't really make sense unless you're really trying to expand on your customer base and point out that some of your products are for more people than are currently buying them.
Organize By Price
Organizing your gift guides by price is a great way to show off the range of pricing on your products. If you are a brand that usually has more expensive products, showing that you do have products in lower price ranges may result in more sales. Also, consider making cheaper products specifically for the holidays. For example, if you sell skincare products, offer travel sizes or product sampling kits.
Group By Age
If you have a wide range of products that can appeal to different age groups, consider grouping different age group items together. If you're a fishing supply store, you should have a section of your guide with rods and accessories specifically designed for kids, and since there were 11.6 million fishers between six and seventeen in the U.S. in 2017, there are probably quite a few products you can stock.
Have a "Best Sellers" Section
Make sure that no matter what you sell, you include a section of "best sellers." If someone has heard of your brand but doesn't quite know what your products are, this will help them figure out what kind of products you sell. In addition, if someone is looking at your gift guide to buy for someone in their life who likes your brand, they will know to head straight to best sellers for something they're sure their person will like.
Determine How You'll Present the Guide
The way that you post your gift guide is as important as the content. Here are some options to take into consideration while creating your gift guide:
Where will you post it? If your gift guide is going to be a filter on your e-commerce store, that is a different creation process versus if you are going to create a blog post gift guide. If you're creating a blog post, you'll need descriptions of why the products fit into the category they're in, such as "gifts for her" or "gifts for the outdoorsman."
Where will you promote it? You should try to promote your guide in as many places as you possibly can. This means all of your social media accounts, on the home page of your website, and maybe even on paid ads. Make sure you take into consideration how the content will look on all of the different platforms once you have posted it.
When will you launch it? If you are offering any sort of Black Friday sales, you should make sure that you launch your gift guide at least a week before Black Friday and include sale prices in the guide.
Work With Bloggers and Influencers
If you're a smaller company that doesn't necessarily have enough products to fill out a gift guide, working with influencers and bloggers to be put in their gift guides can be a great option. You can give the influencers an affiliate link or work out another deal in order to have them make money off of supporting your product. Note that many influencers will already have price ranges already set, so ask them before doing a full proposal to see if working with them is financially stable for your company.
If, for example, you sell invisible braces or aligners, you can contact a blogger that does content about dental or orthodontic work. Since 25% of braces wearers are adults, you can immediately appeal to that market.
Collaborate With Other Businesses
Another great way to get your brand or business out there is to collaborate with similar businesses near you for a gift guide. Marketing it as a "local gift guide" can result in a wider audience as the concept of shopping local grows in popularity. In addition, you can get exposure to more customers who may like one of the businesses that you're working with but that has never heard of your brand. This exposure is key to making as many sales as possible during the holidays.
Gift guides can be extremely helpful to make sure that you are getting more customers during the holiday season. Create helpful categories to help potential customers find the best products for their loved ones (or even themselves). Try to partner with influencers, bloggers, and other local businesses to maximize the exposure that your gift guides and products are getting during the holidays.
Did any of these tips help you with your gift guide? Do you have any tips for creating a gift guide that you didn't see here? Let us know in the comments below!
---
---
The following two tabs change content below.

Valerie M. is a writer from Upstate New York. She received her Bachelor's degree in Journalism from The State University of New York at Fredonia in 2016 and is currently working at a digital marketing agency where she writes blog posts for a variety of small businesses all over the country. Valerie enjoys writing about music, animals, nature, and traveling.

Latest posts by Valerie M. (see all)