Get your products and services in front of small businesses looking for marketing and business productivity solutions.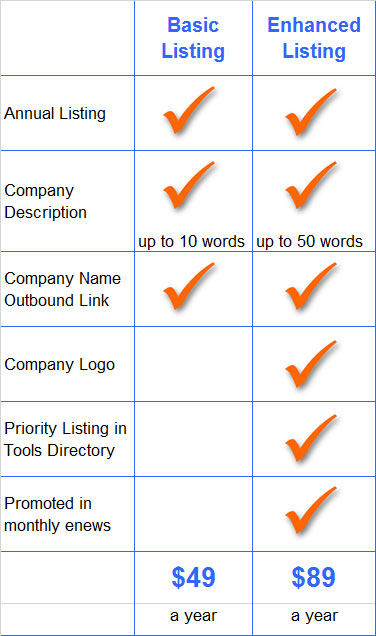 Choose from two different listing options that offer different levels of exposure on SBMarketingTools.com in our category-specific Tools Directories.
All listings are placed in order of listing type (Enhanced, then Basic) and then by seniority within each type on the designated tools directory category pages.
Marketing category page options:
Advertising Tools
Branding / Graphics Tools
Direct Marketing Tools
Email Marketing Tools
Marketing Plans Tools
Public Relations Tools
Social Media Tools
Website apps and Plugin Tools
Domain Name and Web Hosting Tools
Website and eStore Builder Tools
Website Security Tools
Business Productivity category page options:
Communications and VoIP Tools
File Sharing and Cloud Storage Tools
Finance and Accounting Tools
Computer Products and Services Tools
Additional Exposure
Listing will be promoted in the monthly e-newsletter as a new tool in the month following the insertion.
Listing will also be placed for free in tools directory on MarineMarketingTools.com
All listing information is subject to editorial approval. Advertiser will be notified of any necessary edits before insertion into a tools directory. A confirmation will be sent upon completion of new tools directory listing.
---
Please submit your tools directory listing information below.
Note: If you have selected Enhanced Listing w/logo instructions for uploading your logo will be provided upon completion of payment.
Payment will be requested via credit card upon submitting listing information.
Please Continue to Payment After Submitting the Form…