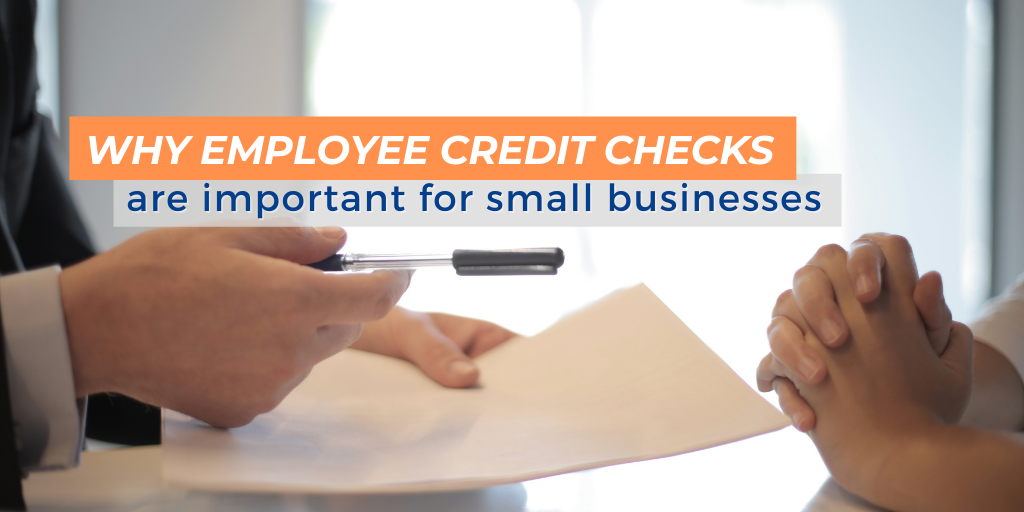 Small businesses may need to consider running an employee credit check prior to hiring to reduce financial risks with sensitive business data
Sometimes it's necessary to run a background credit check while hiring new employees. Employers are concerned about a potential hire as it comes with major threats like fraud or theft. Having a clear insight into an employee's credit history helps them to make a fair decision.
But why employee credit checks are important for small businesses? For a small or startup company, capital and resources can be challenging initially. Therefore, employee credit checks are essential in order to reduce financial risk.
Further, where a larger cash transaction or access and control of sensitive financial information is involved, it's advisable to have a pre-employment screening process. Such processes involve the assessment of an employer's financial history to determine his/her potential vulnerabilities.
Additionally, a good credit report indicates the person's financial responsibility. For example, if he/she had a bankruptcy in the past, that means the applicant isn't very capable of handling finance.
Not even for a fresher but also a senior management post, companies go for the background checking. Thus, they ensure the integrity of the business and its customers are protected. Keep reading the article to get into more details.
---
---
4 Reasons Why Employee Credit Checks are Important for Small Businesses
Are you going for an interview? You dress up perfectly, take resumes indicating a satisfactory qualification and skills, but you could fail to impress the employers. The study says approximately 31% of companies conduct an employment credit check of potential candidates. So, if you've a shady financial past, there is a high chance of getting rejected.
There can be many reasons why small businesses do a credit check. Let's discuss four main reasons to help you understand.
Mitigate Financial Risk
Whether it's a managerial post or promotion of a current employee, it's okay to run a credit check. Mostly the high-ranked employees are responsible for handling the company's finance or account. Henceforth, checking the credit report may be the wise decision of the business.
Then again, an employee or applicant having a dark finance history can be a threat to the company. As the business owner, you surely don't want any money loss or negative impact. A survey depicts that companies lose an average of 5% revenue every year due to employee fraud.
So, in order to mitigate financial risk, track their credit record to understand their financial capabilities.
2. Estimate Financial Responsibilities
Is the applicant repeatedly skipping a loan payment? Then it shows how much he can be irresponsible towards finance and don't follow agreements. As a dutiful employer, you can't allow such employees into your company.
However, some cases can be re-considerable. Like someone can't re-pay a student loan due to an actual financial crisis. In either case, it's easy to know about a person's financial status by checking the credit score.
It helps to estimate a candidate's financial responsibilities and make the right hiring decision. In case there is any evidence of misusing finances, he/she is unfit for the job, especially for handling the company's money.
Not to mention, a clean report suggests financial trustworthiness. Eventually, you can avoid employee turnover each year.
3. Measure Employee Trust
Are you hiring someone to handle financial decisions? In order to stay confident about their task, it's wise to do employee credit checks. You may find that the employee isn't organized about his own finances. So how can you expect him to make profitable decisions for your small business?
Moreover, many business posts like senior executive roles or account manager include accessing customer's sensitive information. You need to be sure those are in the right hand. With this in mind, performing credit checking can be your savior.
A study shows that about $50 million get stolen by employees each year in the US. Therefore, taking a peek at their credit report is vital to control the business economy.
4. Avoid Negligent Hiring Liabilities
It's a claim brought by an individual to hold an employer liable for the damage or injury generated by an employee. Most of the time, these claims come from physical violations or sexual harassments. That's why employers should be careful while hiring new co-workers.
To avoid any negligent hiring liability, it's wise to verify their work history along with credit scores. Specifically, if their role involves managing consumer's classified information or other money resources, reviewing their background is essential.
In Closing
No matter the reason, checking an applicant or existing employee's credit protects your business's reputation. In addition, knowing an applicant's background helps to determine whether he/she is fit for the job role.
Furthermore, you can understand how they handled financial obligations in the past. Reviewing their pre-employment history helps to know how much they're capable of the post. Being responsible with own or borrowed money, re-paying debts in time and organizing financial stat are the good sign of a trustworthy and focused employee.
---
---
The following two tabs change content below.

Editorial Staff
This article was written by SBMarketingTools.com editorial staff.

Latest posts by Editorial Staff (see all)