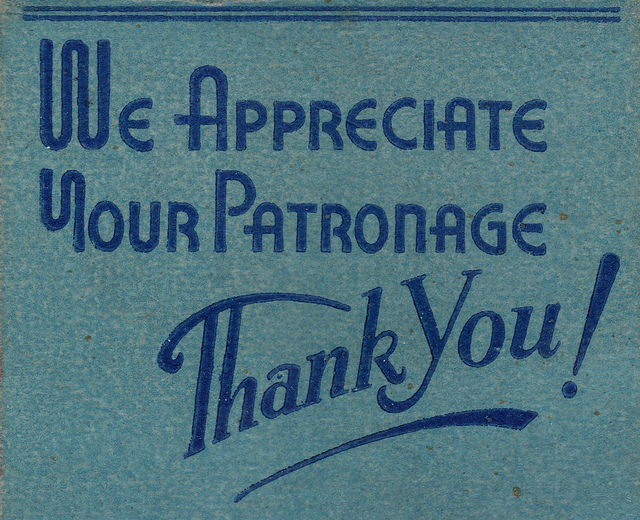 Ways small businesses can extend the holiday spirit to show customer appreciation throughout the year with a business thank you note
You opened your inbox on Christmas Day and found several season's greetings e-Cards from your clients and service providers, right?
The practice is a charming one in the business world, but unfortunately, it, too, has become impersonally practical. It may be easy to send out a bulk mail to everyone on your mailing list, but doesn't that defeat the purpose of greeting someone?
The modern business owner who is aware of his clients didn't send out a bulk mail. The modern business owner started planning a way to give back to his clients in November. In fact, maybe the modern business owner didn't even have to join in on the end of the year rush because they have been listening to their client's needs throughout the year, rewarding every good turn.
Here are some ideas to consider for your Thank You gestures – whether you are kicking off the New Year with some thank you wishes, getting an early start on next year's holiday greetings or simply looking for way to show customer appreciation throughout the year.
---
---
Personalize it
Even a simple Thank You note can be heartwarming, if it is a personalized one. A short, handwritten note about why your client is all kinds of amazing, and why you are looking forward to working with them again, without any corporate speak, is sure to help you connect with them emotionally. Better than a visit card, Thank You notes are welcome any day of the year, not just the holidays! Consider ways you can send more Thank You notes throughout the year. Even when sending a thank you for your business note, never forget to be precise and detailed.
The Classics
Your standard corporate gift basket is not as redundant as you thought. Should you splurge on it? No. But at the end of the day, if you think your clients have had it with calendars, pens, and journals – they haven't. You can never have too many pens on you, and the chances you will actually purchase a calendar are slim, so yes, pack your standard gift basket, and know that all the items will be both used and appreciated.
Are you in a more creative, less white-collar line of work? Never gloss over the importance of flowers. A jolly Christmas bouquet works well throughout the winter season, and special kudos to you if you can have a potted plant delivered. Potted plants require some attention, just like the business relationship you are developing with your client.
Humanize it
Maybe your contact form is finally working properly on your site, but don't put all your eggs in that basket. The best way to reach out to your clients is through the person running your customer support. Nobody likes feeling like a query for your bots. If friendly Dave responds to your client's email using simple, understandable and sincere language, your customer support service is automatically upgraded to one of the best online.
t is not too difficult to concern yourself with your client's needs, and it certainly benefits you as a service-provider to know how efficient these services are. And remember, if your client points out a bug in the system, don't feel overprotective. Solve it, and reward their sleuth skills, and make everyone's day.
We're Still Online
Social media is the way for brand promotion these days. You may have set up just the right amount of SEO on your website, but nothing beats an organic link, and nothing is more organic than word of mouth. Find the influencers in your area, and pamper them. Their reviews form the general public's opinions in ways nobody will admit. And if your clients mention your splendid work on their social platforms? Their happiness is your own. Contribute towards the hype. The best kind of collaboration is an efficient referral.
Refer Them
Putting in a good word for your clients online will bring your brands closer. But it gets better if your business is locally based. Organize a get-together, a shindig, a soiree! Throw a party! Who's invited? All your clients. Take special care as a host to introduce everyone, and don't miss out the opportunity to complement their business. You will essentially be a business match-maker, and that is one sweet title to wear.
---
---
The following two tabs change content below.

Jenny Hahn is an independent finance and marketing consultant from Sydney, Australia who loves helping small businesses get up on their feet. Her forte is satisfied, returning customers and she specializes in small business strategies aimed at building improved customer loyalty and retention. Jenny is a regular at
www.bizzmarkblog.com
.

Latest posts by Jenny Hahn (see all)