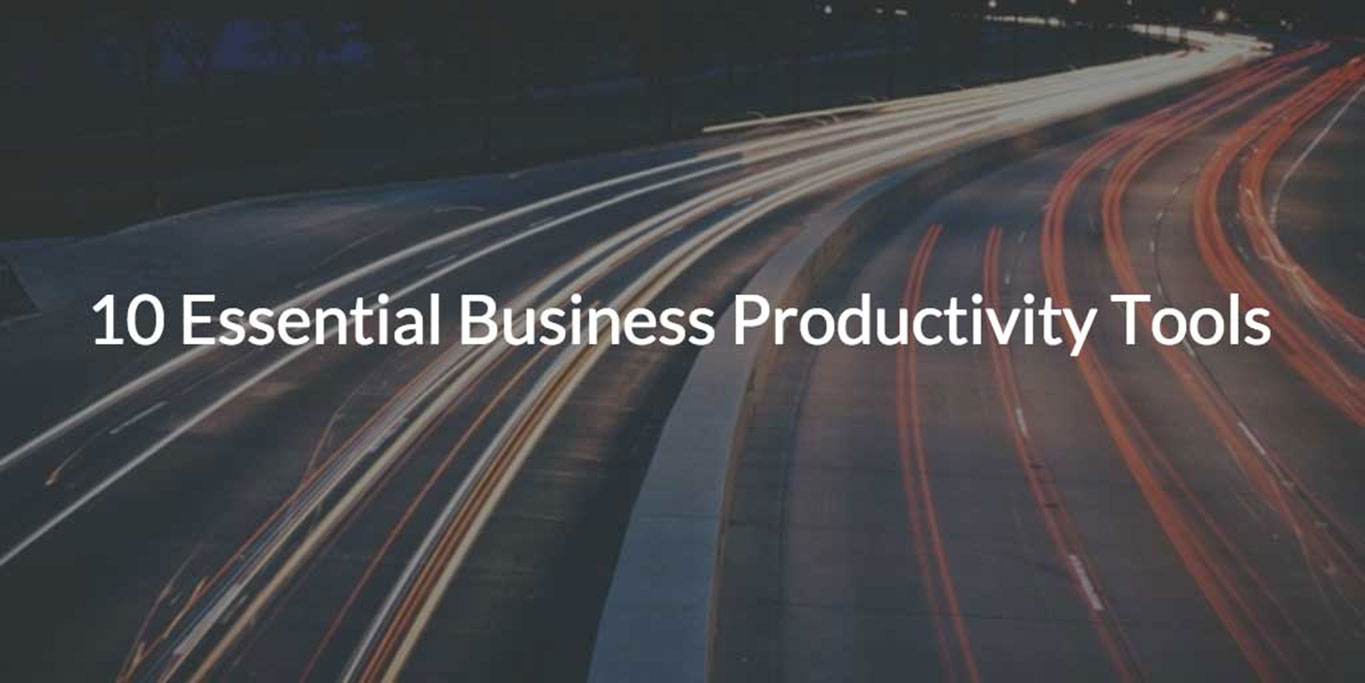 ---
SPONSORED POST

This post is brought to you by My Route Online, a route optimization solution that converts addresses from an Excel file into a route plan to be shared via mobile or GPS. Perfect for small businesses, My Route Online's clientele have been using their easy to use system for years to save them precious time and fuel on daily routes.
---
It's no surprise that most small businesses struggle with maintaining high levels of productivity in their daily work. We've all been there. The continuous use of outdated business practices, simply because they've been deep-rooted in our habits and comfort zone (maybe even because the prospect of change scares us).
Whatever your excuse, there's no reason why you shouldn't aim to increase your productivity today. There are many useful tools out there to help you streamline processes and cut down your busy-work in half! So what are you waiting for?
Here's our top 10:
---
---
---

FreshBooks-Small Business Accounting Software
Every small business needs accounting software. Plain and simple. Most use QuickBooks but Fresh Book's cloud based software was designed specifically for you, the small business non-accountant. They are a one-stop-shop for all your bookkeeping needs. Their solutions are also able to travel with you in the cloud or stay where you are, giving you the freedom of working from wherever you need.
Using reliable and all-comprehensive online accounting software for your small business promotes productivity and expands management control over critical processes. It also doesn't hurt that their interface is sleek and easy to use!
---
My Route Online-Multiple Route Planner
For the many small businesses that have daily deliveries, My Route Online is an easy to use multiple route-planning dream system. I'm sure you can relate to the daily struggle of figuring out what the best way to make all your stops is. Instead of wasting your time on inefficient guessing, My Route Online will automatically sync your list of addresses and shoot out an optimized route that is the quickest, most efficient way to get to all your destinations. Optimizing your delivery route saves you gas, money and precious time, leading to increased productivity where it matters.
---

Trello-Visual Organization Tool
Trello is the perfect visual organization tool for small businesses. It is the only task management system that feels natural to use and actually works! Trello has everything you need to organize projects of any size. Open a card and you can add comments, upload file attachments, create checklists, add labels, due dates and more. You can even invite as many people to your board as you need and drag and drop people to cards to divide up tasks.
---

Buffer- A Smarter Way to Share
In today's day and age there is no excuse for your small business to not be on at least one social media channel… and since you inevitably have a social media presence to manage on a daily basis, you must introduce Buffer into your life.
Buffer is a new and clever way to share posts on Social Media. Think of it as the Siri of Social Media. Using the software is extremely simple. You just add updates into your queue and they will be posted for you well spaced out over the day – and at the best times. Upload, Add to Queue, and relax.
---

IFTTT- If this then that
If you haven't yet heard of IFTTT you're in for the best discovery of your day. IFTTT gives you creative control over products and apps you use all the time through what they like to call "recipes". The recipes you create run automatically in the background and create powerful connections with one simple statement — if this then that. For example, "If I post a picture to Instagram, then save the photo to Dropbox."
You can imagine the possibilities with this ingenious online tool are endless and can boost your productivity significantly! Simply create the recipes you need to run your business smoothly and sit back and watch them do the busy work for you.
---

Slack-Cloud Based Team Collaboration Tool
Slack is a cloud-based team collaboration tool perfect for small businesses who want to streamline the communication between their staff. The application utilizes chat rooms they call channels, organized by topic, as well as private groups and direct messaging. What makes Slack not just another messaging platform is that all content inside Slack is searchable, including files, conversations, and people. It also integrates with a large number of third-party services and supports community-built integrations.
Popular integrations include services such as Google Drive, Trello, Dropbox, Heroku, Crashlytics, GitHub, Runscope and Zendesk. This integration allows for all your important messages and notifications to come through one app, saving you the hassle of logging in to every service separately.
---
Olark- Live Chat Software
Have an e-commerce site or small business with heavy website traffic? Olark is a live chat software that enables you to effectively talk to your customers for sales and support. The software is displayed as a pop up tab that helps you solve customers' problems before they have a chance to click away. You give them answers immediately all while collecting powerful insights about what they want, for relationships that last.
You can also customize the pop up to be in line with your branding and company aesthetics.
---

MailChimp- Email Service Provider
In the days of modern technology every small business should embrace some element of e-mail marketing. However, to be as productive as possible you're better off utilizing an e-mail marketing icon like MailChimp to speed up the process and make it as efficient and optimized as possible.
MailChimp is an email service provider that helps marketers send bulk emails to clients, customers, and other interested parties. Their application is based on the three main tasks of email marketing: manage subscriber lists, build email campaigns, and review campaign reports. They make it as easy and user-friendly as it gets to create campaigns, walking you through the process, step by step. When it's time to design your campaign, you'll find a variety of basic email layouts you can customize easily without having to know HTML and leaving you with beautifully branded and professional looking emails.
---

Facebook For Business
Facebook for Business gives you the latest news, advertising tips, best practices and case studies for using Facebook to meet your business goals. Most small businesses have a Facebook page and the best way to manage it is through Facebook for Business. Contrary to what you probably think, online-business marketing on Facebook benefits small, traditional retailers the most. Small businesses offer unique products or services to a smaller range of customers and Facebook provides an excellent opportunity to reach the exact target audience with a personal approach. The Facebook for business site also allows you to track your ad spending and results with an efficient interface designed to help you achieve the best results.
---

Thrive Day Planner- A Planner for Entrepreneurs
Last but certainly not least, one of the most essential business productivity tools is a planner made just for you—the entrepreneur or business owner.
People like us are constantly contemplating how to make the most of our days and the Thrive Day Planner is made to help us do just that. It's specifically designed for busy entrepreneurs who need help mapping out a business strategy, setting growth goals and organizing business operations. It has the design and feel of a traditional organizer, but it's a digital tool that can be accessed from your computer, tablet or phone. You input your yearly personal and business goals divided by category and the planner automatically helps you determine tasks on the daily level that will ensure you achieve your goals by the end of the year.
The best part is the daily inspirational quotes from business leaders on the top of the screen, for those days where your motivation is dwindling. This is definitely a must have tool for entrepreneurs wanting to increase their productivity.
---
SPONSORED POST

This post is brought to you by My Route Online, a route optimization solution that converts addresses from an Excel file into a route plan to be shared via mobile or GPS. Perfect for small businesses, My Route Online's clientele have been using their easy to use system for years to save them precious time and fuel on daily routes.
---
---
The following two tabs change content below.

Small Business Marketing Tools offers sponsored content opportunities for businesses with relevant small business product or services. Build your brand while offering valuable content to growing small businesses.
Learn More.

Latest posts by Sponsored Post (see all)