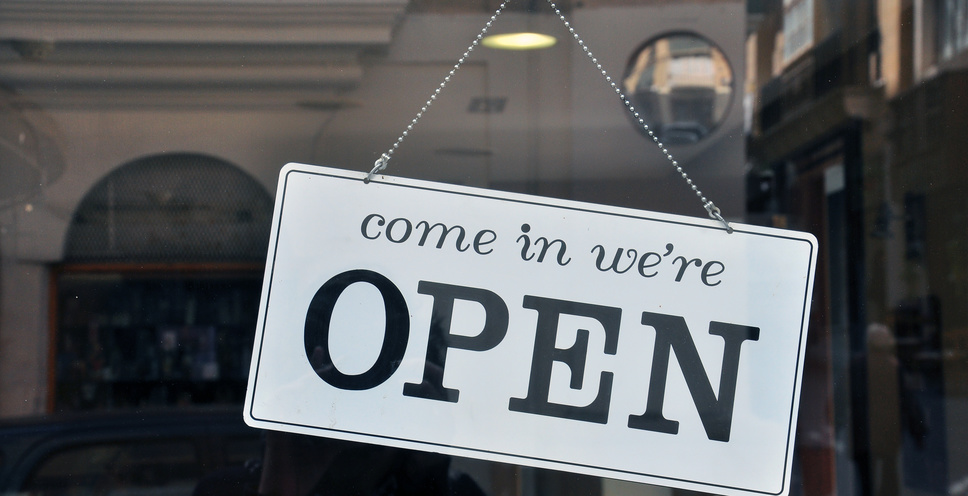 Pay attention to location, font and color when designing small business signage to attract customers to your business location
Signage can be an essential part of getting customers in the door to your small business; it's estimated that half of all customers who enter a business do so because of signage. This can be both good and bad news for your business.
Good signage can bring in countless new patrons and lead to a lasting increase in business, whereas bad signage can drive people away, possibly even into your competitors' stores.
Want to make sure your sign increases the number of people walking into your business? Read on to learn some of the best ways to make sure your sign gets the positive attention it deserves.
---
---
Location, Location, Location
The placement of your sign is absolutely crucial to making sure customers and passersby notice and pay attention to it. If your sign is in a hard to see area, people could walk past your storefront entirely without even knowing that they're passing it by.
Generally, try to imagine what your sign will look like from the view of your customers, and avoid putting it behind obstacles that would block the view. Also, try to keep your sign close to your business; putting it too far away can confuse potential new customers.
Sometimes, Looks Do Matter
A good sign for a business is able to communicate information quickly and clearly, and appearance plays a huge role in that. Most importantly, you need to be sure can people read your sign. Selecting a legible font is absolutely essential to a good sign design; otherwise, people might not be able to read it, and you might lose potential customers simply because they can't quickly process what exactly it is that your business does.
On top of making sure your font choice is legible from a distance, be careful about your choice in color scheme. While it can be tempting to pick your favorite colors for a sign, a color scheme can say a lot about brand identity. Make sure the colors you choose represent your business well, while also not getting in the way of the legibility of the sign.
One way to attract customers is to add unique commercial LED sign lights with your company name or logo as this can be eye-catching. Just upload your company logo, and see it come to life on your screen before actually building it.
When designing and placing the sign for your business, be sure to pay attention to the location, the font, and the color. These three things will make sure your sign, and by extension, your business, gets noticed in the right way to draw in new customers.
---
---
The following two tabs change content below.

Valerie M. is a writer from Upstate New York. She received her Bachelor's degree in Journalism from The State University of New York at Fredonia in 2016 and is currently working at a digital marketing agency where she writes blog posts for a variety of small businesses all over the country. Valerie enjoys writing about music, animals, nature, and traveling.

Latest posts by Valerie M. (see all)