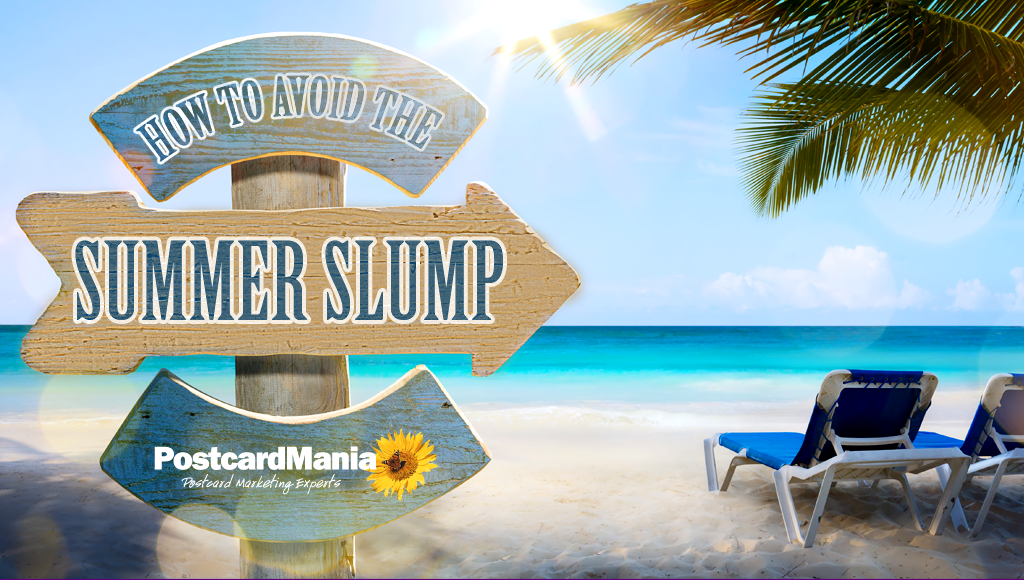 3 easy ways to use marketing to avoid a summer slump in your business
Many businesses have a slow season, whether it's summer or winter. Sometimes the reason for the slowdown is obvious—sometimes not. The question is: What do you do about it?
Your first instinct might be to tighten your belt and cut down on your marketing. That would be a mistake.
When revenues are down, you need to market MORE.
That's not just something marketing companies say to sell you on their services—it's absolutely true! I've learned this from experience.
Remember the Great Recession of 2008? The housing market crashed and fewer mortgage and real estate professionals (a huge chunk of my client base) were sending out postcards. It was the first time PostcardMania's revenue had ever gone down.
Against my better judgment, I listened to the advice of others and cut my marketing budget — by just 3%.
The result? My revenue went down by 13%!
Fair to say: I'll never do that again! (The following year, I increased my marketing budget by 6%—and my revenue jumped back up 16%.)
It's Marketing 101: The more marketing you put out, the more leads you'll have coming in.
To that end, here are 3 easy ways to head off the dreaded "summer slump:"
---
---
1. Promote a seasonal offer to encourage your prospects to come in during your slow months.
For example, a seasonal offer could be:
Come in for an oil change and get a FREE A/C check!
Get a bright new smile to go with your new tan—FREE whitening with dental exam and x-rays!
FREE beach towel with any purchase over $50! (If it has your business logo on it, even better!)
2. Come up with an off-season service you can provide.
For example, if you have a tutoring business, offer foreign-language or computer classes for adults during the summer months.
3. Start a business blog or email newsletter to keep in touch with prospects and customers during your slowdown.
Use your business blog  to offer seasonal tips, industry news or updates about your own company.
If that doesn't sound appealing, here's something else to consider:
According to entrepreneur and consultant Barry Moltz, a small business loses 10% of its influence with a customer each month that customer doesn't hear from the business.
If you're not staying in contact with your customer base during off-season, you're giving your competition a chance to steal them away!
So prevent your summer (or fall or winter or spring) slump—and hang onto your current customers—by beefing up your marketing during slow months.  Even if things do quiet down for your business during that time, keep promoting and your efforts will pay off, sooner or later!
Need more ideas for marketing your small business? We offer free postcard samples for most industries, or you can call one of my consultants at 855-549-1313 — even if you never use our services, it's FREE!
---
---
The following two tabs change content below.

Joy Gendusa is the Founder and CEO of
PostcardMania
, a fully-integrated marketing firm specializing in
direct mail
. She used postcards to grow PostcardMania from just a phone and computer to a $22million enterprise in less than a decade.

Latest posts by Joy Gendusa (see all)