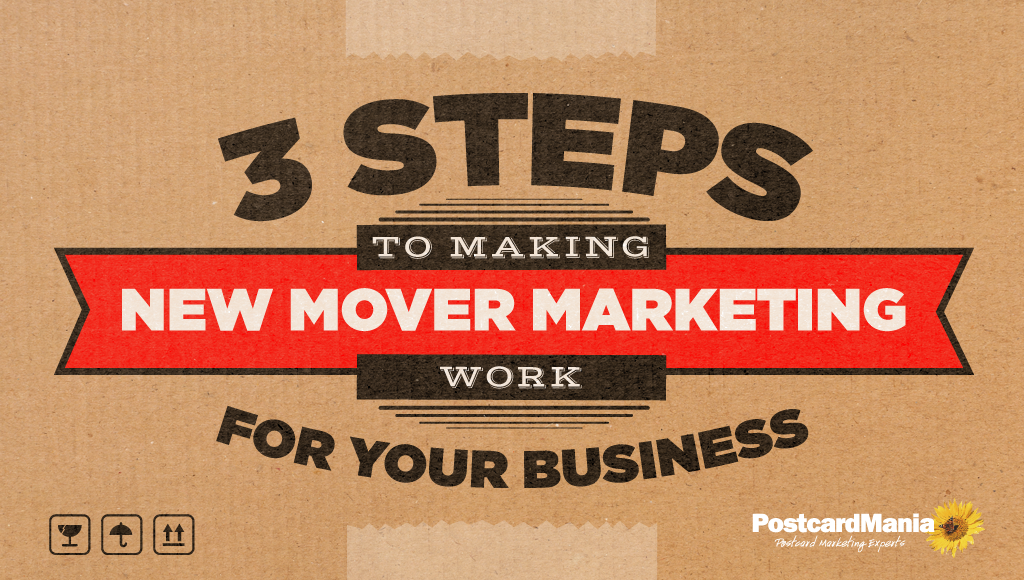 Imagine you're a new mover.  Most of you, I'm guessing, don't have to "imagine" — you've probably moved at least once in your life, if not several times!
(Did you know that the average American moves 11.7 times in his or her lifetime, according to the U.S. Census Bureau?)
Think about what those early weeks and months are like in your new home: Boxes everywhere. Lots of takeout. Getting to know the neighborhood.
When it's time to get your hair cut or your car serviced, you do a Google search, check out the reviews and choose the closest option. Right?
Now imagine you received a postcard in the mail. It's a coupon for 50% off a haircut or a FREE oil change.
Moving is expensive; it makes sense to hold on to this postcard and save a little money down the road. You have to try new places anyway. Why not give this business offering you a deal a chance? And if you do have a good experience, you become a loyal customer. Ta-da! That's the beauty of new mover marketing!
The question is: How do you make new mover marketing work for YOU? Easily!
Here are 3 steps to bringing new movers in to your business:
---
---
1. Identify whether a new mover campaign is right for your industry.
According to the USPS (United States Postal Service), about 40 million people relocate in the United States every year.
They move for any number of reasons — work, marriage, divorce, downsizing, upsizing, you name it. Each of these life events opens a window of opportunity for YOUR business.
According to a 2015 Epsilon study:
• New movers spend more in the first 6 months following a move than the average homeowner spends in 2 years
• People buying new houses spend, on average, $9,400 to get established
• Renters spend about $4,700
New movers need everything: a new Heating Ventilation Air Conditioning (HVAC) pro, a new landscaper, a new dentist… Wouldn't you like them to choose YOUR BUSINESS? Then you need to get your message in front of them before your competition does!
New mover marketing works for MOST businesses, but it's especially good for:
Dentists
Family practitioners
Eye doctors
HVAC
Landscaping
Pest Control
Plumbing
Pool Service
Day care
Private schools
Dance studios
Music teachers
Gyms
Tutors
Churches
Remodeling companies
Flooring companies
Carpet cleaners
Window treatment companies
Day Spas
Hair Salons
Nail Salons
Furniture retailers
Restaurants
Specialty shops
LOTS of businesses — you get the picture!
It's not ideal for EVERY business, though. Most new homeowners don't buy a new car for at least 12 months after their move, according to Target Marketing magazine.
Think about it:
You don't usually buy a new home AND a new car in the same year — unless you won the lottery! — so specifically targeting new movers probably doesn't make sense for, say, an auto dealership.
Think about the moving process from the viewpoint of a consumer. If your business offers something they'll need within the first six months of a relocation, new mover marketing is for you!
2. Find the Right New Mover Mailing Program
So you've established that new mover marketing is a smart option for your business.
Here's the problem: Getting the attention of this highly valued market doesn't come cheap. New mover marketing is known for being complicated and expensive.
You know what? It doesn't have to be.
I've done my research, and there are several new mover mailing programs to choose from. They range from $0.79 per piece to $1.67 per piece
As the owner and CEO of a marketing company, I'm always looking to see how I can create marketing solutions for our prospects and clients. I looked into all of these new mover programs and thought: We can do better and we can do it for less. And I was right!
Last year, PostcardMania introduced the New to Town program, which ups the ante on new mover marketing with personalized postcards. AND it's more affordable than the aforementioned programs. (More on that in a sec.)
Here's how it works:
We design a personalized postcard for your business that welcomes new movers to the neighborhood BY NAME. Meaning each card is different — it has the recipient's name in the headline!
You tell us what your ideal service area is. How many miles are people willing to travel to your business? We can target all of the new movers within that radius around your business or specific areas you choose.
Each month, we pull a list of folks that just moved in that month, print your personalized postcards and mail them.
It's 100% automated. Once you get set up, you don't have to think about it again. We'll keep mailing to new movers every month until you tell us to stop. And the best part? It's affordable. The New to Town program starts at just $0.60 per piece.
Oh, and there are NO contracts. You can mail as many or as few pieces as you like, and you can stop mailing any time — although I can't imagine why you would!
So go ahead, shop around and price out a few of these new mover marketing programs. I do think that what my company has to offer is top-of-the-line value for the price, but don't just take my word for it. Investigate and see what's right for your business!
Once you know which new mover marketing campaign works for your small business, it's time for the next step…
3. Send New Movers the Right Message — with the Right Offer!
One of the most important aspects of new mover marketing — like ANY marketing — is repetition.
New movers are busy, and they're often in a state of confusion. I mean, they're still getting their bearings! Think back to that last time you moved. Could you even remember where you put the can opener?
I recommend mailing to new movers monthly for at least three months to the same list.
Say for your first month, you mail to a list of 500 people living within 10 miles of your business who just moved to town. The second month, you mail to that list again, plus to a list of 500 MORE new movers. The third month, you hit the first list a third time, the second list a second time, and a new list of 500 new movers a first time.
Going forward, you'll probably send 1,500 pieces every month, as more people move into the area and the first batch of new movers (who have already seen your message three times) falls off your mailing list.
This way, you can make certain you mail to each new mover at least three times!
And this is important:
You have to give a little to get back A LOT.
Don't be stingy with your offer to new movers. Give them a GREAT deal and it will pay dividends.
You might even try using a loss leader — an offer you may lose money on upfront, or even give something away for free that gets prospects in the door. And then, once you deliver amazing service (which you will do, right?) they'll come back again and again and you will make your money back and then some!
For example: If you're a restaurant, give your postcard recipients 50% off their bill. This brings them to your establishment a first time, where you can knock their socks off so they'll be ordering all of their takeout from you for years!
Think of it this way:
Maybe you gave away $10 worth of food on their first visit, but you will get that back and MORE during their next visit, and the visit after that…
It's all about ROI (return on investment). Think about the potential lifetime value of each new customer you create with your fabulous offer!
Call 844-269-1836 to speak to one of my marketing consultants about our New to Town program or anything else related to your small business marketing — it's FREE, whether you use our services or not! We can also help you plan your entire year-long marketing strategy.
Here's to a successful 2016 (and beyond)!
---
---
The following two tabs change content below.

Joy Gendusa is the Founder and CEO of
PostcardMania
, a fully-integrated marketing firm specializing in
direct mail
. She used postcards to grow PostcardMania from just a phone and computer to a $22million enterprise in less than a decade.

Latest posts by Joy Gendusa (see all)