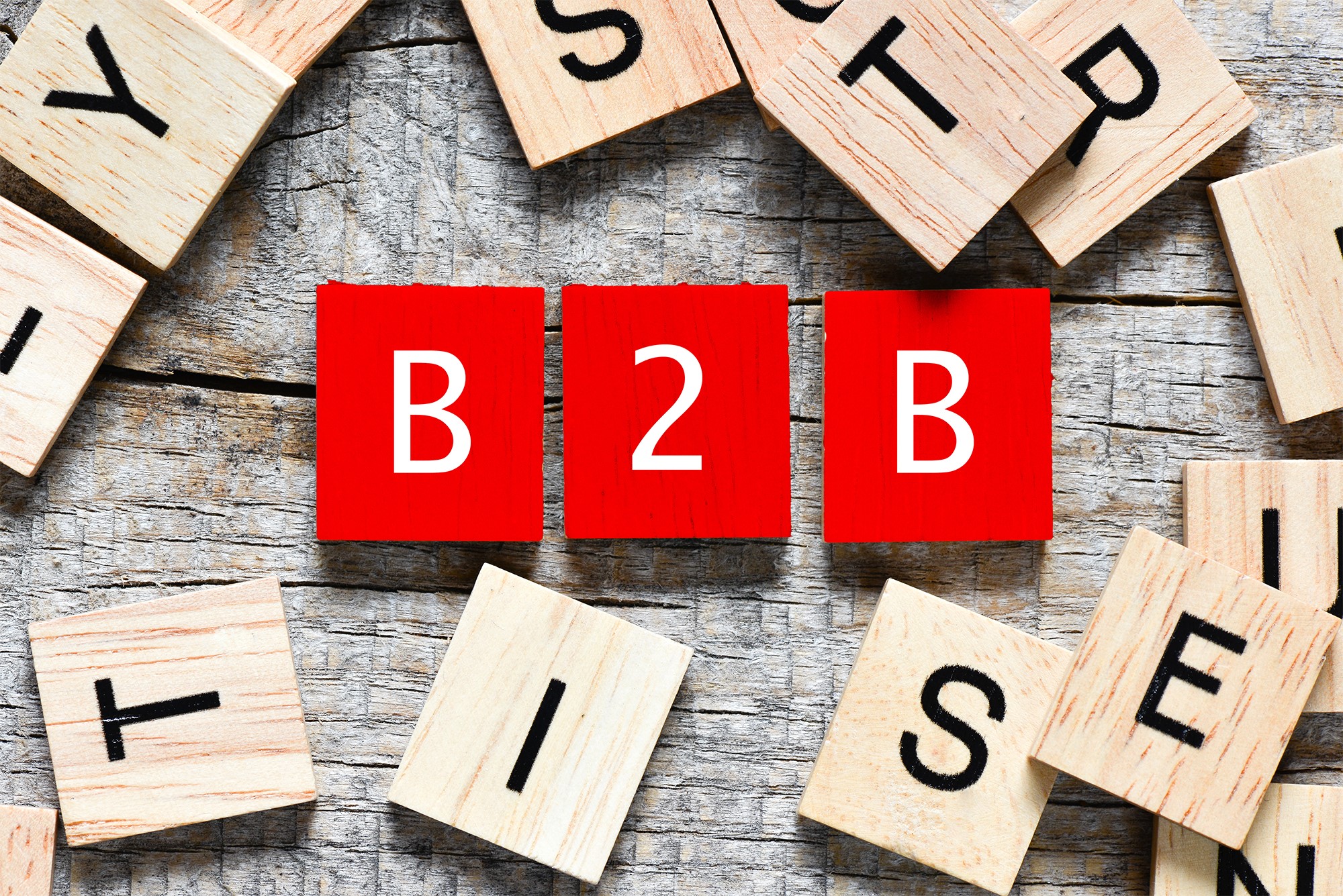 B2B direct mail marketing strategies that will boost your small business marketing efforts without wasting time or money
Whether you're looking to incorporate direct mail in your B2B marketing strategy or you just want to tweak and maximize a campaign you've been running for years… you're in the right place.
B2B marketing (that is, business-to-business marketing) is more complicated than ever.
Between Google, social media, apps and traditional marketing, it can be hard to find a marketing strategy that will effectively and efficiently:
Generate QUALIFIED leads
Increase revenue
And expand your business
So, I want to help you take the mystery out of one B2B marketing strategy that proves to be a winner year after year: Direct mail.
My company, PostcardMania, has helped over 80,000 small businesses with their marketing since 1998. We've printed over 1.8 BILLION pieces, mailed 705 million postcards, and served more than 350 industries.
Basically:
We've got direct mail and postcard marketing down to a science!
That's why I've compiled these 5 direct mail tips — to help you boost your B2B marketing without wasting time on trial and error.
Here they are:
---
---
1. Get seriously consistent to boost sales 50%
This is my #1 for a reason:
It makes THE BIGGEST impact.
I can't tell you how many business owners I've spoken to, who complained that direct mail (or, really, any type of marketing) didn't work for them. And when I ask how long that campaign lasted, they kind of shrug and say, "A couple months maybe."
Well, that's why it failed!
People rarely react to an ad the first time they see it. In fact, they usually don't even notice an ad the first time they actually see it.
Awareness and interest have to be earned — especially in B2B.
One of my clients, a B2B art dealer that specializes in decorating offices on a small-town and corporate level, had been using direct mail sporadically.
They would send out postcards here and there for a little boost.
And then they saw me speak at a two-day marketing event held at PostcardMania headquarters in Clearwater, FL.
It completely changed their approach to direct mail!
They went from sporadic mailings to mailing 5,000 postcards every month.
Here's one of their GORGEOUS postcard designs: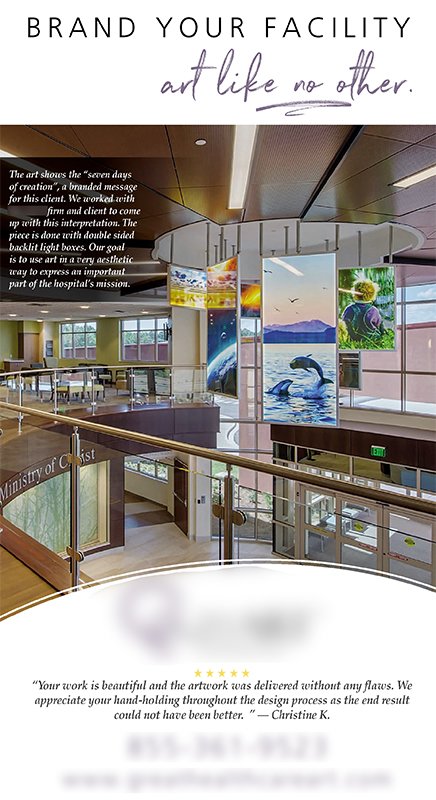 Once they committed to monthly mailings, the change was almost instant:
Their sales INCREASED 50%!
If you make just one change to your direct mail strategy, it should be to commit to a consistent campaign that is at least 6 months long.
(The art dealer above committed to 12 months, by the way! And has been mailing consistently ever since.)
That's takes us to #2…
2. Increase response 400% by adding online follow-up to your postcards
When I say 400%, you're probably eye-rolling and thinking, "Yeah right!"
And I don't blame you!
I had to see the data for myself before I believed it, but after we incorporated this strategy into ALL of PostcardMania's own direct mail marketing (and we mail 180,000+ postcards WEEKLY,) I can say confidently:
An integrated approach that complements and enhances your direct mail campaign makes a HUGE difference in monetizing a leads database.
The strategy is called re-targeting…
And I will never send a postcard again without retargeting ads incorporated!
Here's an example of an integrated B2B direct mail campaign with matching Google online follow-up ads built in…
You would mail this postcard: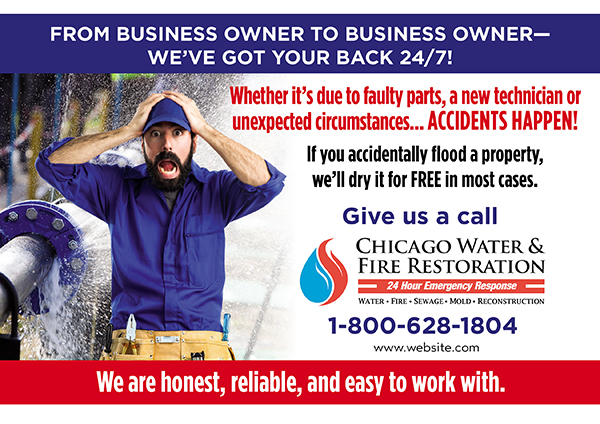 And the same people receiving that card in the mail would start to see this ad in their web browsers, on some of their favorite websites: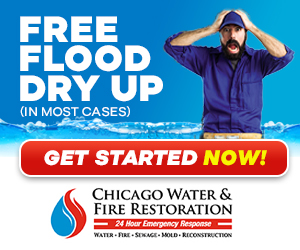 You can tweak your online follow up to your needs, too.
You can either target ALL the recipients getting your postcard, or you save a little budget and only target those that visit your website. (The second strategy focuses on warming up prospects that have already expressed some interest.)
Ready to take your B2B direct mail campaigns to even the NEXT level?
Then you'll want to…
3. Add Facebook ads to the campaign mix and reach 68% of America
Facebook is crazy popular.
In fact, the Pew Research Center found that 68% of ALL American adults use Facebook.
That figure is population based and even includes Americans who don't use the internet at all.
When you isolate internet users, Pew found that almost 8 out of 10 (technically 79%) internet users also use Facebook.
With numbers like that, no business in its right mind can afford to ignore Facebook.
However, I don't recommend that you just throw up some ads on Facebook and call it a day.
Facebook is a bit more difficult for us B2B businesses to navigate than it is for traditional B2C businesses.
Which is why I highly recommend your B2B Facebook ads coordinate with an overall, more targeted campaign as part of a multi-channel approach.
Here's an example of a well-integrated B2B marketing campaign:
Mail postcards consistently to a targeted mailing list (I'll even let you pull 1,000 records for free)
Run matching Google ads on the Google Ad Network simultaneously (see above)
Add in matching Facebook ads to target the same users in their newsfeeds
And don't forget to add Instagram ads to the mix (another popular social media platform owned by Facebook)
This tactic boosts your visibility and impressions exponentially. You literally appear EVERYWHERE.
But I know it sounds like a lot of work, especially if you're the owner of your business.
That's honestly why I had my staff create an easy, everything-done-for-you campaign package that offers each component above in a single, turnkey solution.
Appropriately, we named the program Everywhere Small Business. You can watch a one-minute video about it in that link by the way!
4. Try a letter for more formal messages and immediately generate $22,500, like this…
One of my clients, a business broker and consultant, wasn't sure that postcards were formal enough for his message.
He wanted business owners coming to the end of their business life cycle to take him seriously right off the bat.
So, he opted for the "direct mail suit and tie" — a formal letter and envelope.
Here's the direct mail piece we sent out for him: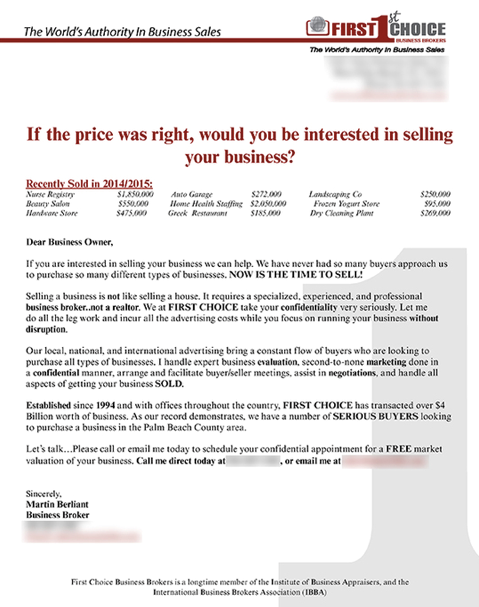 We sent 9,100 letters to a targeted list of business owners.
They immediately heard from 15 of those business owners, and generated $22,500 in quick revenue from those leads!
That was a 543% return on investment for these guys. You can read the full case study here.
I'll take numbers like that any day.
5. Personalize postcards with variable data for a 135% boost in response
Variable data incorporates your list data into your postcard design for a very personal approach. It's also an attention-grabber for prospects. You're literally calling them out by their names!
Here is an example of a postcard that has been personalized with variable data: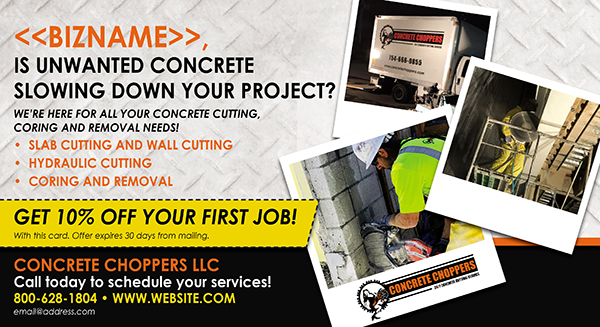 "<<BIZNAME>>" will be replaced by each business's name on their mailing list as this postcard prints.
This method definitely commands attention.
In fact, Canon Solutions America's 2017 Annual Report noted that simply adding a name and full color to a mailer can increase response by 135%!
And then, get this:
If you maximize your variable data with even MORE information about the recipient, your response can increase five-fold.
That's 500%!
All in all, these 5 strategies could have a game-changing effect not only on your direct mail strategy…
But on your business's bottom line as well!
If you'd like to start planning a direct mail campaign, or even just want a little no-strings-attached marketing advice and FREE samples from my company, PostcardMania, you can get started here.
---
---
The following two tabs change content below.

Joy Gendusa is the Founder and CEO of
PostcardMania
, a fully-integrated marketing firm specializing in
direct mail
. She used postcards to grow PostcardMania from just a phone and computer to a $22million enterprise in less than a decade.

Latest posts by Joy Gendusa (see all)