It's a condition that all of us business owners have been afflicted with. You know the symptoms: paralysis of the mind and the heaviest of heavy writers block. After days of nice images of your food and the occasional story of your staff, you have no clue what to post on your social media accounts. Really, how many times can you post a picture of a coffee cup or burrito? Well there is a lot more you can do, you just have to think beyond the walls of your business.
Here are five topics that you can use in your social strategy.
---
---
1. New Menu Items and Specials
Okay this one is really obvious. However, the opportunity is often squandered by most businesses. Big brands make a huge commotion whenever they launch a new product. Think about every new car that an automaker unveils. Think about every commercial that each of these companies spend to have constant commercials and ads.
Your business should do the same too.
Don't just post saying, "We have this now!". Make it an event. Announce the launch in the coming weeks, invite your regular customers, bloggers and journalists to be the first to try. Build that anticipation.
Example: This upcoming Sunday, we are doing an exclusive free tasting of a new ice cream we are experimenting with from 2 – 3 PM. All are welcome and opinions are appreciated.
2. Local Community Events
No matter where you live, people will say, "there is nothing to do here." I live in perpetual sunny Orange County, California. There is Disneyland, the Lakers, Dodgers, Hollywood, and a whole west coast of beaches.
Having all of this, doesn't change the fact that people get bored. Help people fix that problem. As a local business, more often than not you get asked to participate in this event or that fair.
You don't have to participate, but you can share the event with your fans. When you do this it makes your business look like it is not just trying to sell products, your business looks like it is trying to contribute.
Example: This weekend, "So and So" is hosting a free movie at the park for all families.
3. TV Shows*
This one is an often underutilized medium. Shows like Breaking Bad, Game of Thrones, Pretty Little Liars all had the whole nation buzzing.
Get your business in the conversation. Figure out what your customers are watching and tie your marketing and business into it.

Example: Imagine the Office was still airing. For the person that comments the correct amount of times Jim Halpert looks into the camera, that person gets a free meal for a week.
4. National Fan Events
At the time of writing this piece, it was Force Friday. Unless you have been living under a rock, or I guess you could say, in a galaxy far, far away, you probably heard about it. The whole event was a big deal. Inner nerds were unleashed and hoards of fans lined up to buy the latest products.
Though the event was centered on Star Wars and Disney, it doesn't mean that your business can't be a part of the festivities.
Example: Let's say you're a gym owner. Grab your phone, take a picture of some young gun lifting and caption it "The Force is Strong with this one". BOOM!
5. Sporting Events*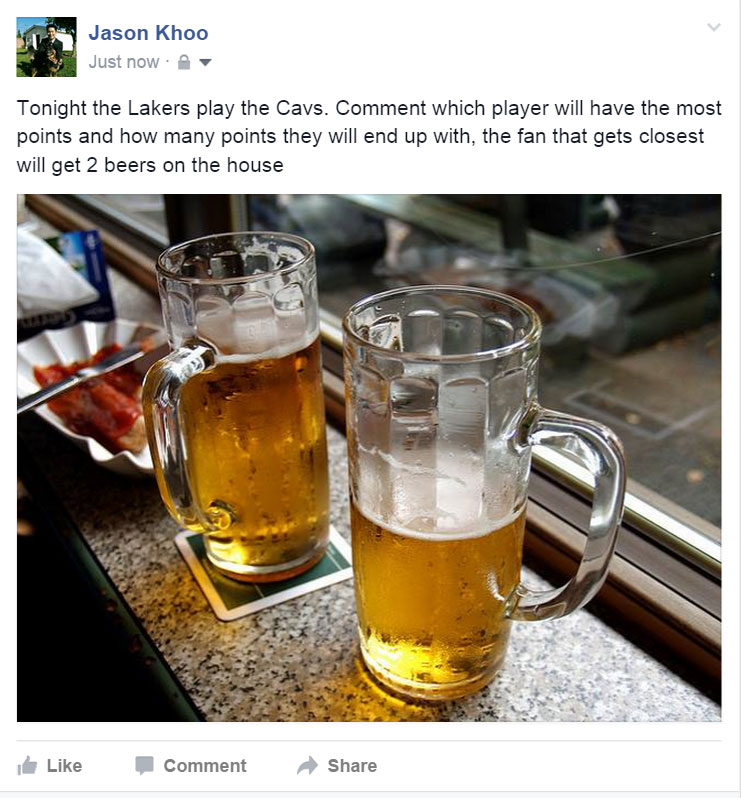 Every city has their team. There is so much you can do with sports. I'm a Laker for life so I have seen my fair share of marketing with the Lakers.
One of the most famous include a running agreement with Jack in the Box and the Lakers. If the Lakers win and keep their opponent under 100 points, everyone gets two free tacos. So when the Lakers are actually winning (because they sure aren't now) you'll hear chants "WE WANT TACOS!!!" Your business can do something similar.
Example: Tell your Facebook fans to comment which player will have the most points that game, the fans that voted correctly will get a free beer.
As you can see there is a lot to talk about. The difference maker is creativity and foresight. When you get down on social media creativity, think about some of these topics and see if you can apply them to your business.
Feel free to comment any ideas you may have? The more opinions the better the ideas will become!
**Special Note: In regards to TV shows and sporting events, the use of GIFS, logos and images fall under copyright of the company that owns the rights. Currently, many businesses use GIFS and Memes featuring TV Shows and movies, however, there is yet to be a definite answer on the legality of using these images. Please use at your own discretion.
---
---
The following two tabs change content below.

Jason started freelancing in SEO back in college, sold his first agency and now is founder of
Zupo
, which is a SEO consulting agency helping construct powerful long term SEO strategies for our clients. Jason also enjoys multiple cups of tea a day, hiding away on weekends catching up on reading and rewatching The Simpsons for the 20th time.

Latest posts by Jason Khoo (see all)