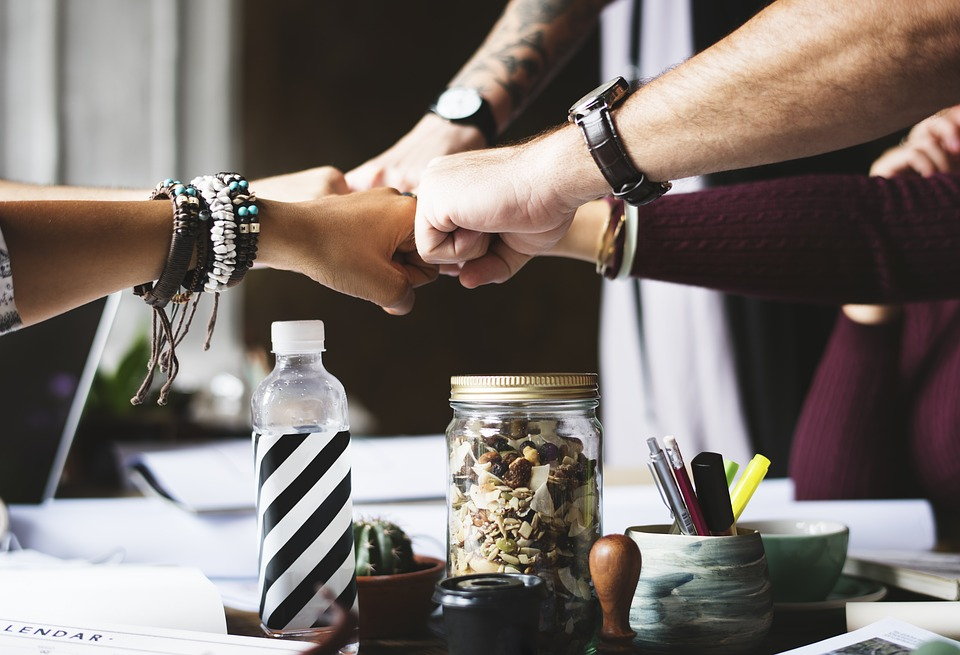 From data security and payment flexibility to employee and customer communication, follow these strategies to help you succeed as a small business
I'm sure you've seen a lot of these articles on how to ensure a small business succeeds by now; they're a dime a dozen. Most tend to focus on the basics of owning a small business — you know, resources, a sound business model, and so on. That's not what this article has to offer, though. I want to throw out a few little (and not-so-little) ideas to help you succeed, and hopefully, there's one or two you haven't considered yet.
So, without further ado, here are five things you can do to help your small business flourish.
---
---
Accept Multiple Forms of Payment
As a small business owner, the last thing you want is for a customer to make it to the register only to find out their preferred (or only) form of payment isn't accepted. Why? Because you'll lose a sale. What's more, you'll continue to lose sales, as that customer will not only fail to return, they'll also spread the word that you aren't set up to take multiple forms of payment. This is clearly not a position you want to be in.
While it's understandable that you may be leery about the costs associated with accepting credit and debit cards, doing so will actually gain you more business and increase your revenue. Not only does it widen your customer base, it's been shown that credit card customers tend to make more impulse purchases and buy more to take advantage of reward points!
Another reason to accept multiple forms of payment is the customer experience. When you don't welcome a customer's preferred method of payment, you inconvenience them — and inconvenienced customers aren't likely to return. By offering your customers the freedom to pay how they want, you encourage them to shop with you again.
Protect Your Data
Unfortunately for small business owners, cyberattacks don't just happen to big companies. In fact, 2015 saw more cyberattacks aimed at small businesses than at large enterprises. Hackers often target small businesses because they tend to have weaker security systems in place.
This is why you should never assume that your business is too small to be at risk, and why investing in cybersecurity is so important. Small businesses who suffer cyberattacks and data theft often fail to recover. Legal fees and customer compensation take a heavy financial toll, and bankruptcy is almost always the end result.
To prevent such disaster, one must know what avenues criminals take, and how to properly protect themselves. As it currently stands, there are multiple data security risks almost every business faces. Hackers predominantly employ emails, malware, and phishing software to gather sensitive information from business computers and networks — and their goal is to acquire the bank account, credit card, and social security numbers of employees and customers. You can thwart these would-be cybercriminals in the following ways:
Educate your employees on basic security principles and practices
Establish information security procedures and require your employees to comply with them
Install high-quality, reliable anti-malware software and firewalls on every computer connected to your office network
Encrypt sensitive data
When sending or receiving sensitive information over the internet, use secure socket layer (SSL)
Safely destroy discarded documents
Don't collect any unnecessary information and only store sensitive data for as long as you have a legitimate business need.
Since credit card information is often a cybercriminal's primary target, ensure your business uses the most trusted and authenticated means to process payments. Keep your payment system separate from less secure programs and don't use the same computer to process payments and access the internet.
Treat Your Employees Well
Want to know the secret to a successful business? It's fairly simple: give your employees the same level of attention and appreciation as you do your customers. You see, the customer experience starts with your employees, which is why you should do as much as you can to keep them happy.
Satisfied employees are more productive and efficient. They work harder, contribute more, and are more loyal. They serve customers with a smile, solve problems quickly, and work together. As a result of all of these things, they not only save you money, they make it for you as well.
Keep your finger on the pulse by regularly checking in with your employees. Ask them how they feel about their roles and the company as a whole. Ask how you can support them better as a small business owner and manager. Ask their opinion on changes within the business and ongoing processes. Ask what you can do to help create a productive work environment.
Then, once you've gathered this feedback, act on it. If you take the time to treat your employees with trust, dignity, and respect and you'll get it back in spades — as will your customers.
Talk to Your Customers
Talk to your customers as often as possible. Find out what they like, what they don't like, what they think about the products/services you have provided, and what they'd like to get from your business in the future. This valuable feedback will help you refine your business plan and improve the customer experience.
Furthermore, talking to your customers is a great way to build short-term connections and long-term relationships. Establish a rapport when engaging in small talk with customers. Ask them if they're doing anything fun that day and really listen to what they have to say. Then, in later conversations, bring up a little tidbit from that previous interaction to show them that you remember and care about them as a person.
These personal connections make customers think fondly of your business, which only increases the spread of positive word-of-mouth marketing.
Take Care of Yourself
Owning and operating a small business is anything but easy. You're overburdened with endless responsibilities, have an insanely busy schedule, and burnout is always looming. But, much as it is with the oxygen mask on a plane, you have to take care of yourself before you can take care of others.
During the work day, schedule time in your calendar for a breather. Taking a break is just as important for you as it is for your employees. Speaking of employees, learn to delegate. Instead of taking all the responsibilities of running the business upon yourself, ask your most trusted employees to shoulder some of the load. You'll find yourself feeling a lot more carefree in the long run.
Make home a no-work zone. When you get home, you're done with work. Don't check emails or answer calls unless it's an emergency. If your home is your place of work, then you'll need to designate a room or area that is your work space. Once you've left that space for the day, your work ends. If you fail to keep work and home life separate, you'll find yourself unable to relax and your family life and health will suffer. Remember, taking care of yourself is one of the best ways to take care of your business.
There's so much more to your small business than the basics — there's the need to protect the sensitive information others trust you with, the personal connections between you, your employees, and your customers, and the responsibility to take care of yourself before all else. If you can marry these things with the fundamentals, I have no doubt that you'll achieve success.
---
---
The following two tabs change content below.
Liz Greene
Writer, Marketing Specialist
Liz Greene is a writer, marketing professional, and full blown pop culture geek from the beautiful City of Trees, Boise, ID. When she's not stalking the aisles of her local Ulta, she can be found shoveling down sushi while discussing the merits of the latest Game of Thrones fan theories.
Latest posts by Liz Greene (see all)