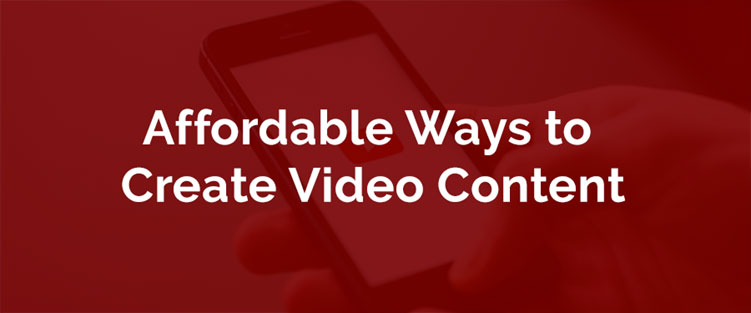 Video content is a crucial way to connect with potential leads and customers. Consumers are 73 percent more likely to buy a product if they see a video demonstration of it, and 39 percent more likely to share content if it's delivered via video.
Some people think that expensive, slickly produced video content is the way to get more customers. But you can actually create appealing video content without breaking the bank, and it starts with the everyday apps you have on your computer.
Here are five types of video content that won't crack your budget.
---
---
First Step: Video Editing Software
The first step you should take is to choose your video editing software. We recommend iMovie (Mac) and Movie Maker (Windows), because they have the basic required functions, and come free for both operating systems.
See these tutorials on how to use iMovie and Movie Maker. Microsoft PowerPoint is also a good program to have.
1. Tutorial Videos
Tutorial videos are always solid content because they're solution oriented, easy to follow, and to the point. If the tutorial video demonstrates how to use your product, it can also double as a support video. Videos that pay off twice, for both the marketing and support department, are always good content.
Tutorial videos are fairly easy to produce. You can take the screenshots directly within Mac or Windows, or record screencasts in Quicktime on Mac, and Community Clips on Windows.  If you want a more polished feel for your screencasts, you can go with paid programs such as Camtasia and ScreenFlow.
For a video demonstration, your smartphone camera, along with a steady phone stand, should produce sturdy video.
The voiceover is usually the tricky part of the whole process. You'll have to decide if you want to use voice talent, or one of your own employees, to narrate. Check out Voices.com, TheVoiceRealm, or Great Voice for professional freelancers.
If you really have a zero dollar budget, get someone in your office (ideally someone who talks to customers, like sales or support) to read the script. Finally, splice everything together in iMovie or Movie Maker.
2. Text-based Promotional Videos
Text-based promotional videos are the definition of low cost content. Forgoing fancy commercials and designs, the text-based promo video aims for substance over style. If the message you're sending your customers is powerful, such as a sale or new feature, it doesn't really matter if it comes in text across a plain background.
To produce a text-based promotional video, all you need is PowerPoint. Lay out the promo video in a PowerPoint presentation, with timed slides, and record or upload any narration you want directly within the app.
Visit the Free Music Archive to find background music. When you're done, click File -> Save & Send -> Create a video. This is probably the easiest and cheapest option on the list.
3. Unboxing Videos
If you're reviewing products as part of your business, one way to make your content more interesting is to record the "unboxing" of the actual products. There's a modest but dedicated contingent of people who watch these videos. CNN even studied the growth of this genre, and noted that since 2010, video titles containing the word 'unboxing' have increased 871%.
The next time you purchase a new product, use your smartphone or a webcam to record the unboxing process. Narrate the steps of taking out and examining each piece of the product. Include your thoughts on presentation and packaging choices. Then upload the video to YouTube or Vimeo, and promote the link online. Production value: zero dollars.
4. Event Videos
Videos of events, such as trade shows and industry talks, are valuable opportunities to create content. Many of these events are not recorded, so if you serve as the documentarian, you'll capture unique, high quality content. You'll also do a public service to the presenters and speakers who worked hard on their presentations.
Be sure to request permission from the organizers beforehand to make sure they don't mind having video recordings of the event.
A common recap video shows a series of pictures or clips from the event. You can also incorporate screenshots of live tweets or quotes from interviews pertaining to the event into the video for more variety.
Make sure to mention the involved parties when you promote the video on social media. This helps gain more exposure and increases the likelihood that your content will be shared. Keep the video well-labeled and curated so it's easy to find in search engines.
5. Animation Videos
You don't have to be an artisté to create animated video content. Of course, if someone in the office can draw or design, by all means, ask for their expertise. If you have the time, you can make your own simple animations to choreograph informative or amusing videos.
This stick figure animation from PadMapper does a great job of describing how the service works. A simple demonstration like that can go a long way in touting the effectiveness of your product. PowerPoint has a library of simple animations for different objects. There's also PowToon's free plan for DIY animation.
Don't Break the Budget
Including a video on a landing page can increase conversion by 80%. There's never a reason to forgo this competitive advantage. If you don't feel like spending money on your video content, you can execute most of the ideas in this article for free.
Tutorials, promos, animations, event recordings, and unboxings are great low cost alternatives to sleek, big budgeted videos that say nothing interesting and take months to produce.
---
---
The following two tabs change content below.

Kevin Bartley is a senior contributor at
The Business Voice
, a thrice weekly publication on business strategy and communications. He has written on topics as diverse as leadership, team management, marketing best practices, and
cloud phone system
optimization for small and medium sized businesses.

Latest posts by Kevin Bartley (see all)