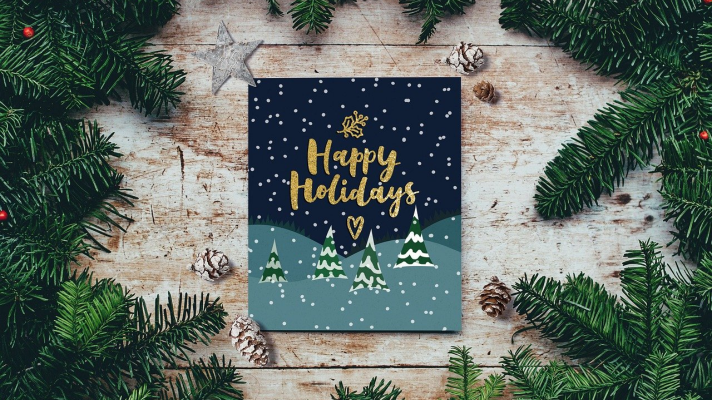 Get creative with holiday social media marketing strategies and promotions that will boost your online sales this season
The holidays are just around the corner and consumers are already getting into the joyful spirit. While the pandemic rages on, many of us are happy enough to be home for the holidays. And while we shelter in place, we're going to be more inclined to shop for holiday presents and seasonal items online.
When the pandemic first began back in March, customers flocked to local stores and bought up all the inventory in a panic. Then, they turned to e-commerce sites. It wasn't just essential items that sold out, either. From household toys to kitchen appliances, it was hard to find much online.
Now, eight months later, supply chains have been sorted out a bit — but COVID-19 seems to be getting worse before it gets better. As the U.S. braces for a second wave (thought the first that never really ended), many business owners aren't sure what the holiday season will bring. But if you're selling products online, now's the time to promote them in an effort to finish out 2020 as strongly as possible.
Of course, social media remains an incredibly important tool. During the pandemic, social media use has only increased. And with shopping-related developments being emphasized even more in platforms like Instagram and Facebook, it's essential to take advantage of every opportunity to reach new customers.
Here are just five ways you may want to market your products on social media during the holiday season.
---
---
Host a Holiday Giveaway
'Tis the season for gift-giving — and you can attract new potential customers by showing your generosity. Between 40% and 50% of marriages end in divorce in the U.S., while many other families have endured immeasurable hardship this year. You can give back and increase your visibility on social media by running a giveaway for special holiday products. By requiring entrants to tag a friend or share your post in their stories, you can increase your follower count and interest those who don't want to leave winning up to chance. Plus, you can offer a discount or special sale on your products after the giveaway ends as a way to increase sales and convince participants to stick around. Don't forget that you can cross-promote your giveaway on other social media platforms or require that entrants sign up for your e-mail newsletter to be eligible!
Try Out the Reels Feature
Instagram launched its Reels feature in an effort to emulate TikTok several months back and the platform has been plugging these short videos like crazy ever since. They have more longevity than a static photo post and are generally thought to be more discoverable and more shareable than other types of content on the platform. Reels offer a great opportunity to show off the best of your holiday products or provide followers with an insider's look into your company. Depending on the nature of your product, you can show a few different ways to use these items that are specific to the holiday season. Although you can't cross-promote reels easily on other platforms, they can be a great way to repurpose previously filmed video content or reach new audiences during this time of year.
Partner With Influencers
Influencer marketing has really come under fire during the last few years, as many marketers are inclined to believe it isn't worth the investment. However, that doesn't mean it's not worth trying out — particularly if you can work with influencers who are willing to be paid in product. If you don't have a huge marketing budget, you may be able to find influencers that align well with your niche who aren't looking for a huge pay-out. While you can't expect someone with hundreds of thousands of followers to promote your products without being paid, you may be able to build a community of mid-level and micro-influencers who already love your products and who are willing to promote your seasonal items in exchange for gifting. Although U.S. retail sales of candle products are estimated at $3.14 billion each year, you may end up making more by giving a couple of products away (especially if they can easily be incorporated into a holiday-themed post!) and providing a discount code for followers than you would by not working with any influencers at all.
Offer 12 Days of Discounts or Sales
Speaking of discounts, you can often encourage holiday shopping by offering special sales — even after Black Friday has come and gone. Offering a special discount or unique sale on each of the "12 Days of Christmas" can actually convince consumers to place multiple orders and create a sense of urgency. If inventory is going quickly, even a 15% discount or free shipping offer can be enough to get customers to go through with the checkout process. It also gives followers something to look forward to each day and provides you with more content to post — a real win/win when it comes to social media.
Create Seasonal Ad Campaigns
Whether you're running a sale or launching a new product for the holidays, digital ads can help get the word out. Facebook, Instagram, and Tik Tok ads are incredibly visual, which makes these platforms perfect for product promotion. Focus on creating dynamic images and compelling videos for your seasonal ads, as these can heighten your online visibility and drive traffic to your site. Don't forget to highlight some of the product perks and tie them into the holidays. If you're selling essential oil products, for example, the fact that essential oil particles stay suspended for up to 75 minutes can illustrate how necessary these products are for holiday cleaning and entertaining. In general, your ads should be jolly and filled with holiday cheer; now is not time to keep running the same ads you launched earlier in the year!
There's no question that many businesses are having a difficult time this year — and as the holidays grow closer, we may find ourselves in an even tougher spot. But considering that social media isn't going anywhere (and neither are we), it makes sense to use these platforms to your advantage this season.
---
---
The following two tabs change content below.

Valerie M. is a writer from Upstate New York. She received her Bachelor's degree in Journalism from The State University of New York at Fredonia in 2016 and is currently working at a digital marketing agency where she writes blog posts for a variety of small businesses all over the country. Valerie enjoys writing about music, animals, nature, and traveling.

Latest posts by Valerie M. (see all)