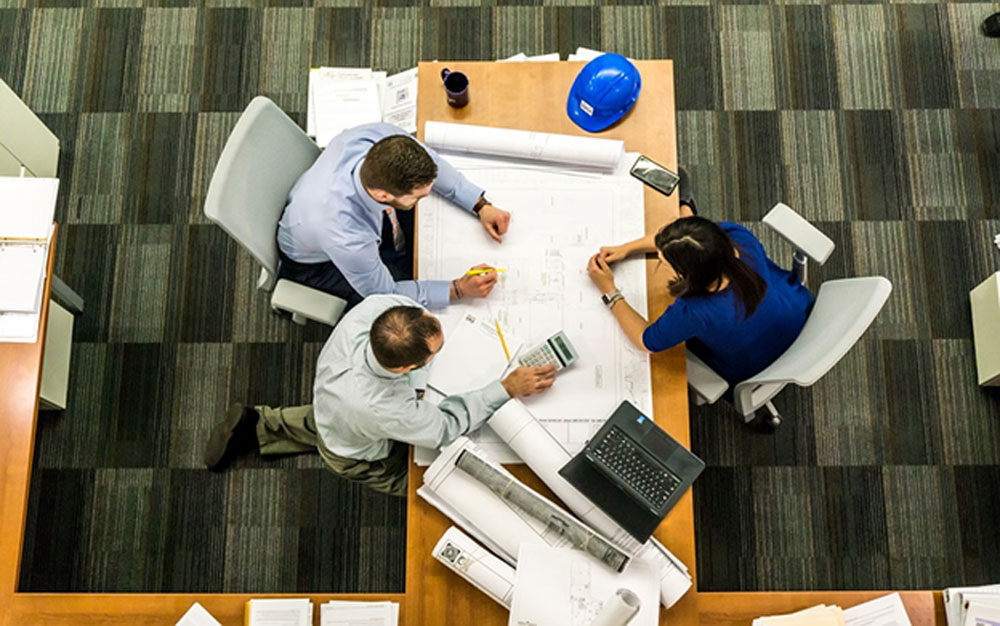 Small business office moves bring many local marketing opportunities to reinvent or reconnect your business with employees and customers
Whether you're expanding the company or simply relocating, an office move is not only cause for celebration, it's also a fantastic marketing opportunity.
Sure, moving can be stressful (after all, there's a lot to keep track of), but it's the perfect time to pull the trigger on marketing strategies that might not be as successful under different circumstances. Turning an office move into a competitive advantage can be done in a few different ways — let's take a closer look.
---
---
Refresh Your Employees
First and foremost, moving into a new space is an excellent way to re-energize and re-engage your workers. That is, as long as you go about it in the right way.
Start by involving your employees in the process — and I don't mean using them in lieu of professional movers. In the planning stages of your move, ask your workers what they'd like to see in the the new office. What setup will serve them best? What don't they like about the current office's arrangement? Take their input seriously, as it will help you shape the new space in a way that encourages both productivity and ingenuity.
In order to avoid interrupting your employees' work-flow, schedule the move on a no-work day. If your relocation efforts are going to take longer than a day or two, consider allowing workers to telecommute. Not only will this maintain productivity, if you decide to make it a permanent benefit, it can save you both office space and money in the long run.
A Brand New Beginning
If the move is a just a manifestation of a larger shift in how you will be doing business in the future, it may be time to rebrand as well. Since an office move requires you to update your website, business cards, and promotional items anyway, it serves as the perfect excuse to redesign your logo and marketing materials.
Even if you're not restructuring, a rebrand can emphasize the new beginning the move represents for you, your customer base, and your employees. It's a wonderful reason to start a dialogue with new or existing clients and customers. It also serves as proof to employees that the company is moving forward and that growth and change are just around the corner.
Get Rid of Excess
When packing up inventory during a move, you may find that you have far more of a certain product than you really need. While liquidation is always an option, daily deal sites like Groupon may be a better choice.
Not only will they take the excess inventory off your hands, you'll also get exposure (and hopefully new customers) in the process.
Share the Reasons for Your Move
Office moves don't happen in a vacuum — there's usually a positive reason as to why. Perhaps your company is expanding into new markets, developing new products, or hiring more staff to assist a growing customer base. Maybe you've been acquired by (or are merging with) another company. Regardless of the impetus, the change will be of interest to your current customers.
Generate interest in your new products, services, or capabilities by explaining how your relocation benefits your company. Whether you moved to be more accessible to your clients, take advantage of better facilities, or simply to establish a larger office space in order to grow, your clients — and prospective clients — should know about this added value.
Spread the word by sending direct mail postcards, email announcements, or advertising in a local newspaper. This informs existing clients of your new address and contact information and notifies potential clients of your presence.
Host an Open House
Nothing provides the opportunity to build business quite like an open house. In addition to offering cocktails and refreshments, an open house allows you to show off the hard work you put into the location, give a demonstration of your products or services, and get some networking done.
Schedule your open house a month or so after your employees have settled in and got their bearings. Invite current and potential clients, corporate neighbors, and journalists via email, social media, local ad, or direct mail announcements. Encourage them to attend with family and friends — after all, the more, the merrier!
There's no getting around it, relocating is a real a pain. However, when it's done correctly, it can translate into a refreshed brand, reinvigorated employees, and increased business. So, if you're getting ready to move offices, get your pencil out and start planning. You have some marketing to do.
---
---
The following two tabs change content below.
Liz Greene
Writer, Marketing Specialist
Liz Greene is a writer, marketing professional, and full blown pop culture geek from the beautiful City of Trees, Boise, ID. When she's not stalking the aisles of her local Ulta, she can be found shoveling down sushi while discussing the merits of the latest Game of Thrones fan theories.
Latest posts by Liz Greene (see all)