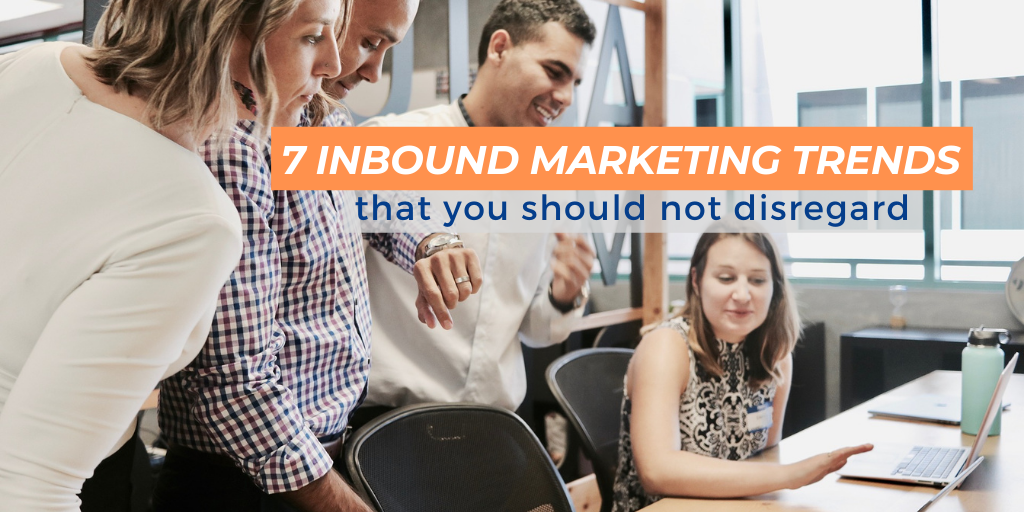 Digital and inbound marketing trends that small business cannot afford to ignore if they want to stay competitive
The world of fashion and the world of digital marketing are quite similar in a lot of ways. For one thing, they are both subject to changing trends. Every new season brings new trends some of which dominate the runway. But, some trends stick around for a long, long time.
The end of 2020 also brought some similar trends in the SaaS SEO landscape. It's time to pull-up your socks and embrace them if you take digital marketing seriously.
Take a look at some of the trends related to digital and inbound marketing that you must not disregard, if you wish to remain competitive.
---
---
Artificial Intelligence & Big Data
All digital marketing efforts revolve around consumer orientation. That's where Artificial Intelligence (AI) comes into play. When you combine its power with Big Data, it can better enable marketers in analyzing all the evolving trends.
It further helps them understand customer preferences and habits better due to machine learning capabilities that are inherent to AI.
While historical data only shows past user behavior; Big Data combined with AI paints a clearer picture into understanding possible new trends and future needs to work on for better customer orientation.
Google Analytics Cannot Be the Only Analytics Tool!
This is not to undermine the importance of Google Analytics. But, only using GA won't suffice in the year 2021 and the years ahead. Especially, if you want to beat the competition and stay ahead of your game.
The reason for that is new channels and ways of search are popping-up forcing marketers to approach things in new ways. Also, transactions today are no longer as simple as they used to be.
You have to look at things like repeat purchases, checkout bumps, down-sells, up-sells, etc. On top of that, countless new ways have emerged for boosting revenue such as influencer marketing, webinars, affiliate marketing, etc.
Because of so many new things, there's a strong need to use smart analytical solutions which a company can integrate into the database. To that end, Google Data Studio and Amplitude are two business intelligence tools to look after. These are likely to become the new favorites among marketers.
Conversational Marketing to Dominate Things
Chatbots have emerged as the latest marketing tool. With an exponential rise in their popularity, it's time to make conversational marketing a part of your marketing strategy.
A growing number of users like to talk with their favorite brands in real-time. They like to engage and interact with them. In fact, most of them prefer the convenience of messaging using chatbots. Almost 82% of online visitors now come to expect a quick and immediate response.
This is precisely what conversational marketing is. The idea is to make room for personalized communication between customers and their favorite brands all in real-time. The best thing about conversational marketing versus conventional is that it is accessible across all platforms and on all kinds of devices.
It aims to ensure customer satisfaction and implement a feedback-based model that leads to higher engagement.
Video Marketing
Experts predict that within a few years, a larger portion of the internet traffic will be video-oriented. With such promise, there is no reason that marketers should wait before making video marketing a part of their life.
Videos have already taken over digital marketing with the emergence of options like IG Live, Facebook Live, and YouTube. The kind of content that people would earlier watch on TV is not available on their phones within a click.
This is a high-time to tap into this rising trend so you can get the hang of it by the time it hits the peak. With people devoting more time to videos, video ads are going to be the future of digital marketing.
To be successful, create the kind of ads that are creative and spontaneous.
Content Marketing Vs. SEO
A huge part of SaaS SEO is focused on content marketing and content creation. But, it's now time to move from SEO content to attractive content. Almost 88% of B2B marketers rely on content marketing. Creating quality content is the only way to come across as a credible and authentic resource in the industry.
Here are some stats that emphasize content marketing –
The conversion rate is highest than any other method
Blogs tend to produce 126% more lead for small businesses
It has longer-lasting benefits than paid search
3x more lead generation
It's 60% less costly compared to outbound marketing
Millions of devices don't see ads because they use AdBlock
User-Generated Content
Also known as UGC, user-generated content is an incredible tool for marketers who focus on Gen Z and Millenials. This can include reviews by potential buyers. You can get user-generated content in exchange for a gift coupon or a discount code.
Personalized Emails
Email marketing continues to remain a huge part of inbound marketing. They can be highly useful and effective (when handled properly). Their value is not likely to go down any time soon. Let's just say that emails are here to stay. However, something has changed over the years.
Lately, there has been a major shift from generic emails to more personalized emails.
It's time for marketers to up their game by making emails more personal. There's always automation to take the pain out of email marketing. But, personalization is something that needs more input and effort.
Bottom Line
Change is inevitable. Even for SEO and inbound marketing. Make sure you embrace these trends that are likely to make a lasting impact if you are serious about your business.
---
---
The following two tabs change content below.

Editorial Staff
This article was written by SBMarketingTools.com editorial staff.

Latest posts by Editorial Staff (see all)