---
---
SBMarketingTools.com Founder Diane Seltzer Wins Top Category Award in Marketing for Small Business Public Relations Book
March 30, 2013 – "PR Tools to Toot Your Own Horn – Strategies and Ideas for Small Business Public Relations" has been announced as 2013 Small Business Book Awards Top Category Winner in Marketing.
Written by Diane Seltzer – a 20 year marketing veteran and founder of Small Business Marketing Tools (www.SBMarketingTools.com) – PR Tools to Toot Your Own Horn centers on low-cost public relations ideas and strategies to help businesses do their own public relations and get more PR attention.
Some of the topics covered in the book include: building a PR strategy, managing common PR tasks in-house, identifying news worthy of a press release, tips for writing and distributing press releases and developing targeted local PR strategies.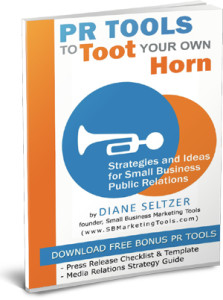 The book provides insight on building relationships with key media contacts and journalists, as well as utilizing social media PR strategies. It also includes links to download free templates and a Press Release Checklist, Press Release Template and Media Outreach Guide.
The 2013 Small Business Book Awards, produced by Small Business Trends and in their 5th year, celebrate the best business books that entrepreneurs, small business owners, CEOs, managers, and their staffs should read. The small business community plays a key role by nominating, showing their support for, and voting on their favorites to win the prestigious award.
PR Tools to Toot Your Own Horn is available in both paperback print and Kindle eBook formats on Amazon.
For a more detailed overview of this award-winning book,
visit our PR Tools to Toot Your Own Horn book overview.
ABOUT SBMARKETINGTOOLS.COM
SBMarketingTools.com offers low-cost marketing tools, resources and strategy ideas for small businesses to improve their advertising, branding, public relations, direct marketing, social media marketing, websites and overall business productivity. Discover small budget, big impact ideas for your small business at www.sbmarketingtools.com. For the latest, follow @SBMarketingTool on Twitter.


---
---
The following two tabs change content below.
Latest posts by Diane Seltzer (see all)