---
---
Realtors, local sales reps and small businesses can turn their cars and delivery vehicles into attention-grabbing mobile billboards with vehicle wraps, graphics or decals for memorable advertising and branding impressions in a local market territory
A vehicle marketing strategy for your local business could be as simple as using inexpensive door magnets and decals, or as specialized and elaborate as fulling wrapping your car with graphics. The main objective with car graphics and messaging is to maximize the ongoing branding exposure your local business gets while driving throughout a market territory. Vehicle marketing can become a mobile billboard for your local business and transform your company car into a lead generation machine.
The concept of vehicle marketing has grown significantly in recent years and there are many branded cars competing for attention on the road with bold car decals and graphics. Local businesses need to come up with new creative ideas that not only grab attention on the road, but are also memorable enough to produce results in terms of more inquiries, referrals or sales.
Creative Messaging Ideas for Car Wraps, Graphics and Decals
Simply using a company logo along with a tagline, website address and phone number may not be enough to turn heads on the road these days – or be memorable enough for potential customers to take action after the initial marketing impression. Good creative messaging on car graphics can help ignite buzz in your local market and generate valuable (and free!) word of mouth advertising.


Creating a catchy slogan or unique messaging that is memorable is one way businesses can stand out while their company cars are driving around in their local market territory. Think about what makes your business unique, or what you want potential customers to think about your business. Then, capture this idea in your graphics and messaging on your car or delivery vans.
Using humor in a slogan is one creative idea that usually makes a lasting impression in vehicle marketing. If you can get people to stop and laugh or giggle at a slogan or tagline they will usually remember it (and may even share the humorous slogan with others, therefore generating additional word of mouth advertising).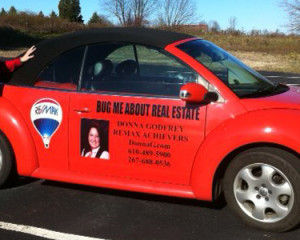 In this example, Pennsylvania realtor Donna Godfrey wants you to "Bug Her About Real Estate". The bold red VW Beetle "bug" car, along with the fun and catchy slogan encouraging people to contact her anytime about real estate, definitely turns heads in her local market.
The strategy includes a nice combination of a unique car type and color, a catchy and humorous slogan and graphic images (real estate company logo and realtor headshot photo) that help to identify the realtor in her local market territory.
In a business where word of mouth advertising and referral marketing is critical for success, making memorable impressions on the road with this bold vehicle marketing tactic is sure to get noticed and remembered.
Some other creative messaging and marketing ideas for local businesses using vehicle branding include:
Use special messaging or call to action. Track the effectiveness of your vehicle marketing by using a special call to action using the car graphics as the referral mechanism, such as "Mention you saw this car and save 20% with us". Your call to action will give potential customers more reason to remember your graphics to take advantage of a special promotion while giving your company a way to track the return on investment for the vehicle wrap or graphics expense.
Add QR codes to your car graphics. When your company car is stopped in traffic or parked in an area within your local market, having a smartphone QR scan code on your car graphics is a great way to take advantage of mobile phones with your mobile advertising and branding. Have the QR code link back to your company website with special exclusive offers only available from your vehicle marketing efforts. You can even change your special offers frequently by simply having the same QR code on your vehicle but change the URL link attached to it (or update a landing page). Keep it fresh by saying "Scan for our Weekly Specials" or similar call to action.
Make your vehicle marketing highly visible. For optimum exposure to your vehicle messaging, take advantage of highly visible roads and traffic routes. Also consider parking your branded vehicle closer to the road in parking lots with the back of the car facing toward the road (or a section of the vehicle with the most graphics or messaging).
---
---
The following two tabs change content below.
Latest posts by Diane Seltzer (see all)