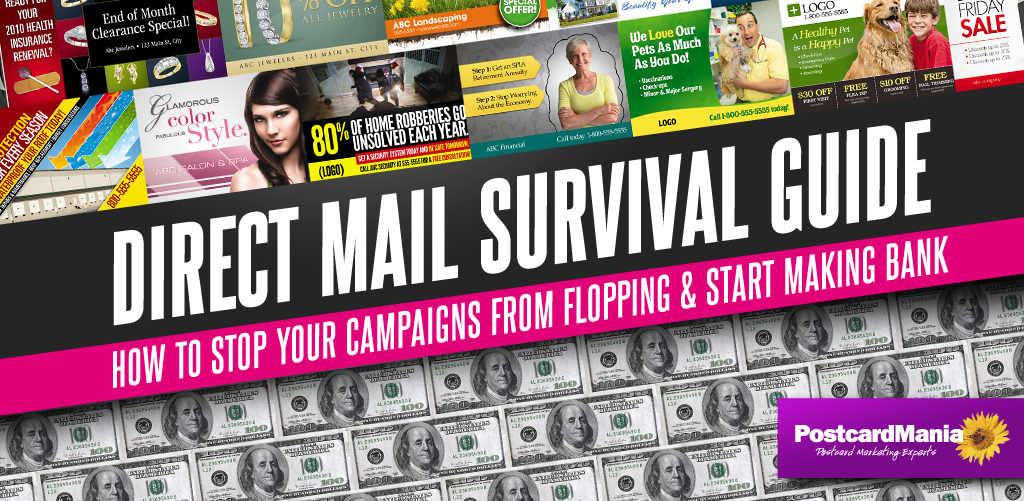 Targeting the right prospects with the right mailing list is key to success
I'm just going to come out and say it: The mailing list is the most important part of a direct mail campaign.
And I'll take it a step further: Using direct mail without in-depth knowledge of mailing lists (or access to someone with that knowledge) is like wandering out into the desert without any supplies. Sure, Bear Grylls can survive by sleeping in a hollowed out camel carcass, but the rest of us would be – quite literally – toast.
In other words, a good mailing list is your key to survival in the direct mail game. And not only that — it is the key to thriving in the direct mail game as well. And this example explains why:
Let's say you are a small HVAC business that caters to high-end commercial properties (just go with me). You spend months tweaking the perfect postcard design, complete with motivating copy and the ultimate "Act Now" offer. This thing is choice (as the kids say). No one could resist its marketing power.
Then you buy a targeted mailing list of 5,000 commercial properties in your area and start mailing. You are consistent, month after month, but still the results are… well… less-than-inspiring. What's the issue???
You probably guessed it: You targeted a bunch of the WRONG prospects. You sell high-end services. Maybe 25% of the list you bought can afford you. So that's 75% of your postcards down the drain right out of the gate.
But the hypothetical you is not alone. This happens A LOT. Your mailing list holds the key to your campaign's return on investment (ROI), because the success of your campaign rests on your ability to put your ad in the right hands.
Now, most of you should only ever deal with a mailing list company through an intermediary. Most direct mail companies offer this service and have enough experience with mailing list compilers to know which ones are reputable and which to avoid. This knowledge is well worth the "mailing services" fee. With that said, there are still basics YOU need to know, and here they are:
---
---
The Types of Mailing Lists
• Consumer List – A mailing list compiled from consumer data collected from other businesses. You can target by age, gender, location, income, housing, etc. If a roofer wanted to target homeowners in his service area with household income over $100,000 and homes built before 2005, he would want a consumer list. (Note: you can have a consumer list created based on the profile of your current best customers. It's often called an "ideal customer list.")
• Subscriber List – A mailing list compiled from subscribers to a particular publication. If a dog collar retailer wanted to target the readers of "Puppy Love" Magazine, they would want that publication's subscriber list.
• Affiliate List – A mailing list of a partner business' clientele. If a local gym had an affiliate relationship with a health food store, and wanted to send an email to the store's customers, the list of email addresses would be an affiliate list.
• SIC Code List – A mailing list for B2B marketers and businesses that targets businesses by their government issued industry code (SIC). If a national billing service wanted to promote their services to dental surgeons, but not general dental practitioners, they could pull an SIC code mailing list based on the specific code for dental surgeons.
• Opt-In List – A mailing list compiled from individuals who asked to receive information about a particular topic. If a sporting goods store wanted to target people they know are interested in football, they would want an opt-in list of people interested in football.
Questions to Ask Before You Buy
How often is your data updated?

Answer should be "monthly," ideally.

Do you guarantee deliverability?
What amount of deliverability do you guarantee?

Answer should be "90%" or higher.

Will you refund postage on bad addresses as well as the cost of each bad record?

Industry standard maxes out at 10% refunds for bad addresses, but you definitely want to know what the company's policy is.

Can I reuse this list?

If they say, "Sure, as much as you want," be suspicious. Reputable compilers charge extra for multi-use lists. This is normal and almost always worth it in the long run.
TIP: Always run mailing lists through the NCOA (National Change of Address) system to get updated addresses and remove bad records. There is a small fee, but you would end up spending more on undeliverable postage, so it's worth it.
If you have any other questions about mailing lists, feel free to call 1-800-628-1804 to speak with one of my trained marketing professionals. Any and all advice they give is free of charge.
If you've already ordered your list, make sure you use this checklist before you mail!
---
---
---
The following two tabs change content below.

Joy Gendusa is the Founder and CEO of
PostcardMania
, a fully-integrated marketing firm specializing in
direct mail
. She used postcards to grow PostcardMania from just a phone and computer to a $22million enterprise in less than a decade.

Latest posts by Joy Gendusa (see all)