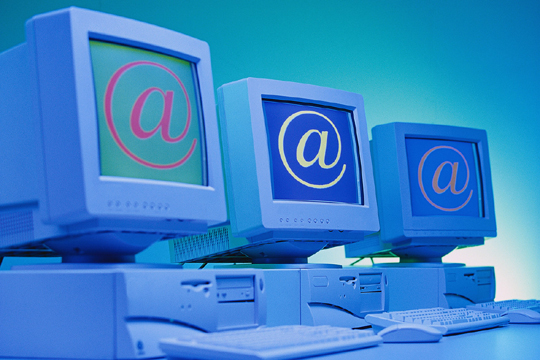 Small business communication strategies can leverage cost-effective email marketing newsletters to build key customer relationships and sales
With thoughtful planning and execution, an email marketing newsletter can be quite effective for businesses looking to build relationships with customers. The development of an email marketing newsletter should balance business aspirations with realistic goals. Carefully planning intended strategies and tactics prior to launching an email marketing newsletters will ensure a greater chance of customer acceptance and success.
Here are some steps and marketing tools to consider when developing strategies and tactics for an email marketing newsletter for your small business.
---
---
Determine Objectives and Goals of the Email Marketing Newsletter
What are the high level objectives for launching an email marketing newsletter? It may be improving customer communications, driving more website traffic or increasing online sales. Then, realistic goals should be set to help your business meet these objectives through an email newsletter strategy. Goals could be to improve website traffic or online sales by X% monthly.
Develop an Email Newsletter Content Theme and Strategy
The email newsletter content theme and strategy should be closely tied to the objectives and goals of the marketing initiative. After carefully targeting a customer audience segment, develop an overall theme for a set of content categories the newsletter will highlight.
Potential content categories could be:
Product highlights
Customer testimonials
Project or case studies
New online tools for customers
New media such as videos
Press releases or relevant business news
When building customer relationships, content strategies should also include ways for customers to interact or engage with an email newsletter – rather than just acting as a one-sided communication. Links to more information on a company website, interactive polls or embedded videos are just a few ways to encourage customer interaction with the email newsletter.
The newsletter content theme may also include a catchy name that gives it personality and complements the style, product or industry of your business. Depending on your industry and audience, the tone of your newsletter may also be less formal than your website promotional content. For newsletter design, pick a color scheme that also complements your company colors and/or website.
Select an Acceptable and Reasonable Marketing Newsletter Distribution Frequency
Content is king with email marketing newsletters. So the availability of new content that your audience will be interested in will dictate how often you should send out your email newsletter.
Be realistic with your business' ability to generate and communicate content. The frequency will most likely be weekly, monthly, bi-monthly or quarterly. Communicating too often with content that is not fresh and original will likely lower customer open rates, click rates and subscriptions to the email newsletter. If your email newsletter is packed full of new and interesting content customers will be more interested in reading and interacting with your newsletter on an ongoing basis. Just be sure to clearly communicate the purpose of the newsletter upon sign-up.
Choose an Appropriate Email Marketing Software Service
A good email marketing software service is a necessity to effectively manage an email newsletter program. Email software is a valuable small business marketing tool that helps small businesses develop and execute email newsletters like big businesses.
When choosing an email marketing software service, be sure to look for tools, features and functionality that assist in the development and execution of email newsletters, such as:
List building tools
Customizable design templates
Social media integration,
Analytics and tracking visibility
Free trial periods and low-cost program packages
Some of the best low-cost email marketing software services are companies like VerticalResponse, Constant Contact and iContact.
If you are looking for an advanced email marketing solution, Omnisend can be your first option.
These online programs require little upfront cost, utilize user-friendly online tools and continuously develop sophisticated (yet simple) email marketing functionality. And each offers a free trial period so there is low risk to check one or two out to see which one best serves your needs. Side-by-side free trial comparisons are always best.
See special offers for email marketing in the Email Marketing Tools Directory.
---
---
The following two tabs change content below.
Latest posts by Diane Seltzer (see all)