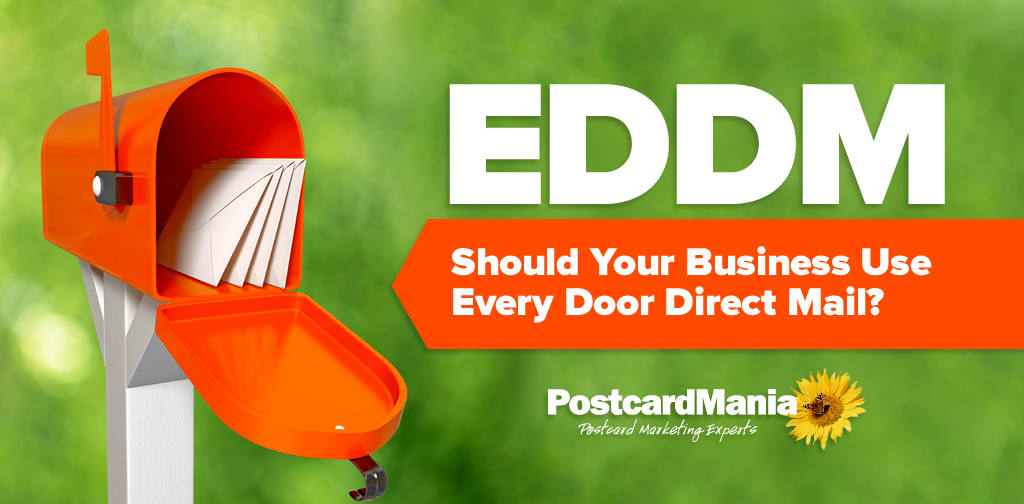 A step-by-step guide on how to use EDDM for your small business
I'm sure you have heard of EDDM (Every Door Direct Mail) since the United States Postal Service (USPS) has been promoting it on TV. I know PostcardMania has received a fair amount of inquires about the service, so I thought it would be helpful to give a thorough explanation on the topic and inform you of why it is beneficial for some businesses, but a potential flop for others.
First and foremost, I'd like to give props to the USPS for advertising EDDM. It's about time they teach business owners the power of direct mail!
What many people don't realize is that this kind of mailing has been around for years, commonly referred to as a carrier route mailing. (If you don't know what that is either, don't worry — I'm about to break everything down!) The only difference with EDDM is that the mail has to be a very specific size, but the post office has re-branded this product and spent good money advertising it.
Now, let's go in depth and look at EDDM to see if this will help you spread the word about your business for less money—and isn't that what all business owners want?
---
---
What is EDDM (Every Door Direct Mail)?
EDDM is a service that lets businesses mail to every home in a specific area or zip code at a discounted postage rate. The mail has to be a specific size and must follow EDDM USPS rules for formatting, mailing list specs, mail preparation, and post office delivery. In an attempt to make direct mail easier, the USPS has laid out all these guidelines in way the business owners (as opposed to mailing professionals) can understand. While it is possible to do this all yourself, it is time consuming and there are EDDM printers and mail houses who could do all the hard work for you, and many times they will save you additional money over doing it solo.
What Kind of Businesses Benefit from EDDM?
I'm going to give you two examples that will help you figure out if an EDDM mailing is a good idea for your industry or if you would be better off with a regular, targeted direct mail campaign.
To start, take a look at who your ideal customer is. For example, a men's clothing shop caters to middle-aged men. The people who generally buy from this shop are men between the ages of 30 and 50. After running a count of how many men in that age range are within a targeted radius, it's determined there are 2,200 results matching this profile. An EDDM mailing list count for that zip code comes up with a total of 9,000 records. By using EDDM you will have to hit all 9,000 homes in order to reach the 2,200 people that are actually your best customer. On the flip side, you could pay a few cents more per piece and mail directly to those 2,200 targets—overall saving you MUCH more.
Now I'll discuss a case of someone who should use EDDM. For example, a restaurant wants to target everyone within a 5-mile radius earning more than $30,000 a year. After running a count with the income criteria, it comes up with 12,300 records. The EDDM mailing list count finds 13,000 records. This restaurant will benefit from using EDDM marketing since they are targeting the majority of the homes in their 5-mile radius. Make sense?
Depending on your business, it can become a little trickier than the above examples because while you may be able to service everyone in an area, you may make more money off targeting people with specific income levels, homeowners, genders, etc., which all needs to be considered for your cost vs. return on the mailing.
These are a few examples of industries that EDDM usually works well for:
Restaurants
General retail stores
Dentists
Attorneys
Doctors
Dry Cleaners
Churches
Moving/storage companies
Museums/amusement parks
Auto repair shops
Gyms
Car washes
The cost difference between mailing through EDDM and mailing a standard-sized postcard is only about 3 cents per piece. So for the men's clothing store example, saving that 3 cents would not justify having to mail to so many unqualified people.
EDDM Benefits: Postage Savings
As I said before, the postage savings with EDDM marking is about 3 cents cheaper than postcard first class, and around 7 cents cheaper for standard letters. The benefit about EDDM postcards is that you are able to mail a much larger piece that will actually grab attention in a prospects mailbox. The best approach is to get a price quote on the entire campaign with EDDM mail pieces and a quote of the entire campaign with a targeted list in order to get an exact comparison of the two.
EDDM Postcard Sizes
EDDM approved postcards have specific rules about their sizing. There are a few guidelines to figuring out the size of the EDDM templates.
To comply with the EDDM approved postcards, your mail must be taller than 6.125" or longer than 11.5" and smaller than 12"x15". This gives you a huge variety of sizes, which can be overwhelming.
I've simplified the templates down to a few sizes that are cost effective when printing:
6.25" x 8.5"

4" x 12"

6" x 12"
How to Choose an EDDM Printer
Once you decided to go the EDDM route, you need to find a printer who can make that happen for you—specifically someone who can print plenty of postcards so that their prices are good.
To have a professional looking postcard mail piece, you should have a paper thickness of 12 or 14pt card stock and if possible, UV lamination on one side for a nice glossy look. Be sure to confirm with the printer that their paper stock is EDDM compliant.
EDDM Mailing Lists
Next up, you want to pull your EDDM mailing list. There are a few options to do this: One is to just do it yourself through the USPS EDDM website, and the second is to find out if your printer can do it for you. Most of the time a printer that offers EDDM mailing will be able to pull a list for you if give them a zip code you want to target.
Preparing your EDDM Mail Piece
If you want to mail your EDDM pieces yourself, then you will need to get the PS Form 3587, bundle your mail and then deliver it in a specific order to the USPS. If you are mailing to addresses in other cities or states, you will have to ship your EDDM pieces to a post office in that city with specific instructions. The easiest route to find an EDDM mailer who can do all that for you.
Tracking your EDDM Response
If you rely on phone calls as your response from your mailing, you should consider including a call tracking phone number on your mail pieces to see how much response you receive. This helps you track how many leads and sales you obtain and what your return on investment is.
In summary, EDDM is a good approach for some businesses, but not all. If you are curious if it will work for your business, give one of my marketing consultants a call.
You can also get free EDDM postcard samples — it's a great way to see the various sizes you can model your postcard campaign after.
---
---
---
The following two tabs change content below.

Joy Gendusa is the Founder and CEO of
PostcardMania
, a fully-integrated marketing firm specializing in
direct mail
. She used postcards to grow PostcardMania from just a phone and computer to a $22million enterprise in less than a decade.

Latest posts by Joy Gendusa (see all)