---
---
Why paying for Facebook Promoted Posts on brand pages is both a good and bad feature for small businesses… and how promoted posts can work for brands
Many small businesses spent a lot of effort building their fan base by attracting "likes" to their Facebook business pages. And many also spent precious marketing dollars with Facebook advertising to help build their number of page likes. But unfortunately (to the surprise of many small businesses) not all your fans are seeing your business updates (or posts) in their newsfeed. If you have 1,000 likes on your Facebook brand page, only about 160 people (or 16% according to Facebook) are actually seeing your posts.
Thanks to Facebook's newsfeed algorithm (known as Edgerank), brand page followers are not seeing every post from pages in their newsfeed. It filters the posts based on user interaction with your page, among other criteria.
Businesses now have a new opportunity on Facebook (or obstacle, depending how you view it) with the addition of Facebook Promoted Posts. The promoted posts feature gives brand pages the ability to pay to have their posts more prominently featured in newsfeeds of their audience. It's a feature that appears bad for businesses on a tight budget, but can also be good if used to support marketing goals.
How Promoted Posts on Facebook Pages Works

Promoting posts on a Facebook business page is very straight-forward. By paying a small fee (like $5, $10 or $20 per post depending on your potential reach), you can get more people who like your page to see your post.
Start by creating a post on Facebook like you normally do as an Admin, and then select "Promote" under the post. (Note: your brand page must have at least 400 likes for this feature to be available to you as an admin).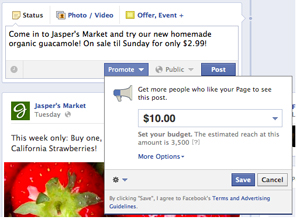 Then, select your budget and potential reach (Facebook will suggest a budget and total audience/reach based on your page). The cost is based on your potential reach and it is billed to the payment method you designate in your Ad Manager as a page admin.
When the post goes out it will show up with the word "Sponsored" under it in people's newsfeed on Facebook.
As a page admin you will have tracking visibility under promoted posts so you can see how many people saw the post organically (through newsfeed), virally (through a friend's activity) and paid (through your sponsorship of the post).
Facebook Promoted Posts FAQs provide even more details on how to create, budget and track promoted posts.  Note: Facebook has also rolled out promotion of posts for your personal accounts – if you don't have a Facebook business page then you can promote a post from a user account for $7 a post.


Promoted Posts – Why it's a Bad Thing for Small Businesses
The roll-out of Facebook's Promoted Posts for brand pages was not viewed very positively by most small businesses. Facebook has always been a great free marketing tool for tight marketing budgets. And most businesses that chose to invest in Facebook advertising to build their "likes" or fan base saw that as a one-time investment for growing the reach of the free marketing tool. Facebook put small businesses on the same playing field as big businesses. But now paying for posts is a bit of a slap in the face and a budget cruncher for many (even if they didn't realize that people were not seeing all their posts anyway).
For businesses that choose to embrace promoted posts, they will need to promote wisely. Too many promoted posts from brand pages are likely going to result in a decrease in page likes. Many Facebook users are already dropping the number of pages they "like" to avoid a crowded newsfeed.
Promoted Posts – Why it's a Good Thing for Small Businesses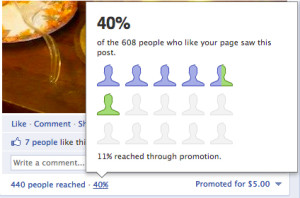 According to Facebook, brand page posts have only been visible on 16% of audience newsfeeds. Until Promoted Posts came along, businesses had no way of ensuring more people were seeing their updates. For a small fee (averaging $5-10 per promoted post depending on the reach), you can greatly improve visibility for your most important posts (like special offers or big product news).
And there is a viral impact too. Each time you promote a post and get engagement with a like or comment, you are also improving the number of people that may see your posts naturally (unpaid) through their newsfeed. Then, each time your fans act on a promoted post the activity will show up in their personal newsfeed… encouraging their friends to engage with your brand. As a marketer, you'll also appreciate the added tracking that you can get from Promoted Posts with visibility of post activity organically (through newsfeed), virally (through a friend's activity) and paid (through your sponsorship of the post).
Types of Posts to Promote on Facebook
As with any marketing campaign, businesses should plan to align promoted posts with the marketing efforts most important to their goals. Facebook recommends businesses will be most successful with post promotions such as:
Photos and videos that engage people with your product or service
Special offers that entice people to engage with your business
Exclusive news or events that encourages sharing with friends
Questions, polls or opinions that may give your business valuable feedback
Like it or not (yes, pun intended) Promoted Posts are likely here to stay on Facebook… so small businesses need to learn how to use them if they want a successful brand presence on Facebook.


---
---
The following two tabs change content below.
Latest posts by Diane Seltzer (see all)