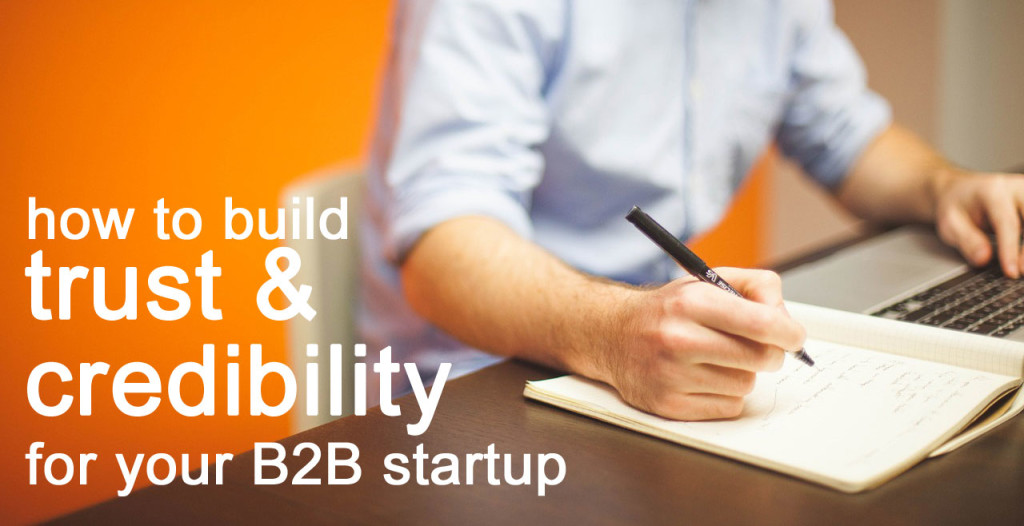 Building a startup brand means building a reputation of trust and credibility in your market
Starting a new B2B business can be tough, especially when it comes to building the trust and credibility you need for potential clients to work with you, and setting a solid foundation for your company to grow.
In this article, we'll look at a number of ways you can do exactly this, from getting audited to an ISO standard, setting the right pricing, and even using your small size to your advantage in your marketing plan.
---
---
Show You're Credible by Getting Audited
Most large businesses have ISO 9001 certification, which is a certificate to say your business is managed in a responsible, reliable way. But did you know there are benefits for start-ups and small businesses to get certified with a quality management system too?
Attaining ISO 9001 certification is a great way of showing your potential clients that you're up to the mark when it comes to providing a great service. In a nutshell, attaining ISO 9001 certification shows that you're a business committed to quality, no matter whether you provide products or services to your customers. The steps to becoming certified involve writing a process manual for your company, followed by an audit certifying that these guidelines are being followed. As a result, you can demonstrate that all your output is tightly controlled, so customers shouldn't receive poor quality products or services from you.
Furthermore, this is an ideal option if your start-up is newly established and sees larger companies as ideal clients, since many blue chip firms require their suppliers to be ISO certified.
Prove that Your Customers are Happy
Many established businesses show they have happy clients through case studies, however unsurprisingly this can be difficult if you have few completed projects as a new business. There are a couple of ways around this, however.
One method is to run a client satisfaction survey. This is great if you have a few clients, but no long term results to show just yet. Such a survey can show other potential clients how you've made a difference in the opening months of a contract, or were able to respond quickly to a short term objective.
Another way to show you're committed to quality is to highlight your process for improving customer satisfaction and responding to client needs quickly, or showing how your customer relationship management system helps you keep track of and respond to customer feedback.
Alternatively, you may have just one or two clients who are at the outset of their relationship with you. Case studies can still be written, though with a focus on the planning aspects of the project and what work will be coming next. Consider what challenges the customer has been facing and how your solution is expected to resolve this. In a few months when the project is complete, you can then update the case study to include results.
Set Your Prices at Market Value
Did you know that setting prices too low can actually reduce your brand's strength when selling to other businesses? For many B2B buyers, a higher price means a higher perceived quality. If prices are set too low, this can lead to the question, "why is this price so low?" – and not always in a good way. A low price can suggest the product or service is not up to the same standards as a competitor, and may lead the prospect questioning where corners are cut to save costs.
Charging a low price also means you're at risk of commoditizing your business. The risk of a low price is that your customers buy on this factor alone, not necessarily taking into account the value you're delivering. Meanwhile, if a customer buys for a high price, it's generally because they value the quality of your service more, and understand the benefits better.
Setting your pricing low initially may mean you can never escape servicing low value clients, as you'll not have any testimonials or case studies for innovative, game-changing projects, due to a lack of budget.
Be Genuine
A final pitfall that new businesses can face is knowing how to present themselves. Some start-ups may be tempted to overcompensate for their small size by listing extra satellite offices on their site, exaggerated client statistics, fake Facebook or Twitter followers, or less than truthful testimonials. Unfortunately, such tactics are also shared by shady scam businesses, which can throw up red flags to your potential customers.
There's no shame in being a new business, so why not focus on your authenticity instead? For example, you may not have lots of staff members yet, so turn this into a positive by explaining how this means you can be more attentive to client needs, or that your team is always up to speed with projects. Similarly, prospects may be more happy to work with you if you ditch the virtual office and instead find a cheaper office on the outskirts of your city, so new clients can see how exactly the operation is run.
Finally, you may have testimonials for work produced by co-founders prior to setting up the business. Simply presenting these as 'previous work completed by our team members' rather than by the business itself helps to show you're genuine and trustworthy.
Wrapping Up
Building trust and credibility early on in your B2B start-up is essential to ensure set the foundations for a growing business, working with the right clients and becoming profitable early on.
How did you build credibility for your business early on? Let us know in the comments below!
---
---
The following two tabs change content below.

Search Marketing Executive
at
Selesti
Seb Atkinson is a search marketer at Selesti, a multi-award winning creative digital agency. Seb has helped a range of clients grow their online presence, from start-ups and small businesses to large international corporations. Follow him on
Twitter
.

Latest posts by Seb Atkinson (see all)