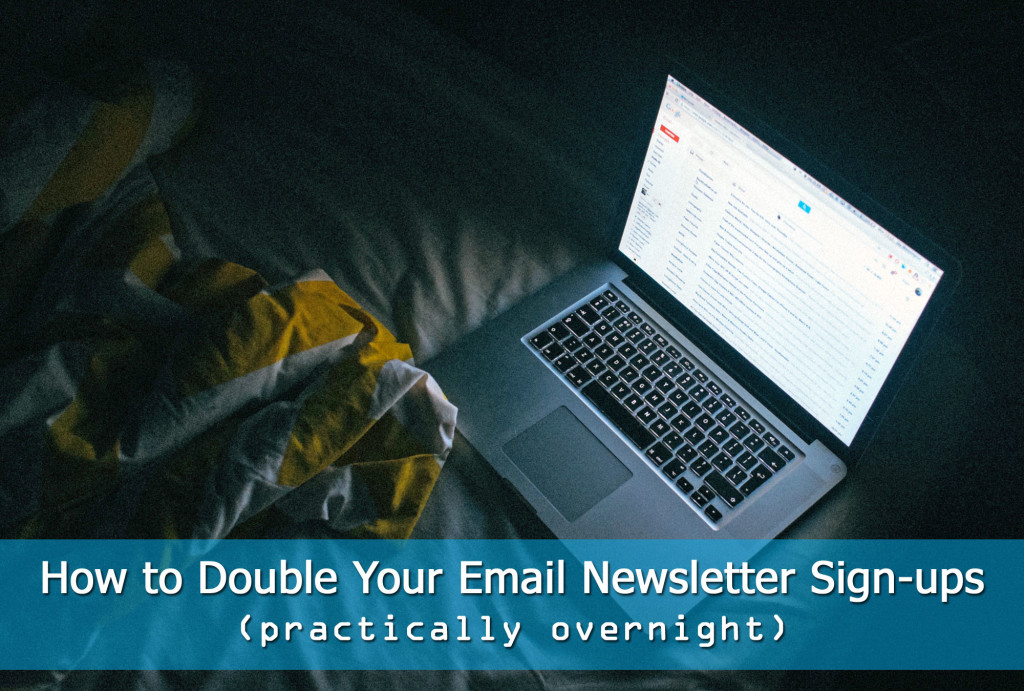 Follow these tips to help you gain more email subscribers from your website
You know by now that an email newsletter is one of the most effective ways to engage your customers. You may also know that an email newsletter is an awesome marketing tool that will help you boost interest in new products, services or events.
But what if you only have two people on your email newsletter list, and one of them is your mother?
Let's take a look at six tested strategies that can drastically increase the number of your email newsletter sign-ups.
---
---
1. Add a timed pop-up
Love 'em or hate 'em, pop-ups are popular because they're extremely effective in getting sign-ups. They serve as a gentle nudge to entice your audience, especially those who are reading your blog, to sign up for even more content from you.
However, hitting your audience with a pop-up before they've had a chance to actually read your content is a big no-no. Instead, opt for a timed pop-up that appears after a specific amount of time. For most audiences, five seconds is the sweet spot. Alternatively, you can also incorporate a scroll-triggered and/or exit intent pop-up as less intrusive options.
2. Include a Hello Bar
A Hello Bar is a web toolbar that you can easily install at the top of your website. This area is the most visible part of your page which makes it a prime piece of real estate. Where better to ask for email sign-ups? Use this tool in addition to or instead of pop-ups to effectively direct your audience into a deeper relationship with your brand.
3. Give something away
Having a pop-up or a Hello Bar is nice. But if you really want to get people to hand over their email addresses, you need to offer something more than a "thank you." Create a special gift just for your new email sign-ups.
For example, offer an extra resource or free ebook that's highly relevant to your audience. You can also offer an email-only course related to your product or service–a 10 Days to a Better…or a 30-Day Course on… Fill in the blank with a topic that your audience care about.
4. Use an irresistible call-to-action
Let's banish the word "submit" once and for all. Instead, use a call-to-action word or phrase that suggests value.
Here are some examples of actionable phrases to use:
Download your free ebook now

Join now

Immediate download

Limited availability

Reserve your spot now

Start your trial

Try it for free
5. Provide social proof
A great way to convince people to join your newsletter is by showing them that others have joined, too. This strategy is known as social proof. You can incorporate social proof by including your actual amount of subscribers in your call-to-action.
Here's an example:
517 people subscribed to our newsletter. Sign up so you won't miss out!
The social proof strategy may work best for sites with more subscribers, but even with as few as 100, you can still use this strategy to boost your conversion rate.
6. Make it easy to enter
Are you asking for too much on your opt-in form? If your form requests more than an email address, you're probably for too much. It's an easy equation: the more questions you require, the less sign-ups you'll get. Instead, ask for the email address and then use future interactions to gather more information.
Bonus tip: After completing a transaction (online or in person), ask your customers if they'd like to subscribe to your newsletter. This could be done verbally… or as a part of sending them an electronic version of their receipt.
---
---
The following two tabs change content below.

Editorial Staff
This article was written by SBMarketingTools.com editorial staff.

Latest posts by Editorial Staff (see all)