---
---
Strategies to create and grow target audience groups for customer, product, service or geographic contact segments with Google Plus circles for your business communications and promotions
Businesses have another way to expand their social networks with the introduction of the Google+ social network. What is Google+? Well, some say it's a combination of Twitter and Facebook, while others think maybe a combination of Facebook and LinkedIn… or maybe even a combination of all three mainstream social networks.
While the same basic functionality as other social networks exists – make connections, post status updates – the ability to create "circles" on Google Plus is a targeting functionality that is unique. Google+ circles gives businesses more control over posts and status updates by giving them the ability to better define who receives communications. Circles – if created with the right strategy in mind – can effectively turn this social network tool into a direct marketing tool for businesses to promote products and services to specific audiences.
Create a Google+ Circle Growth Strategy for Business Contacts
On Facebook you have friends or fans, on Twitter you have followers and on Google Plus "circles" are how you connect with contacts to create a social network. As a business you'll want as many people as possible within your circle in order to communicate with them.
Of course the first step in creating a presence on Google+ is setting up an account. You'll need to have a Google Account in order to create a profile for Google+. As a business you then have the option of setting up a Google+ Page as well as maintaining a personal Google+ profile.


The next step will be developing a following or expanding your circles on Google+ for both your personal profile and your business Google+ Page. You'll want to define your target audience (a process you have most likely already conducted for your business) and then attract these individuals to your page. These people could be existing customers, prospects, industry professionals, suppliers, trade media representatives, or any other target audience segments important to your business.
It's recommended for businesses (particularly small businesses) to maintain both a Google+ Page and personal Google+ Profile. The main reason is in the development of your circle. With your Google+ Page you can not add individuals to your circle until they have added your page to their circle. Google Plus Pages can add other Google Plus Pages to their circle… even if those other pages did not first add your page. However, as an individual on Google+ you can reach out to other individuals and add them to your circle. Once they see you have added them to your circle, they typically add you back.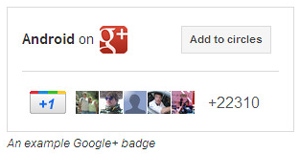 So if you want to build your circle of individuals, an effective Google+ circle growth strategy might be to promote your business Google+ Page from your personal Google+ profile to get more individuals to add your business page to their circle. Once they add your Google+ Page you can then add the individuals into your circle.
Another strategy to gain more individuals in your Google+ circle is posting on other Google+ pages with a large circle. Comment, share and make your page known to their circles by becoming highly visible. Be sure the other pages are relevant to your business so that you are attracting individuals who closely match your targets.
Finally, add a Google+ Badge to your website that links to your profile and uses the "Add to Circle" functionality directly from your website. SBMarketingTools.com uses the badge in the upper right column of the site on every page to help spread the word, grow business contacts and expand our circle.
Define Target Audience Circles for your Google+ Business Page
Having a defined "circle strategy" at the onset will help you keep organized as your Google+ circle grows. You'll want to create circle categories that make sense to your business and future Google+ promotional and communication strategies.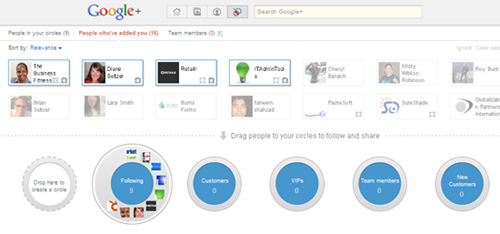 Let's say you want to communicate VIP customer specials weekly – then you'll probably want to have a "VIP Customer" circle and identify VIP Customers when you add them to your circle. Communicating updates to suppliers? Create a supplier circle target segment. Simply select "Create Circle" and define what the relevant circle(s) is for your business. You can do this before you add people or as you are adding people… but if you do it before you will develop a more strategic approach to creating and growing your circle.
Other potential target audience segments for Google+ circles may include: New customers Old customers Prospects Customers by industry segments Customers by geographic regions Customers by product or service type Suppliers (by industry, region or product/service) Industry professionals Media, editorial contacts or bloggers for PR Dealers or authorized sales agents Although you can change or edit designated circles at any time for Google+ circle contacts, taking a little time to develop relevant circles for your business targets will streamline your circle development strategy and future communications on the Google+ social network.
And the broader your Google+ circle the better when it comes to Google search results. With the addition of "Search Your World" search results appearing at the top of Google search results (an search option that you can turn on or off), your website can get prominent exposure in search results if people in your circle share or +1 your website pages.
How to Manage Google+ Pages
Like most of the social media networks, a good presence takes a commitment to keeping it fresh with updated content. The good news is that social media management platforms like HootSuite can allow you to easily add Google+ Pages management into your mix of social media accounts with their HootSuite Social Media Management tool.
Still confused about Google+ circles? Check out this brief video from Google explaining the value of creating circles for communications.



---
---
---
The following two tabs change content below.
Latest posts by Diane Seltzer (see all)