Understanding the importance of your "talking about this" number really means and how can you improve it
Small business owners with Facebook business pages have been obsessed with how many likes their page has acquired. But there is another important metric that often gets less attention by business owners – partly because they don't quite understand how to interpret it.
The "Talking about this" number is posted right next to the total likes number on a business page. But what exactly does it mean?
According to InsideFacebook.com's explanation of Likes vs Talking About This, the Talking About This number matters the most because it shows how many of your fans are actually engaged with your page – liking your posts, commenting, sharing or revisiting your page after that all important initial like.
So what's a good number of people talking about your page? Facebook uses these rules of thumb to give you a benchmark:
With LESS than 100,000 likes, a great 'talking about this' number is about 10% of the likes.
With MORE than 100,000 likes, a great 'talking about this' number is 5% of the likes.
So companies that run campaigns to drive up their like numbers, but never actually get fans to interact with their brand or business are actually not doing as well in terms of Facebook success.
Check out this graphic produced by drinkcaffeine.com of top boat manufacturer brands. Many of the brands with a large number of likes do not have much engagement, while others have a very large number of people talking about them relative to the number of page likes. Two of the brands actually have a higher number talking about them than the number that actually like their page… most likely due to the viral effect of interactions with their brands.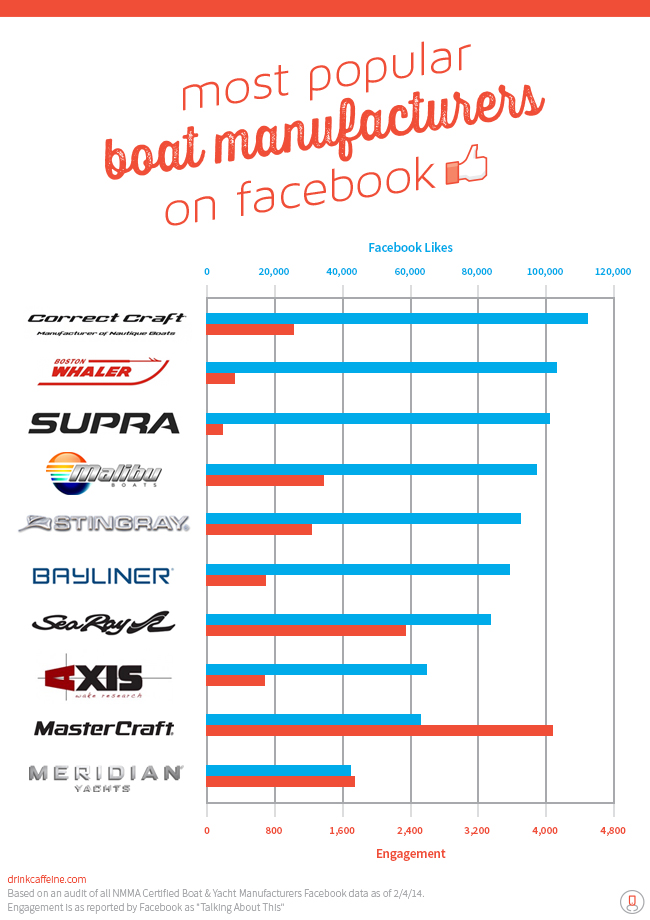 So why is it so hard for brands to get a higher engagement number? Part of the problem for brands is the fact that Facebook has made it a lot harder for you to have people engage with your posts and updates. Because of their algorithms, only a small percentage of people will see your posts unless you pay to promote or boost posts.
Why is this number important? Because every time a person engages with your brand on Facebook that activity is seen on their wall, which can help a brand reach much broader audiences.
Actions people can take to improve your engagement and increase your Talking About This number include:
like a page
post on the page wall
like a post
comment on a post
share a post
answer a question
RSVP to a page's event
mention the page in a post
tag the page in a photo
check in at a place
share a check-in deal
like a check-in deal
write a recommendation
claim an offer
…and the list of possible interactions are likely to go on and on – evolving as Facebook functionality evolves as well.
Small businesses really need to take a step back and think more about how to improve interactions and not just increase their like numbers on Facebook. Promotional campaigns and efforts should be focused on more valuable actions than an initial thumbs up. Because getting more people talking about you is really all about driving engagement, encouraging more direct actions and acquiring more business.
---
---
The following two tabs change content below.
Latest posts by Diane Seltzer (see all)