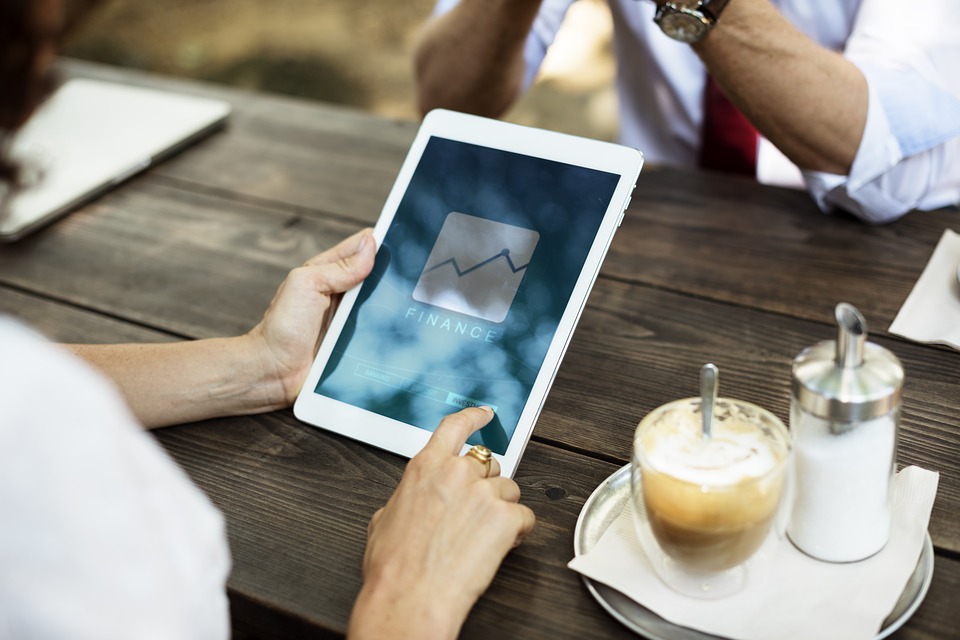 These small business finance and accounting tools can help minimize paperwork, streamline bookkeeping and automate sales and expense tracking to ensure finances are organized for tax time
Knowing how you spend your money is a critical step in maximizing small budgets. Effectively tracking your daily business expenses will help you stay focused on budgets, and where you may need to make necessary cuts in expenses. And most of all, organized bookkeeping and accounting records will ensure that come tax time your business finances are in order to maximize deductions and potential returns. If you want to know more about the potential tax opportunities and benefits an expert business accounting service can provide, visit HKMP.
Most small businesses can't afford to hire accountants or full time bookkeepers to handle their finances. Tracking tax receipts and daily expenses is usually a chore that gets added onto the hundreds of other jobs small business owners must handle themselves. With so much riding on good expense tracking – like accurately calculating taxes owed or staying within budget – a small investment in the right finance, accounting and or internet tax tool is critical for small businesses.
Below are reviews of three low cost finance tool options that can help keep small businesses focused on the bottom line – without making it turn into their full-time job. These tools range from basic expense receipt tracking to online accounting software and full finance software solutions.
---
---
Scan and Organize Expense Receipts Online
Getting all your miscellaneous receipts together and organized into a consistent format that you can use in a spreadsheet or accounting tool is half the battle with bookkeeping.
Shoeboxed is an online tool that helps you scan all sorts of business receipts (and even business cards) and then formats them so they can easily be accessed in one place. The services gives you several ways to scan the data – upload images from your own computer scanner with a desktop application, or send them your receipts in a prepaid envelop to scan for you (with a paid "classic" level account). Even eReceipts received from online purchases can be uploaded to your account.
There is even an iPhone/iPad app or Android app available for use with Shoeboxed that lets you snap a picture of a receipt to track and create expense reports on the go.
How Shoeboxed works: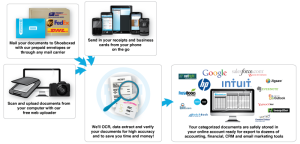 All of the documents under go high accuracy scanning, OCR, and human data verification before being posted to your account. Shoeboxed can work with dozens of other accounting, financial or CRM tools (such as Outright.com reviewed next).
Free Online Accounting Software to Track Expenses and Taxes Owed
Using an online tool to track your finances can be very convenient for businesses on the go because it can be accessed from the office or on the road for simple and quick updates.
Services like Outright.com accounting software can link up all of your finance accounts to automate tracking all of your transactions from banks or credit cards. So if you need a simple way to track your Chase checking account, Wells Fargo line of credit and small business credit card from American Express, the online charts and graphs will help you stay focused on how your business is performing financially at any given time. Information is tracked and organized for tax time… and they can even help you stay on top of quarterly tax payments due for your business.
Easy-to-Use Accounting Software Tools to Save Valuable Business Time
The biggest advantage of accounting software tools is the ability to streamline the laborious process of managing money in and money out. And for small businesses that likely do not have a dedicated finance person on staff, being easy to use is critical.
For a full finance software solution, many small businesses use QuickBooks by Intuit – in fact they are the #1 best selling account software program for small businesses.
QuickBooks offers different levels of accounting software that maps well with the size and complexity of your business finance needs:
QuickBooks Online – for easy online access to create invoices and track sales and expenses
QuickBooks Pro (MAC or PC) – to manage finances in one place with instant reports on sales, expenses and profits
QuickBooks Premier – for specialized tools tailored to your business type and industry with finance forecasting and planning tools
Intuit also offers payment processing services that can integrate with QuickBooks. The Intuit GoPayment merchant services allow you to accept credit cards from your PC or mobile device and then integrate the sales information with your QuickBooks accounting software. The monthly service fee is free for the first 2 months of use.
---
---
The following two tabs change content below.
Latest posts by Diane Seltzer (see all)