---
---
New mobile tag reader technology enables businesses to get tech savvy and extend marketing beyond printed marketing materials with QR codes
Many large consumer electronics manufacturers were the first businesses to adopt the new mobile tag reader technology to enable quick & easy comparison shopping at stores. Consumers can simply scan a mobile tag (also known as a QR or quick response code) with their smart phones and learn more information about products right inside a store.
But mobile phone scans, (known as "Tags" or "QR codes"), are no longer limited to consumer packaged goods from major electronics brands. Mobile tag reader technology is quickly developing into a tech savvy marketing tool for businesses small or large to use with printed marketing materials.
Best of all, businesses do not need to be tech savvy to leverage this tech savvy marketing tool. Businesses are only limited by their imagination to create engaging digital media that extends their marketing message to generate a positive return.
How Mobile Tags or QR Codes work on Printed Marketing Pieces
In the past, printed marketing pieces often had a short shelf life… or offered marketers limited space to fully engage or communicate a message. The best marketers could do was offer a URL to a website and along with a clever call to action in hope that their target audience would remember to type in the URL at a computer.
But now, with new mobile tag technology for businesses developed by Microsoft, offline printed marketing materials can quickly move online with a simple scan from a smart phone.
What is a mobile Tag or QR Code?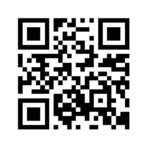 A mobile tag or QR code is similar to a 2 dimensional bar code but can be easily scanned by a smart phone through a mobile tag reader application. Microsoft offers free Tag technology that is free to use, create or customize. Basic reporting capabilities are also free to use.
Consumers can download free mobile tag applications to their smart phones and quickly scan a tag on printed marketing materials to get more information directly on their phone.
Tips for Small Businesses to Use Mobile Tag Scans in Marketing Campaigns
Sometimes it seems like only big businesses can tap into these new technology tools because they are backed by large marketing departments, ad agencies or technology consultants. It may seem like that is the case, but it doesn't necessarily hold true. Many of these evolving technologies – like mobile tag scans – are just as accessible to small businesses.
Some advantages of using mobile tag scans on marketing materials include:
Low-cost or free marketing tool to use
Ability to easily update existing Tags by simply updating linked information or URLs
Measurement capability with available scan usage data
Easy to use tag image renderings that even assist users in getting a tag reader application for their phone
Gives businesses an instant "cool factor" by staying up to date with technology trends
Mobile tags can be used to extend a printed marketing piece by showcasing a video, photos, interactive demos or even linking to a downloadable app for your company.
Here are some tips for how mobile Tags can be used on a variety of printed marketing materials along with examples and tactics.
Print Advertisements with Tags
Use tags in newspaper or magazine print ads to instantly take consumers to product demo videos, photo slideshows or even directly to a buy now page of a web site.
Direct Mail with Tags
Restaurants can use Tag reader technology to launch full menus or interactive videos; rather than a cumbersome business reply card, tags can take consumers to online contact forms.
Merchandise
Create merchandise or promotional items such as hats, t-shirts, mugs or notebooks with imprinted Tags
Trade Shows
Use tags at trade show or expos on postcards or hand-outs to show consumers on-the-go demos or even enter them into a lead generation campaign/contest.
Business Cards
Sales and other staff can add a tag to business cards to communicate a company story or mission, promote latest products and services or turn the small space allotted on a business card into a multi-media showcase.
Brochures and Sales Collateral
Extend or instantly updated brochures and sales collateral with tags that link to new information, pricing, products or other multi-media sales tools.
Mobile Tag Scans are Easy for Businesses to Create and Use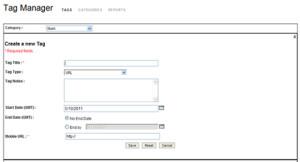 Small businesses can easily create their own mobile Tags for free by signing up for a Tag Manager account with Microsoft.
The process to create and use a mobile tag is very easy.
Select a unique name for your mobile tag
Select the type of tag (URL, App download, Free Text, VCard or Dialer)
Enter tag notes – a good place to include a description of how the tag is being promoted, what type of printed marketing material, etc.
Upload an image to be used with the tag
Enter a start date and an end date (unless it is a time sensitive promotion, no end date is needed)
Enter a mobile URL – if you don't have a URL optimized for mobile phones you can use a regular URL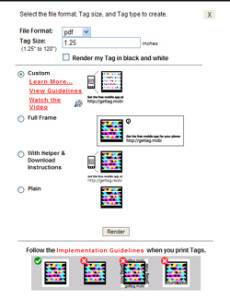 Once the information is entered to create the tag, select "Render" to get the tag in a downloadable format of your choice (PDF, JPG, GIF, etc). Be sure to read through Microsoft's Mobile Tag Implementation Guidelines before using the tag on printed materials so that you can ensure the tag is read properly by smart phone applications.
Testing the mobile tag on printed marketing material with your own smart phone tag reader application is also a smart thing to do.
Mobile tag scans are one of the easiest ways to transform your offline printed marketing materials into a digital marketing campaign.
---
---
The following two tabs change content below.
Latest posts by Diane Seltzer (see all)