---
---
Simple and easy to follow instructions for small businesses to get set up to use Pinterest as a brand promotional tool to generate more exposure, viral buzz and web traffic
As the new social media phenomenon of Pinterest gains momentum with consumers, small businesses are beginning to wonder how they can get on board (yes, literally, on Pinterest boards) with using Pinterest as a promotional tool for their business.
For those that closely follow social media trends, the tremendous growth of Pinterest is definitely on your radar. But for others Pinterest is relatively unknown… and how to leverage it for your business promotions is somewhat of a mystery. And you may be wondering… who has time for yet another social media platform to manage?
Well, if you have a small business with a highly visual product line with unique images or videos then you can not afford to ignore Pinterest as a promotional tool. Getting "on board" with Pinterest is relatively easy and can quickly become a valuable viral buzz and web traffic generator for your business. Did you know that Pinterest 459 million monthly active users? That's a lot of users that you can outreach to.
Step 1: Learn More about What Pinterest is and how People Use it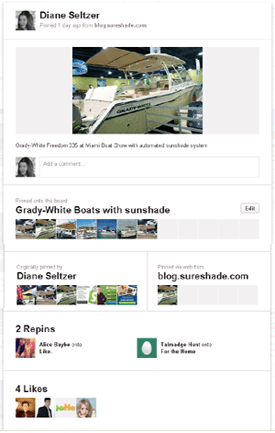 Before you get started with any new social media tool, take a little time to poke around and understand what the site is all about and how it is currently being used. Once you understand the site a little then you can develop a plan and work it into your social media management strategy.
So what is Pinterest? Pinterest is described as a "virtual pinboard", and is essentially a new social media site that resembles an online scrapbook or pin board of ideas. Pinterest is a way for people to organize and share things that they find online. Users go on the site and create "boards" around topics of interest. Users will then "pin" (or link to) things that interest them that are relevant to the board topic. The pins use images or videos found on websites or uploaded from their own images.
What types of things get pinned on Pinterest? Pinterest is particularly popular among women and is a good platform for brands to promote products or services that appeal this demographic. Products associated with clothing or fashion, gifts, kid's products, weddings, travel, recipes or home décor are especially popular pins on Pinterest.
Before you set up an account with Pinterest for your business you should spend a little time looking at the site and understanding how the pin, repining and like process works. Also check out your competition on Pinterest by doing some keyword searches to see if there are any boards or pins with mention of your biggest competitors. Are the pins originating from users or competitors? What types of topics and boards are the pins being placed on? And finally, understand if you are ahead of the curve or in catch-up mode with businesses in your competitive space.
Step 2: How to Set-up a Pinterest Account for Businesses
Getting started with an account on Pinterest is very easy to do. To get set-up with a new account, Pinterest requires you connect either a Facebook or Twitter account. Business brands will need to set-up with a Twitter account because you can not set up with a Facebook business page (only a personal Facebook account). They have this requirement to avoid spam of the site and to encourage Pinterest connections with people already in your social networks.
(Note: just because you sign up with a social account doesn't mean your activity will automatically be posted to Facebook or Twitter – you will control how much you want to share on other social media sites.)
During the registration process, you should decide how you want to represent your brand on Pinterest. Do you want to simply have a user account for your company name or brand, or do you want to set up an account for an individual that will represent your company or brand? Or, you may want to do both. Whichever way you go, the user account and ID will be used whenever you create a board, pin, like or repin on Pinterest. There are no particular advantages to using an individual or business brand account name with Pinterest (they have the same features), but it may matter in how you want to represent yourself on the site. Using your brand name may appear too "promotional" to some users. However, you also want to make your brand visible to users looking to follow your brand on Pinterest.
Step 3: Create Pin Boards and Add Pins from your Website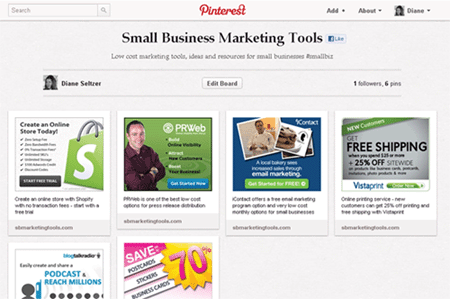 A branded Pinterest account is an opportunity to promote products and services from your business website by adding links or "pins". You can also promote links to features on your blog, YouTube brand channel, partner sites, external news or story features and more.
The first step is to create a pin board centered on a topic or theme. While it is a good idea to pin products from your website you should also try not to be overly promotional in the creation of your board topics. Make sure your board is assigned a "category" and contains a detailed description with keywords associated with your products and/or business brand so that your boards can be found via searches on Pinterest.
Then, add pins of different items from your web sources, along with a keyword-rich description. Pins are a great traffic generator for websites (currently outperforming Google+ business pages) because the image that is pinned contains a direct link back to the original source.
IMPORTANT: If you have products for sale on your site, be sure to take advantage of Pinterest Gifts. The gifts category allows users to sort by gift price ranges, creating more promotional opportunity for your brand. To get your products listed, add a price to the description and tags of your product when you upload a pin to your board. It will then show up in the Pinterst Gifts section for the appropriate price range.
Step 4: Engage with Pinterest Users to Encourage Followers, Repining and Likes
Like any other social media site, active participation will reap the most benefits from Pinterest.
The three measurements of your social media reach on Pinterest are:
Followers – people or brands that are following your activity
Re-pins – pins from your board being re-pinned to another board
Likes – people liking a pin from one of your boards
Encouraging Pinterest users to like or re-pin your images to their board is a great way to promote your brand, build your number of followers, increase your viral buzz on Pinterest and ultimately grow your website referral traffic from Pinterest.
Some ideas to engage users and get more re-pins, follows or likes include:
Repining from other boards focused on your local business geographic area
Pin from web sources other than your own website
Creating boards that cover a variety of topics and interests (more boards bring more opportunities for targeted views)
Add pins to images or videos that are humorous or have potential to create viral buzz
Encourage employees, customers and partners to pin your products
Promote your product pins and boards through other social media networks
If you have a Facebook connected account, opt to have your pin activity posted to your Facebook timeline feed
Create group or "open" boards and invite people to contribute to your board (employees, customers or partners)
Step 5: Add Pinterest Promotional Buttons to Your Website
The final step to promoting your brand on Pinterest is getting connected on your website and on your other social media networks. There are several promotional buttons available from Pinterest to help you promote your business on Pinterest and encourage more promotional activity from your website.

Follow on Pinterest Button – encourage website visitors to stay connected with your Pinterest activity by becoming a follower

Pin it Button – add this button to pages on your website to encourage users to pin your images to Pinterest and increase social awareness of your product.
To stay on top of your re-pins, likes and follower activity make sure you opt to receive email notifications. For small businesses, this can be a great tool to help you to stay engaged with Pinterest users, identify potential customer opportunities and reciprocate any promotional activity with your brand.
---
---
---
The following two tabs change content below.
Latest posts by Diane Seltzer (see all)