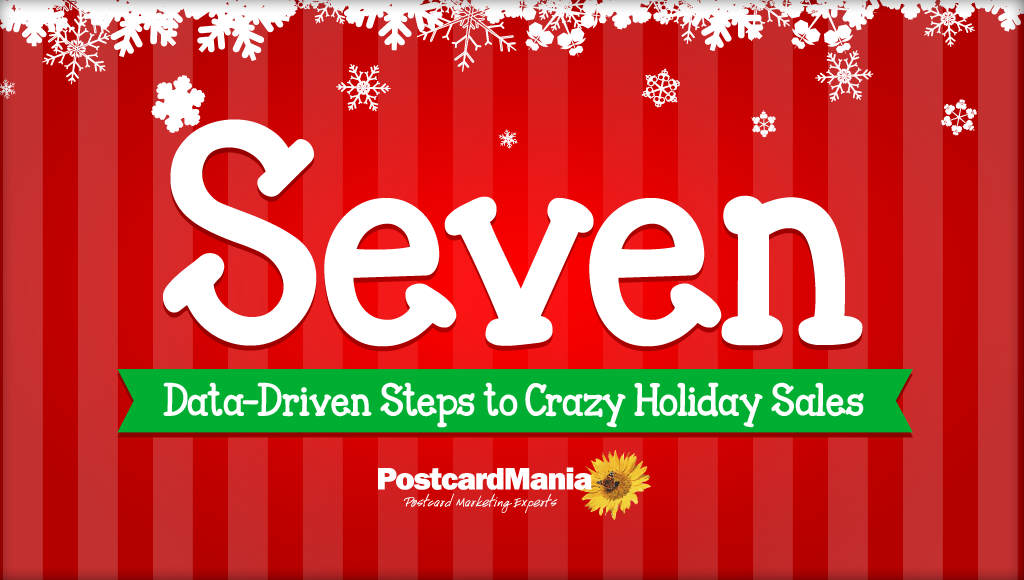 Well, this year went by in a blink, didn't it? I can't believe the holidays are coming up so fast.
Are you ready?
More importantly: Is your MARKETING ready?
Well, ready or not, it's time to start implementing your holiday marketing strategy so you can make this your most profitable season ever — what business doesn't want that?
Thanks to an improving labor market, increasing home values and lower gas prices, U.S. consumers are expected to spend $965 billion between November 2015 and January 2016, according to Inc.com — a 4% increase over last year's shopping season.
That's good news for retailers — and good reason to get going and ensure that your business gets its share.
Here are 7 steps you can — and should — take right now:
1. Look at your invoices from last year and graph that weekly income starting in October.
This will give you an idea of your overall holiday season. Where are the peaks? The valleys? This is an easy way to see those trends. And don't worry, you don't need to be an Excel whiz kid to do this — have your sales manager put it together for you!
2. Pinpoint the date where the increase begins.
Now you know when to expect an increase in traffic and can prepare for the uptick in sales. Make sure you are adequately stocked — and staffed — to accommodate these holiday customers!
3. Set targets for each week of this season that are higher than last year's.
Set goals that are realistic, but challenging. Was Cyber Monday slow for you last year? Come up with a special offer that will increase your sales that day. Goals are a vital part of your marketing strategy!
4. Figure out a couple of special offers you can promote.
Come up with a list of loss leaders (items you can break even or lose on in order to bring people in and get them to spend more once they arrive). Office Depot does this with copy paper. They lose money on that one item, knowing they'll make it up once people are in the store and buy additional items.
5. Mark on your calendar when you want your last piece of promotion to hit mailboxes.
This should be the 3rd to 5th postcard in your campaign if you want to outsell your competition! Repetition is proven to increase sales. This will be your final message to your prospects — make it count.
6. Then, mark one week earlier as your drop-dead mail date.
This will ensure your postcards are delivered on time. Remember, the holiday season is busy for the Postal Service, too. Don't wait until the last minute and risk losing sales.
7. Do the same thing for each postcard you plan to send before that, moving backward in time— hit date, and a week earlier, mail date.
Working backward helps you think logistically rather than emotionally. Don't plan your campaign based on how much time you think you'll have — plan it according to what you know you MUST do.
Each postcard should be ordered a full month before the mail date. You don't want stress about getting them out on time — you want to be focused on getting your business ready for the stampede that follows!
If your business is B2B and you've noticed that things slow down over the holiday season, you should be preparing for that, too. Figure out how you can turn it around this year and work toward that goal.
It can be done! At PostcardMania, we used to slow down in December until we figured out how to capture a large part of the business we generally didn't see until January.
If you market, they will come!
Need ideas? Brainstorm with your employees. The people who know your business best – and benefit from its success – will have great suggestions.
Lastly, follow up your marketing efforts with amazing customer service. Offer free candy or coffee at your brick-and-mortar store or send thank-you cards. Remind them that your business is run by real people — and keep them coming back all year!
Want more inspiration? Download a FREE report on real retail marketing campaigns and their results.
Have a happy – and profitable – holiday season!
---
---
The following two tabs change content below.

Joy Gendusa is the Founder and CEO of
PostcardMania
, a fully-integrated marketing firm specializing in
direct mail
. She used postcards to grow PostcardMania from just a phone and computer to a $22million enterprise in less than a decade.

Latest posts by Joy Gendusa (see all)