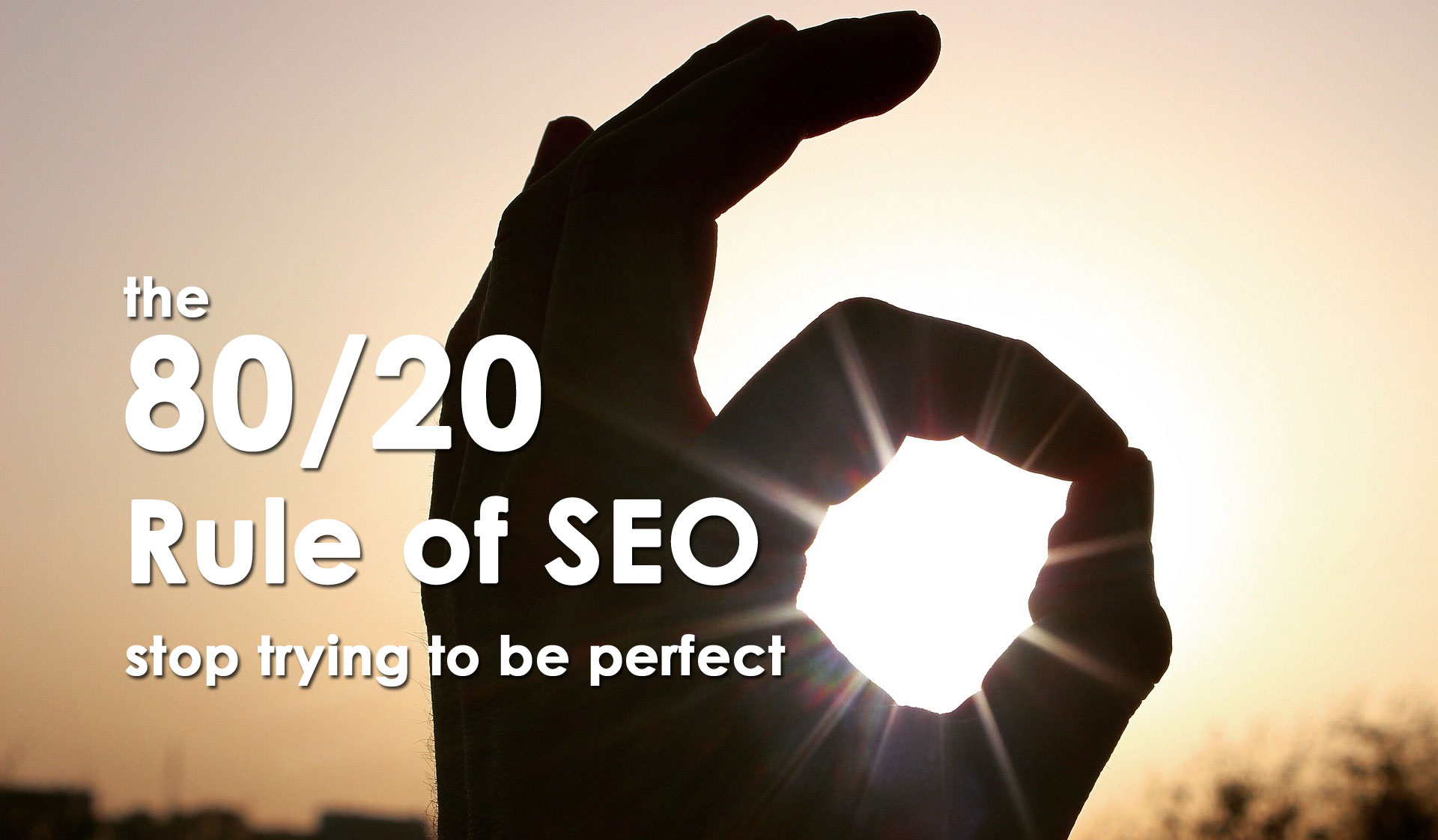 I've been in the SEO industry for close to 5 years now, generally SEO is seen as a "snake oil" industry, due to the huge amount of spam emails that you and I receive. But, there is no denying that ranking in Google can be hugely profitable for almost any business.
Knowing this, many small business tend to rush into either a.) Hiring the cheapest SEO consultant they can find, or b.) Learning SEO and implementing it themselves.
In this article I'm going to run through what you should be spending your time on when it comes to DIY SEO. The main reason why is the 80 / 20 rule of SEO (It's more like the 95/5 rule really.)
---
---
80 / 20 Rule Itself
If you haven't heard of the 80 / 20 rule before the basics are as follows:
80% of your results come from 20% of your actions or efforts
For example, 80% of your sales will likely come from 20% of your marketing strategies. The problem (usually) is businesses don't know what causes what, and hence you'll continue to invest in other marketing methods, when you should simply be concentrating more on the 20%, but that's a topic for another article.
The 80 / 20 rule in SEO is as follows:
"95% of your rankings will come from 5% of the ranking elements."
Okay so what do I mean?
If you didn't know already Google has over 200 ranking signals. Many of these factors I personally don't even consider when creating an SEO strategy and I never will, simply because they are overkill. They are not needed to rank!
Think of it like this: If you have a business that generates 10,000 sales a month, from 200 different marketing channels, but 5 of those channels account for 95% of those sales, would you bother looking through the other 195 or just increase those 5? Exactly.
DIY SEO
In this section I'm going to breakdown exactly what I recommend for business owners if you are going to do the DIY SEO route. If you're not then I know a great SEO company…. (Shameless plug: HQ SEO)
Also, if anyone says I'm oversimplifying this or don't have proof, below are screenshots of 3 client websites from the last 3 months. All strategies are almost identical to the points I outline below.

The Domain Itself
This is optional as most of the people reading this article will likely already have a domain live and hence cannot be changed. But, if you have to purchase a new domain then there are 3 aspects that can be highly beneficial to your future rankings. But also remember to keep the domain name brandable and short (not longer than 15-18 letters.)
Domain age – The older a domain is, the more authority it carries.
Keyword in domain – You think keywords in your domain don't matter? You're wrong. If you can include a keyword without losing the brandable element then be sure to do so.
Domain metrics – This includes any previous links pointing to the site, what the domain was used as before, TLD (having .co.uk if you want to rank in google.co.uk).
Misc Points
There are 3 points that you must have before even starting an SEO campaign. Assuming you already have a domain name these are the next steps. Do these as soon as possible if you have a website live already.
Keyword Research – "but Tom I already know my keywords" – 90% of the time, you don't. You should have a list of keywords anywhere from 10-50+ that you want to rank for. These should be split into "primary" and "secondary" keywords. Primary ones will generally be more competitive and hence take longer to rank. Secondary ones will generally have a lower search volume, but as a result will have less competition which means you can rank them quicker and profit from them sooner.
Competition Analysis – Similar to keyword research you MUST research how competitive a keyword is before selecting it. For example if I have a client with a small budget (£300 / month) and they want to rank for a national term that gets 20,000 monthly searches, I'll explain that this isn't possible due to the competition. In the same way you should select keywords that are achievable on your specific budget or timescale. The easiest way to do this is 1.) Common sense. 2.) Tools such as ahrefs and semrush.
Website Speed – Google has publicly stated "faster websites rank higher." Although most of what Google says should be taken with a pinch of salt, this one is important, as faster sites = better user experience = higher rankings = More profit. Test your website speed using GTMetrix, anything less than a B, and you should contact your designer or look into improving speed yourself (hint: it's more than just getting better hosting.)
On-page Optimisation
Why does everyone complicate on-page so much?
If you don't know on-page optimisation is anything you do on your website itself to help it rank in Google. For example heading tags, the text itself, images, urls and so on. This is my personal on-page optimisation check list, there is no need to make it any more complicated than this.
SEO title: The SEO title is the title element that you see in the Google results when making a search query. This is limited by pixels and NOT CHARACTERS. In your SEO title you should include your primary keyword (or 2 if it makes sense) as well as a "clickbait" element. For example if our primary keyword was: "how to skin a cat". And position 1's title was simply: "how to skin a cat". We could get a higher CTR with a catchy title, something along the lines of: "How to Skin a Cat Without Getting Scratched" – If the user saw both titles which would they be more likely to click on?
Meta Description – This "technically" doesn't affect rankings, but again it can improve CTR from the results page, so we should focus on it. This is limited to 156 characters and you should include your contact details (if relevant) and more reasons why someone should click on your link, this is kind of a mini sales page that someone might read before clicking on your site.
URL Structure: If you are looking to rank an inner page (as you cannot change the url structure of the domain itself) then remember to include part of the keyword in the URL parameter. E.G. domain.com/skin-a-cat
H1-H4 tags: If you are using WordPress then your title becomes your H1 tags. If not then include a keyword rich heading inside H1 tags. Any secondary keywords should be included in H2-H4 tags (preferably H2 tags) BUT don't go overboard with this. If they are very similar to your primary keywords don't worry about including them in H tags. E.G. if our H1/Title is: "How to Skin a Cat Without Getting Scratched", and our secondary keyword is "how to stop your cat from scratching you" Then we can go ahead and put this in a H2 tag.
Images: The amount of times I've seen clients who have previously hired SEO companies, and their image optimisation is still a mess, is just worrying. I've already done a full guide on image optimisation, but the basics are, keyword in the: file name, image alt and title tags and keep your file sizes small. If you want to get more advanced you can also look into geo-tagging and captioning images.
Text & Other elements: Having enough text on the page for Google to crawl is very important. I generally recommend at least 800 words. Also adding more images and videos on the page will help your on-page. Another element is external links, if you are trying to rank a homepage I wouldn't recommend external links (other than your social account links). If you're looking to rank a blog post or inner page then link out to authority relevant sources liberally. I recommend adding Yoast SEO plugin to all sites, this makes on-page SEO a lot easier.
That is all I do for on-page optimisation. If you do this, it will put you ahead of 99% of other websites in your industry.
There are only 2 stages left. (Yes only 2!)
Social and Branding
5 years ago you wouldn't have even needed this step, nowadays its essential to make your website look natural. I add branding to the end of this stage as this is something I learnt when I used to work at the branding division. If you can nail this section sometimes you don't even need to go onto section 5.
Social Accounts – Create and optimise your social accounts. The more the better. If you have the budget then also run ads to build up a small following and get a few initial likes/followers.
Press Release – Get a press release written and distributed. This helps give a "launch" aspect to your business, even if you are only writing the press release for the SEO value.
Build Citations – Especially important for local businesses. Citations are places where your business's name, address and phone number are situated. If you can't think of any there is a list of 50 here. Submit to as many as possible but keep all information constant!
Initial Traffic – This is a relatively new element I've added to the social and branding stage. This can happen naturally, but you should aim to have 10 visitors a day before continuing to stage. If you cannot generate this naturally then you can set-up a small PPC campaign that will do the job.
Backlinks
The #1 most misunderstood element of SEO. It is also the number #1 factor needed to gain rankings.
Backlinks are links from other websites pointing to your site, but it's not a numbers game with links. It's quality over quantity. High quality links will help you rank in Google. Low quality links will not only not help you rank, they will also hinder you from ranking!
High quality links are links that are either:
Relevant to your industry/website. Such as an industry blog.
Authoritative, such as a newspaper website.
Obviously getting both is perfect but this is very difficult to find. Instead of running through every backlinking strategy known to man, simply check out pointblankseo and backlinko for some great actionable tips.
Conclusion
That's it, that's my entire seo ranking strategy. My personal aim is to get between 3-5 links per month to clients through a variety of methods. This mixed with social, branding, speed, the correct keywords and the on-page elements is enough to rank in any industry or niche. More competitive keywords will take longer to rank but will earn you more in the longer run.
SEO is one of the most cost effective ROI marketing methods, don't get frustrated if your site doesn't rank straight away, instead keep working and slowly building the number of links you have and your site will eventually rank!
If you have any questions feel free to get in touch or ask below. Thanks for reading.
---
---
The following two tabs change content below.

Tom Buckland is a digital marketing expert specialising in local SEO. Owner of
HQ SEO
and
Ghost Marketing
, Tom provides digital marketing services for businesses anywhere in the world.

Latest posts by Tom Buckland (see all)