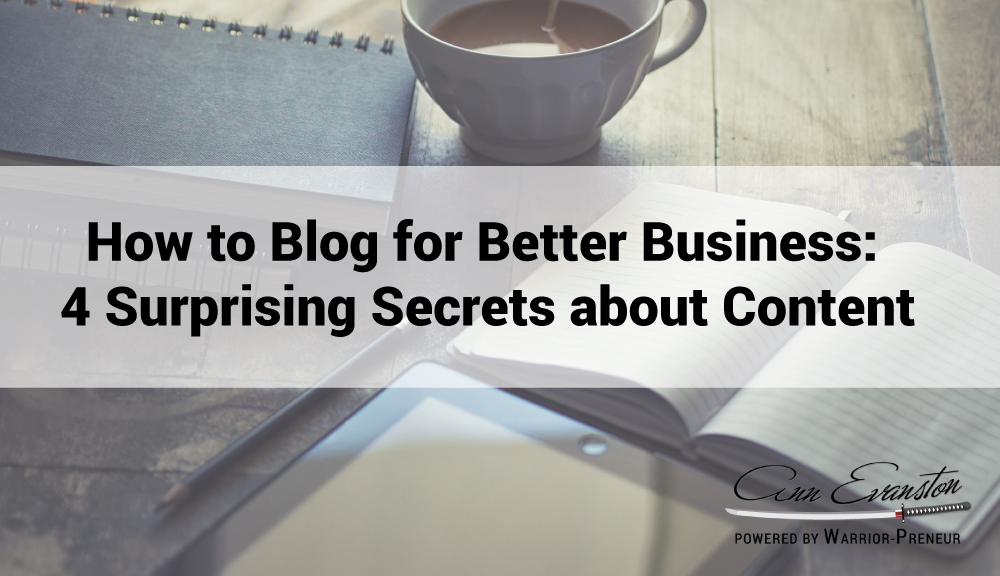 Have you struggled with content? Have you heard " content is king?"
Blogging is the cornerstone of your content strategy. Simply by writing one blog every week you can create a powerful content strategy. You can turn each blog into multiple pieces of content that you can use every where!
Once you write a blog think about:
turning it into a post in your auto responder
making a PowerPoint presentation and give a webinar
turning that PowerPoint presentation into a free book download
pulling quotes from the post and turn them into graphics to share on social media.
converting them into content to share with customers as well!
The crazy thing? Blogs are still the best organic traffic driver to your website!
I have said it forever, "If you do one thing, blog!" Back in 2008 I started "Blogger Monday with Ann Evanston." It first started on Twitter, and as it grew we moved it over to Facebook. The goal was all about blogging, creating a community of bloggers, and sharing that support. The phenomenon of blogging has not changed, heck you are reading a blog on a website devoted to blogs!
And guess what? I still say that to my clients. Blog!
---
---
Blogging Stats for Business
Blogging is critical from a visibility standpoint.
Here are 4 reasons why blogging leads to better business:
77% of people on the Internet read blogs.
Websites that have blogs also have 434% more indexed pages and search engines.
61% of US online consumers have made a purchase based on reading a blog.
Small businesses that blog generate 126% more leads.
I'm always telling my clients there are two goals; generate leads and close sales. So it's time to start blogging!
Getting Started with a Business Blog
I hear you, you're thinking: "but Ann….WHAT do I write about?"
I get it. I was once there. I felt lost. And sometimes I do again. Sometimes I just DON'T write. Then I have to practice what I teach…because it works, lol. When I was accepted to be a guest contributor on this site ANYTHING I could think about writing was gone! Vanished out of my head. I turned that into a blog series on overcoming writers block!
There are three ways to think about blogging content:
Tell stories. Stories work and connect from a marketing standpoint.
Use what I teach to my COMPEL. Speak. Sell MasterMind clients and develop your BBR. Your Bad-Assery Branded Resource(TM) is your organized system that you can constantly share information from.
Think about what your clients or potential customers ask you about and write those blogs.
Look at what your competitors write about and do YOUR opinion on the subject.
What's really important here, you need to stand out as an expert with an opinion in order to really increase leads and sales. Don't just regurgitate what other people say. It is though a great way to get ideas, especially if you haven't developed your BBR as yet.
You got this, go blog!
---
---
The following two tabs change content below.

Editorial Staff
This article was written by SBMarketingTools.com editorial staff.

Latest posts by Editorial Staff (see all)