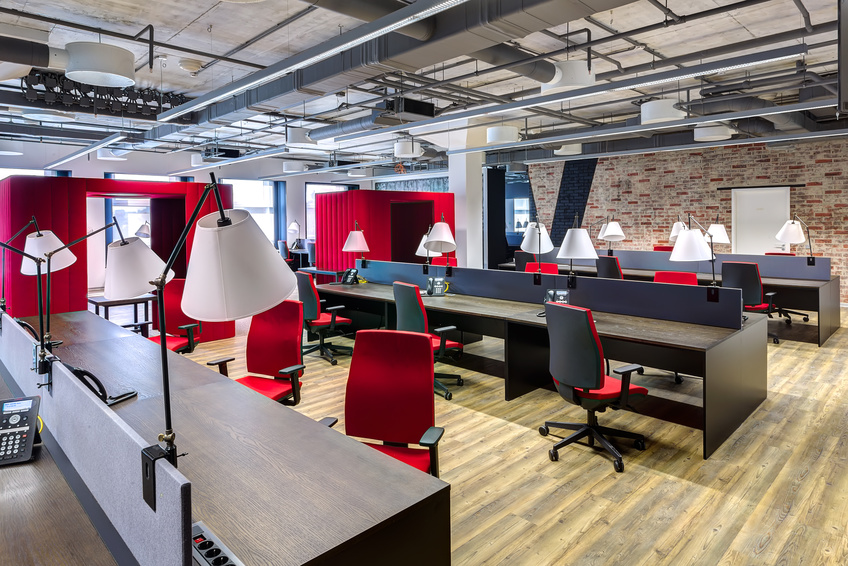 3 important details to consider when choosing a new office space for your growing small business
Choosing a new home for your existing company, or finding a location for your startup, can be a tricky task. When caught up in finding a good location, haggling prices with lot owners, and figuring out parking, selecting new commercial office spaces can be exhausting.
Over $74 billion worth of commercial buildings were erected in the United States in 2016. In other words, there are tons of options available for new locations, and the number is growing. But how do you choose the right space to grow your company?
When rent, location, and other big factors are all about the same, choosing the right commercial space comes down to the details.
Here are three small but important details to consider when making the final decision:
---
---
1. Is there Room to Grow?
One mistake to avoid when selecting an office space is choosing a building that is just right. Don't fall into the trap of finding somewhere that has the perfect number of offices and the right amount of desk space, only to realize in seven months that you should have picked somewhere larger. If you're trying to grow your company and it's workforce, you'll need an office you can grow into.
When you're looking for a new place to set-up your business, you need to take many things into consideration. The size of the office should encourage communication and shouldn't feel cramped, it should also be a good match budget-wise. Even in big cities like Miami, for example, there are still many affordable offices for rent in Miami that can satisfy your needs. The key is to check out many potential workspaces so that you have a rounded idea of what the market is offering at this particular time.
2. Is the Location Tech-Forward?
Just as a space needs room for your company to change in size, it also needs room for your company to change with the times. New technology is constantly revolutionizing the way businesses operate. JLL campaigns recommend choosing an office location that offers the ability to use multiple Internet Service Providers, for example, since you never know what your company will need in the future.
Tech-forward location will not only have a beneficial effect on your rapid business development but also will make the business implementation more effective and will help to reach your business goals more easily. Tech-driven cities, such as Dallas, Seattle, San Francisco, New York are home to lots of startups in the US. Among many technologically developed cities, you can consider office space rental in Dallas, if you prefer comfortable office suits accompanied with modern technological solutions.
3. Does the Space fit my Company Culture?
Although you may think aesthetics are less important than other more technical aspects of a location, the ambiance and layout of a space can significantly impact the trajectory of your business.
You need a modern, clean, and beautiful space if you plan on impressing potential clients who come knocking, and you need a space with character and collaboration opportunities if your work requires creativity. A well-lit and inviting space will also help boost employee morale, and help the team believe in your mission.
By remembering to ask these three simple questions, you can help parse through the details of selecting a new office space. Don't think only of what your company needs currently, but also consider what it might need in the future. Follow this guide to choose a new company home that brings your team success for years to come.
---
---
The following two tabs change content below.

Valerie M. is a writer from Upstate New York. She received her Bachelor's degree in Journalism from The State University of New York at Fredonia in 2016 and is currently working at a digital marketing agency where she writes blog posts for a variety of small businesses all over the country. Valerie enjoys writing about music, animals, nature, and traveling.

Latest posts by Valerie M. (see all)