Tips for choosing a post topic, writing your first post and promoting posts to expand the reach of your expertise on LinkedIn
LinkedIn has become much more than a place to find your next job. It's a place to showcase your expertise, network, generate sales or partnership opportunities, build your personal brand and gain exposure in your profession or industry.
With LinkedIn's new publishing platform, anyone with a LinkedIn profile now has the opportunity to publish articles on LinkedIn. Well-known business professionals, known as "Influencers", have already been publishing short articles on LinkedIn for a while now, and the publishing platform is now opening up to everyone.
---
---
Invitations to Publish on LinkedIn
The initial roll-out of the LinkedIn publishing capability starts with an email notification announcing that you now have publishing privileges. Once you have been given the capability you will see a new pencil icon next to your status box.
The roll-out of the LinkedIn publishing is happening in phases, but LinkedIn says eventually everyone will have the capability. You will be notified via email when you have been granted access to the publishing platform.
If you want to get started but have not yet received the notification, you can fill out their form to request early access to LinkedIn publishing. Note that you'll need to supply links to two articles as examples of professional content previously written.
What to Write About on LinkedIn Publishing
Deciding on a topic for your first post is always the hardest. Luckily, LinkedIn gives a lot of pointers for Best Practices for Posts on LinkedIn's Publishing Platform to help guide you.
Your posts should share your professional expertise. Write about challenges you've faced, opportunities you've seized, or important trends in your industry. This could include your most memorable work experiences, lessons you've learned along the way, or topics you're most passionate about.
Remember that these posts will become part of your LinkedIn Profile – appearing in a section called "Posts" under your headline and summary sections – so make sure it is relevant to your expertise and/or industry niche.
For my first post, Why Your Marketing Plan Needs a Spring Refresh, I decided to focus on a topic that was relevant to my expertise and timely. The post gave me the opportunity to showcase my expertise in marketing plans and evolving marketing strategies.
Writing an Article on LinkedIn Publishing
To begin writing an article, log into LinkedIn and click on the pencil icon next to your Share an Update box on the LinkedIn homepage. When you mouse over the pencil you will see the tag "Create a Post".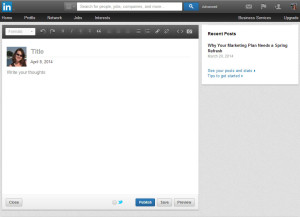 You will then go to an editor module that very much resembles WordPress – making the process even easier if you are familiar with WordPress. You'll see a title box and a large editor box that has basic formatting options.
As with blog posts, a catchy title that includes main keywords works best. Your article should also be formatted so that it is easy to read online – using short paragraphs, subheads (using H3 tag) and lists or bullets whenever possible. Again, basic formatting buttons are included to make things easier.
It is also recommended that you use a large eye-catching image with your post – simply click the photo icon to insert an image. An image is important for social sharing on LinkedIn and other sites.

You can also add links within your posts – a great way to promote other work, posts or website content. Simply select the text to hyperlink and click the link button.
When you are finishing up your new article you can select Save (to keep a draft in progress), Preview (to see how your post will look live – highly recommended) and Publish. Publish will make it live on LinkedIn and immediately viewable in the news feed for your connections as well as on your profile page.
The best part is if you find an error or something you want to edit you can go back to a post and select Edit after it is published.
Increasing Visibility of LinkedIn Published Posts
Publishing on LinkedIn is worth it because you get the ability to reach a broader audience. There is a lot of opportunity for your article to be seen:
Your first connections and followers in their news feed
Second or third connections whenever anyone likes or comments on your post
Searchable by topic on LinkedIn
Distributed as part of aggregated LinkedIn content
Publicly viewable by anyone, even people without a LinkedIn account
It is also recommended by LinkedIn to share articles with other social networks to expand your reach outside of LinkedIn.
In my LinkedIn article Why Your Marketing Plan Needs a Spring Refresh, I also included some call to action information and links after my article content to increase interactions on LinkedIn and beyond.
---
---
The following two tabs change content below.
Latest posts by Diane Seltzer (see all)