Securing a generic top-level domain name for your website with new URL extensions can help identify your business by industry type, location and more
Choosing just the right angle is important when picking a domain name for your business – and now it's getting even more complicated. Often, when small businesses buy domain names, they also buy out the variations of their domain name, including .com, .us and .net.
Now, small business web hosting, such as Yahoo web hosting, GoDaddy web hosting and other small business web hosting sites are going to have a slew of names to buy up just to keep squatters away. For example, My Small Business might decide to create a web presence. The domain name, mysmallbusiness.com, is available, so the business snatches it up. The business will also grab mysmallbusiness.net and mysmallbusiness.us so that others with the same type of business can't benefit from My Small Business's good name and "steal" customers.
Now that ICANN is adding more available gTLDs, you may have to buy even more web property in order to secure your customers against fraud.
---
---
Generic Top-Level Domains (gTLDs)
New generic top-level domains are coming out. ICANN, a nonprofit company that manages Internet domains, is adding over 1,000 extensions. The extensions will be defined by industry, location, or other factors. For example, My Pizza Shop, a business located in New York City could get the domain name mypizzashop.nyc. Several people are bidding for the .swiss gTLD. Swiss Airlines has a bid in, as does the Swiss government. John Levine, a writer for CircleID, believes they will work something out between the two applicants for that gTLD.


As for industry, .bank is one of the new top level domains. Thus, Regions.com could now become Regions.bank. So far, two companies have applications in for the .bank top-level domain name: a banking trade association in the United States and a commercial speculator. Chances are, according to Levine, the banks will get the bid.
What It Means For Small Business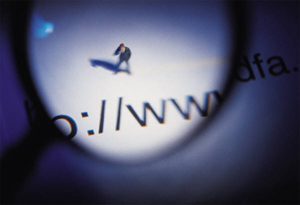 Small business web hosting companies, such as Yahoo web hosting and GoDaddy will be able to offer these new gTLDs once everything gets sorted out. ICANN has received over 1,900 applications, according to Karen E. Klein of Bloomberg Business Week. On June 13, 2012, ICANN released which companies have applied for which extensions. After that, ICANN will review the applications in a six-month period. During this period, companies may challenge applications by other companies.
NOTE: Check out our domain registration directory for a list of companies to choose from
The new gTLDs will most likely have in impact on search engine optimization, too. Furthermore, people are used to looking for mysmallbusiness.com, not mysmallbusiness.nyc. Who's to say that these names will even take off? Casey said that Dan Schindler, co-founder and executive VP of sales and marketing of Donuts.co, said that because .com is so popular, people are now having to resort to using domain names with long URLs, or URLs that may confuse the searcher. He's hoping that small business will pick this up instead to help reduce some of the .com madness.
The new extensions are expected to be ready for release in 2013. A commercial builder, Minardos Group, said it spent $1.2 million just to apply for the .build, .expert and .construction names. According to Klein, the applications were over 500 pages.
Can You Apply for a gTLD?
Other gTLDs listed include .accountants, .architect, .agency, .builder, .photography, .restaurant and .healthcare. One company, Donut.co applied for all of those names, according to Kevin Casey for Information Week. In addition to those gTLBs, according to Casey, Donut.co also applied for 300 other gTLDs and spent over $56 million in application fees. Being able to apply for a gTLD for a small business would be great — and might work well for a small business that makes a lot, but for a small business that makes $1 million or less in profits, applying for a gTLD to keeps squatters off its name is financially prohibitive.
Domain Name Registrations and Web Hosting

For the best deals with domains and hosting, check out our Domain Names and Web Hosting tools directory.
__________________________________________________________________________________________________
By Guest Contributor: Jamie Ruder studied in Tuscon, Arizona and now works for a technology and gaming magazine on the West Coast.


---
---
The following two tabs change content below.

Editorial Staff
This post was written by SBMarketingTools.com editorial staff.

Latest posts by Editorial Staff (see all)