How to purchase a press release package to be distributed on PRWeb, including distribution and new security settings
If you are a small business looking to distribute your news online via a press release distribution service, there are no shortage of options to choose from. However, for the average small business owner that may only occasionally release news, some online services can be tricky.
PRWeb is one company press release distribution service that makes it fairly easy and straightforward for small businesses to get the word out with a press release.
Here are some of the basic steps in selecting a package to purchase, determining your distribution targets, verifying your contacts and social media accounts, and then distributing your news release.
---
---
Selecting a Press Release Package on PRWeb
There are several press release packages to choose from on PRWeb to meet your budget, marketing and distribution requirements. All news release packages include distribution through more than 250,000 custom RSS Feeds, major news sites and is made available to Google News… but there are some differences.
Here's a quick breakdown of your package selections:
(note these prices may be subject to change)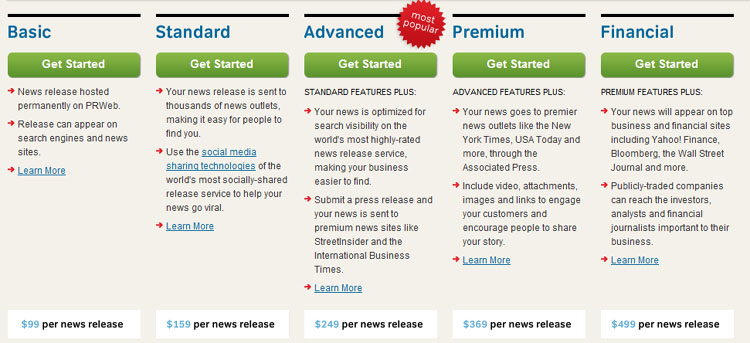 For those on a really tight budget their new $99 Basic package will get your news out at a great rate. In addition to major news sites and search engines, you'll get to choose 5 industry news feeds and 2 regional news feeds.
Bumping up to the Standard package at $159 will give you more news distribution with the ability to select one more regional distribution area and get visibility with more media list subscribers, including bloggers. You also get a nice quote call-out in the release.
The Advanced news release package is $249 and gives you even more extras like next day distribution (Basic & Standard takes 2 business days) 10 industry news feeds, 5 regional news feeds, placement on premium web sites (like StreetInsider and ScottTrade), placement on local news sites and a lot more social and SEO linking ability. PRWeb lists it as their most popular package, probably because the bump in added benefits is substantial.
A Premium package $369 is available for those that want video in their release and more national media exposure – including the Associated Press wire. For financial news there is also a specialty package for $499 that is focused on distributing to investors and analysts. Both of these packages have next day distribution.
Which package is right for you? If your budget is very tight go with the Basic or Standard package. If you have really important business news that you want a wider audience to receive, the Advanced package may be a better bet.
Steps in Purchasing a News Release Package on PRWeb
You can purchase a news release package at any time and then upload a release later… to get started you can sign-up for a free account with PRWeb and save 10% off your first release… but if you have your news ready you can purchase a release and set it up to distribute all at once.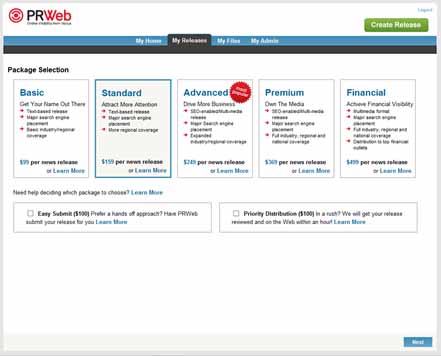 Step 1: Select your press release package
After selecting your package you'll be taken to a screen to load up your press release.
As a best practice, you should have it already written in a word document (reviewed and proof-read) so all you have to do is copy/paste each section into the template:
Headline
Subhead
Body
Website address
Upload any file attachments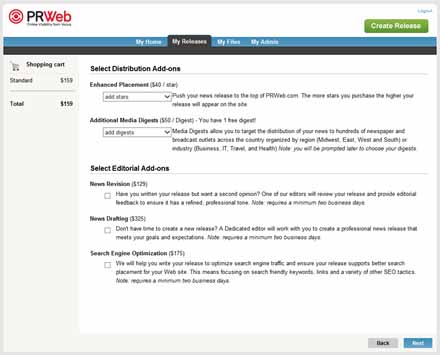 Step 2: Distribution and Editorial Add-ons
On the next screen you'll be asked to make all the necessary regional and industry selections based on the package you selected.
Each package comes with a certain number of industry feeds and regional (geographic) feeds to choose from.
You'll also be asked to if you want like to pay extra for enhancements or editorial add-ons like writing services.
NOTE: be careful about these add-ons that are offered… they can really drive up your price if you don't really need them.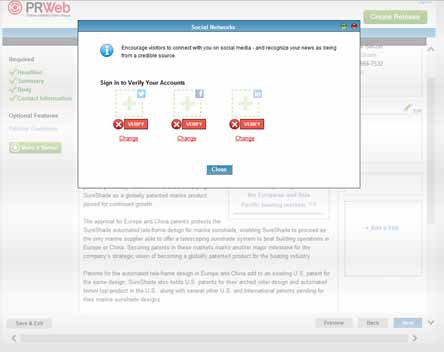 Step 3: Account Verification
PRWeb has introduced some new account security steps that will help make sure no one unauthorized is sending out news for your company. Previously, you could put any contact info or social media accounts when you distributed a release – now they all need to be verified.
For security purposes there is a new verification process – you will not be able to schedule the release date until you verify phone, website and email address. For phone it will call your number and ask you to enter a code to verify phone number. For email address and website you'll receive an email and be asked to click on link to verify. (note email address must have the domain name of your website). Verifying a company website is optional verification. For social media accounts you'll need to connect with user id & pw each one you want listed on your release.
Step 4. Schedule your release
After everything is loaded up into the press release template and selections are made you can schedule your release date and time. Note for basic and standard release packages you need to wait 2 days before it can be released.
If you are not yet ready to send a press release, then you can also create a free account with PRWeb to test out the site more… so you are ready to go when your next big news event comes up.
Need more help doing your own PR?
Get our book PR Tools to Toot Your Own Horn – Strategies and Ideas for Small Business Public Relations (a 2013 Small Business Book Awards Winner). The book walks you through many of the basics of doing your own PR… and includes free bonus downloads like a press release checklist, press release template and media outreach plan.
---
---
The following two tabs change content below.
Latest posts by Diane Seltzer (see all)