---
---
Website services by iBuilt.net help small businesses design, build, host and manage a website with basic to advanced features without the need for professional webmaster skills or HTML skills
A company without a professional internet presence will have difficulty competing in today's business world. For small businesses, building and designing a website that meets the current and future needs of a growing business can be challenging. You need a website builder that can be easy-to-use, low-cost and flexible for future functionality as your online business needs develop.
Website builder services from iBuilt.net gives companies the tools they need to build and design a professional website without the need to pay a professional webmaster or freelance design services. For a small monthly fee, small businesses can build, design, host and update their web content real-time with one easy to use interface through iBuilt.net.
Here is a review of the iBuilt website building capabilities and available tools to help you in your website builder evaluation process.
Tools to Design and Build a Website using iBuilt
iBuilt.net is a self-serve website builder, design and hosting tool that is perfect for small businesses. Using a simple template approach to website building, small businesses can easily design a basic or more advanced website for their company with iBuilt.
When you sign up for an account with iBuilt they give you access to most of the website builder and design tools for a free 10 day trial period. The trial period gives you an opportunity to try features and experiment with the interface before you buy and launch your website with their service. A trial period is much more beneficial to understand more about the website builder potential than just viewing demos or screenshots.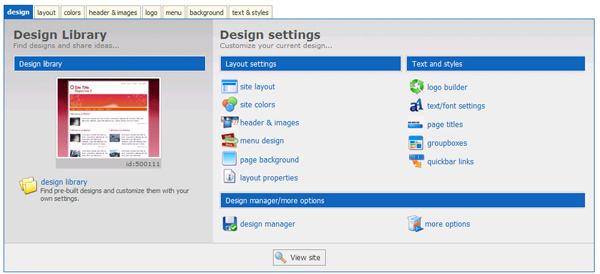 The first step in building a website with iBuilt is selecting a design template. Once selected, the standard web page can be fully customized with a company logo, selected color schemes, navigation layout and functionality, banner images, page elements and more. The site navigation can include drop down page options and easily be rearranged at any time.
Customizable page element features include:
Standard text, link and image components
Dynamic photo galleries and rotating slider images
Embedded HTML or java elements
Embedded video or music elements
Standardized FAQ pages
Inquiry forms with mailing list generation
Site-wide or page specific elements
Social media sharing widgets and icons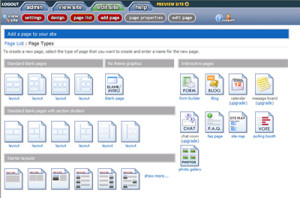 Each page element can be added, moved or edited at any point in time. Updates to website content are real time, which is essential to small businesses to make quick updates to products, services or messaging as needed. The intuitive user interface makes it easy for someone with good internet skills to build a website. The more advanced your internet or HTML skills, the more complex you can make your website. The ability for the site interface and features to be flexible as your skills develop is a big plus with iBuilt. Once a website is built and designed, hosting is provided with an iBuilt.net URL, a transferred domain name or a purchased domain name through their registering services. The basic subscription price for use of the website builder and design tools, 1000MG of space, 20 email accounts and web hosting is $19.95/month USD.
iBuilt Advanced Website Builder Capabilities and Tools
In adidtion to a website presence, there are many special features and marketing tools built into the iBuilt website builder tool that make it easy for small businesses to maximize their website's potential as a sales tool.
Small business marketing tools included in iBuilt's basic subscription price include:
Built-in search engine optimization tools (along with keyword optimization advice)
Form builders to create contact forms (easily downloadable at any time)
Mailing list generation (built into form builders for easy lead list creation) B
log or news posting tool (although not as robust as WordPress or Blogger) Social networking links (ability to use a variety of social media icons and widgets such as Facebook, LinkedIn, Twitter and Google+)
Multiple email accounts with web access (create separate email accounts for sales reps, customer service, info and more using your domaign address)
As mentioned, there are additional website builder tools that help small businesses grow their website functionality and presence when they are ready to take their website to the next level, there are advanced website builder tools available from iBuilt for an additional monthly fee. These add-ons or upgrades are available for additional monthly fees and can be tacked onto the service at any time.
Add-on features and upgrades available on through the iBuilt tool include:
Online store and e-commerce functionality complete with product catalog and shopping cart for purchases
Password protect pages (for vendors or dealers)
Community forum or message boards Live chat functionality for sales or customer service reps
Calendar pages
RapidInsite© Stats for advanced reporting capability
Additional disk, email or product catalog space (for future scalibility)
Comparing iBuilt to other Website Building Tools
For small businesses looking for a cost-effective alternative to expensive web design and maintenance services by an outside consultant or webmaster, iBuilt is a great alternative. iBuilt is ideal for small businesses that want basic website functionality with the ability to grow in the future. iBuilt, as compared to other website building and hosting tools, offers a total package of built-in functionality, updated self-serve marketing tools and ease of use interface. The low monthly subscription with upgrades as a company grows makes it an attractive website service for small businesses.
The best way for you to decide which website builder is best suited for your business is through as side-by-side comparison. You can compare website builder services by signing up for multiple free trial accounts and experimenting with the functionality of each webiste builder account. Does the service meet all of your current and future website requirements? Is the website builder tool easy to use? These are questions that you can fully answer after trying out the different services.
Note: SBMarketingTools.com used iBuilt.net as a website builder platform and then recently switched to WordPress with a web hosting tool (HostGator). The decision was made primarily due to cost (a hosting plan with WordPress is cheaper) and availability of plugin upgrades and features (special features only available with WordPress).
See our full Directory of Website and eStore Builder Tools to try out a website builder that is right for you.


---
---
The following two tabs change content below.

Editorial Staff
This article was written by SBMarketingTools.com editorial staff.

Latest posts by Editorial Staff (see all)