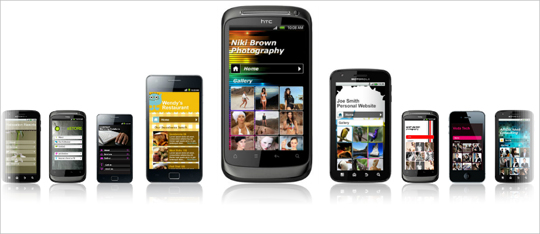 Explore the latest technology applications designed to optimize mobile web marketing and enhance the reach of businesses
The smartphone revolution continues to evolve the way consumers browse the internet, communicate and search for information to make their purchase decisions. Consumers are no longer limited to their desktop or laptop computers – their use of smartphones gives businesses the opportunity to reach them 24/7 with mobile websites.
As the smartphone and mobile marketing industry grows, businesses need to stay ahead of the curve by leveraging the latest mobile website widgets and applications to increase online sales by reaching consumers on-the-go.
---
---
Building Mobile Websites to Leverage Mobile Marketing Tools
The mobile web is changing the way consumers use their smartphones… and businesses need to begin changing the way they use their websites.
Consumers are using their smartphones on-the-go and are beginning to expect businesses to offer technology applications that assist them in their mobile experience. If a business does not have a mobile website they risk losing sales to competitors that do.
But simply building a mobile web presence is not enough. Good mobile web design should offer a user experience that is easy to navigate, mobile-friendly and interactive.
Businesses need to create a mobile web experience that uses mobile marketing tools designed to engage consumers and entice them to interact with their business. Offering the right technology (such as mobile widgets) at the right time (when consumers are ready to buy) is the key to successful mobile marketing.
Mobile Web Widgets and Applications
While there are many bells and whistles that can be added to mobile websites, businesses should focus on leveraging mobile web widgets and applications that give consumers the ability to interact a business and increase sales potential.
Some of the top mobile web widgets businesses should add to their website include:
Click-to-call. As consumers are searching for a business on the mobile web, a click-to-call web widget allows them to instantly call your business with their smartphone.
Click-to-text. Similar to click-to-call, a click-to-text application allows consumers to text businesses directly from their smartphone.
Click-to-email. Click-to-email mobile website widgets give consumers the ability to email your business directly to submit a sales inquiry via their smartphone.
GPS features. A GPS-enabled mobile website can be invaluable in helping customers find your closest store location or provide directions to consumers on-the-go.
QR codes. By using QR codes, or "quick response codes", consumers can scan mobile barcodes or tags with their smart phone application and be sent directly to your mobile web or specialized digital content.
Location-based advertising. The options for targeting consumers with location-based advertising are nearly endless with mobile widgets and applications that enable delivery of mobile ads by location, demographics and more.
Going Mobile with Your Business Web Presence
The good news for small businesses is that getting a mobile web presence for your business isn't as complicated or expensive as it may seem. In fact, many website builder companies are making it even easier for small businesses to mobilize their business by offering a simple way to create mobile websites for free. They offer easy to edit templates along with some of the top mobile web applications for business – such as click-to-call and mobile map features.
Going mobile with the right design and the right mobile website widgets is one of the easiest ways businesses can expand their reach with consumers, increase on-the-go sales potential and maintain a competitive edge.
---
---
The following two tabs change content below.

Editorial Staff
This article was written by SBMarketingTools.com editorial staff.

Latest posts by Editorial Staff (see all)